Oliveboard Banking Awareness will help you understand all the topics important for SBI PO Mains exam. By using this Banking Awareness Ebook, you can easily prepare for your Banking Awareness section of the upcoming SBI PO Mains exam. Based on the Static Banking Awareness syllabus, the Free Banking PDF covers the 500+ GA/ Economy/ Banking Awareness MCQs with detailed answers. Below is a complete list of the topics covered in the Banking Awareness PDF. You can download it for free right here on this blog.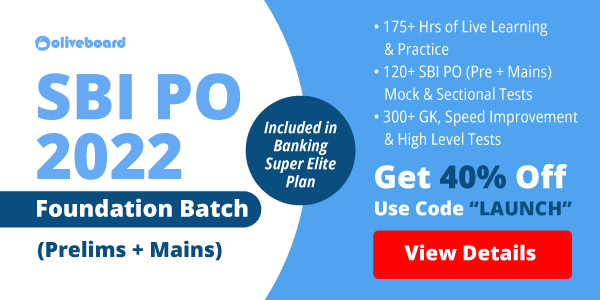 500+ GA/ Economy/ Banking Awareness MCQs – For SBI PO Mains Exam
What All Is Covered In The SBI PO Mains BOLT?
The 500+ questions with detailed answers are on the below-mentioned topics:
General Awareness Questions
Economy/ Banking Awareness Questions
How To Download Free ebook?
You just need to follow the following steps to download the FREE Banking Awareness PDF from Oliveboard:
Step 1: Click on the download link. You will be taken to Oliveboard's FREE E-Books Page.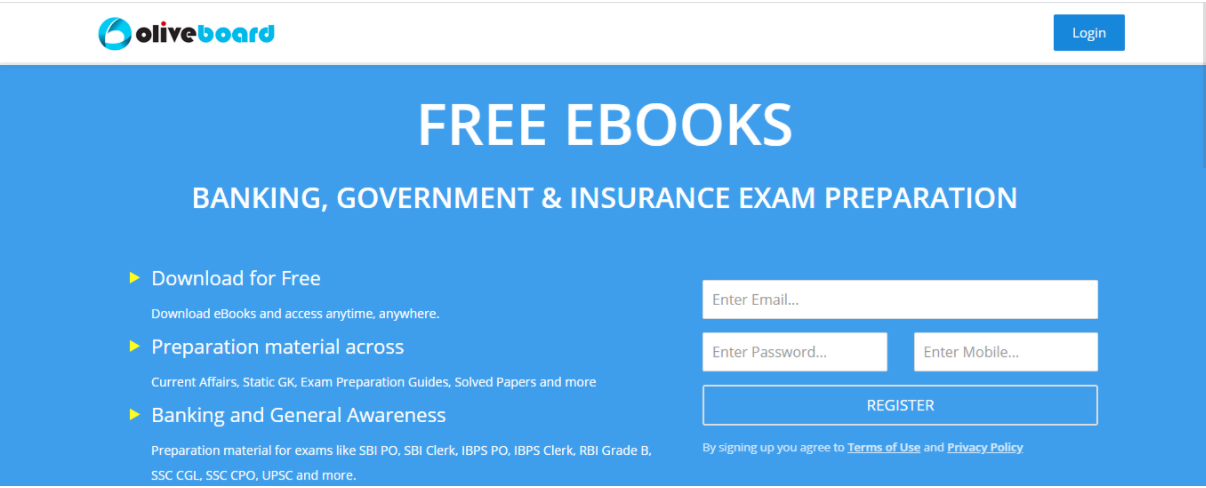 Step 2: Register/Login to the Free E-Books Page of Oliveboard (It is 100% free, You just enter your valid email ID and a password to be able to download the "500+ GA/ Economy/ Banking Awareness MCQs – For SBI PO Mains Exam"
Step 3: After Logging in, you will see the window shown below in the image.
Step 4: Click on "Click Here" to download the e-book.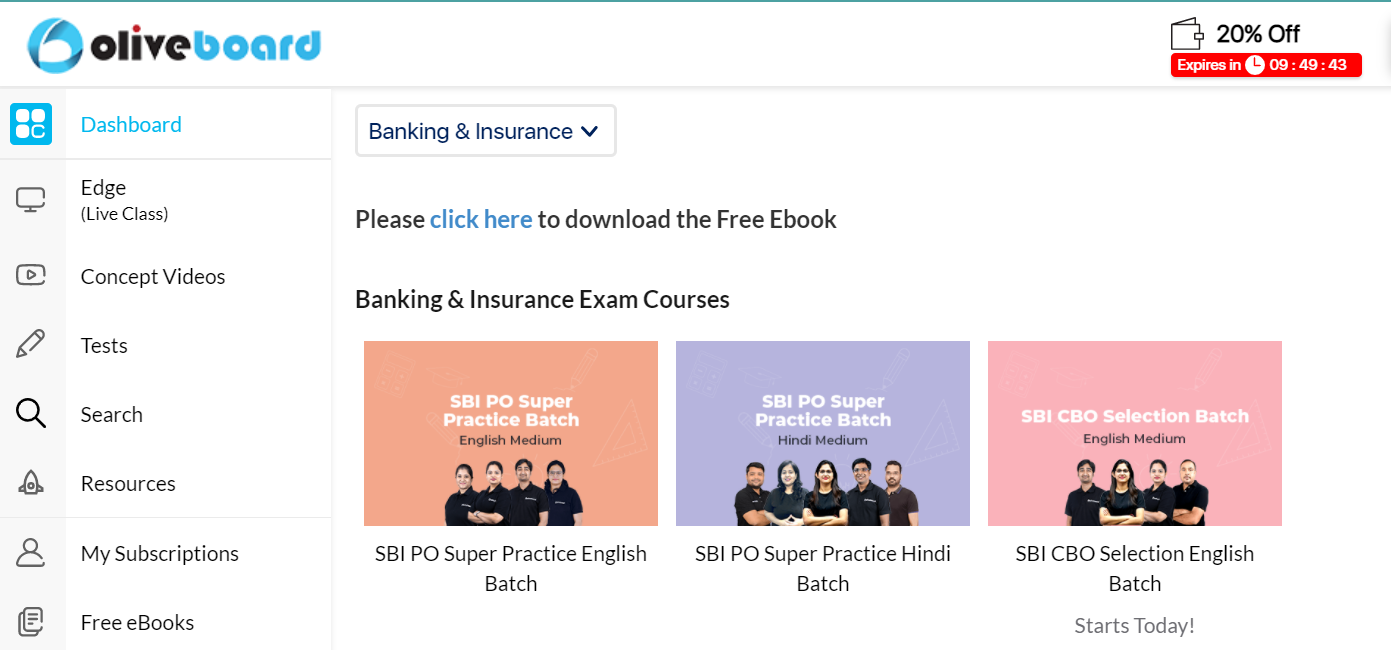 Sneak Peek Into the Free eBook
Recently, which of the following has approved the acquisition of shareholding in Air India by Tata Sons?
(1) Competition Commission of India
(2) Ministry of Finance
(3) Ministry of Commerce and Industry
(4) Ministry of Civil Aviation
(5) Confederation of Indian Industry
2. Harjinder Singh has been appointed as the Chef de Mission of India's contingent for the upcoming 2022 Winter Olympics in Beijing. He is the general secretary of :-
(1) Ice Hockey Association of India
(2) Figure Skating Association of India
(3) Freestyle Skiing Association of India
(4) Snowboard Association of India
(5) Speed Skating Association of India
3. Who among the following has recently been appointed as a member of Badminton World Federation Athletes' Commission till 2025?
(1) Robin Polii
(2) Kim Wang
(3) PV Sindhu
(4) All of them
(5) Greysia Tabelin
4. CSC has recently tied up with Infosys to empower students in the age group of 10-22 yrs with digital skills through Infosys Springboard. Common Services Centres is the special purpose vehicle belongs to which ministry?
(1) Ministry of Communications
(2) Ministry of Electronics & IT
(3) Ministry of Science and Technology
(4) Ministry of Home Affairs
(5) Ministry of Education
5. Which state has topped in the Pradhan Mantri Jan Dhan Yojana list with highest number of bank accounts ?
(1) Bihar
(2) Odisha
(3) Assam
(4) Tripura
(5) Uttar Pradesh
6. Senior Indian diplomat Pradeep Kumar Rawat has been appointed as India's next Ambassador to______.
(1) China
(2) Japan
(3) Thailand
(4) Myanmar
(5) Russia
165. Nitin Chugh has recently stepped down from the position of MD and CEO of which bank?
(1) HDFC Bank
(2) AU Small Finance Bank
(3) Ujjivan Small Finance Bank
(4) Axis Bank
(5) Indian Bank
166. Recently, who among the following has been appointed as the president of the Institute of Economic Growth Society?
(1) Tarun Das
(2) Ajit Mishra
(3) NK Singh
(4) Urjit Patel
(5) Manmohan Singh
167. Hitendra Dave has been appointed as the Chief Executive Officer of HSBC India for a period of __ years.
(1) Three
(2) Two
(3) One
(4) Four
(5) Five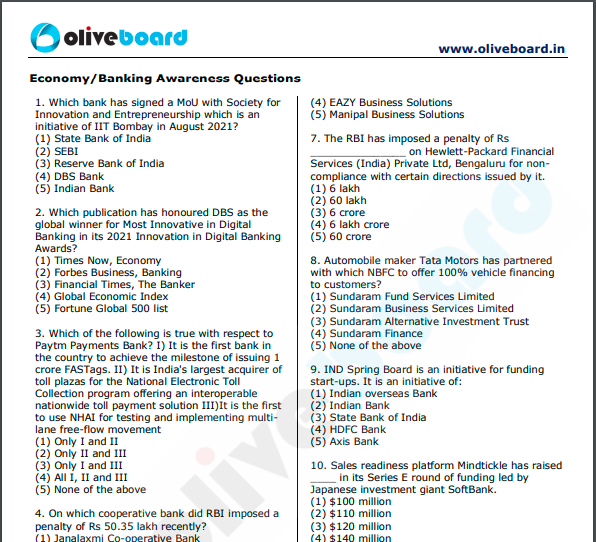 ---
DOWNLOAD THE OLIVEBOARD APP FOR ON-THE-GO EXAM PREPARATION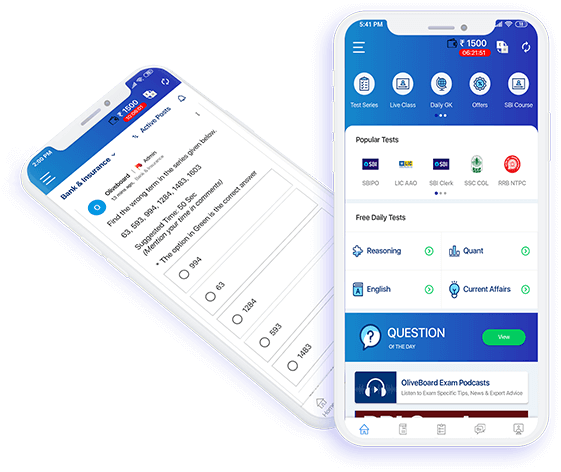 Video Lessons, Textual Lessons & Notes

Topic Tests covering all topics with detailed solutions

Sectional Tests for QA, DI, EL, LR

All India Mock Tests for performance analysis and all India percentile

General Knowledge (GK) Tests
Free videos, free mock tests and free GK tests to evaluate course content before signing up!
---
Banking Awareness -Check other important topics here
Also, check the following topics related to Banking awareness.
That is all from us in this blog. Download the SBI PO Mains BOLT from the direct download link given above. Keep visiting this space for all Banking and Insurance Exam Updates, FREE Mock Tests, Free Study Materials, and more. You can download the Oliveboard App and get daily GK Quiz, Free Podcasts, etc. To prepare with thousands of fellow aspirants visit Oliveboard's discussion forum. All the Best for your Exam preparation, Keep Learning with Oliveboard
Ebooks
You can download 200+ ebooks important for SSC, Banking, Railway, Insurance, and other government exams here.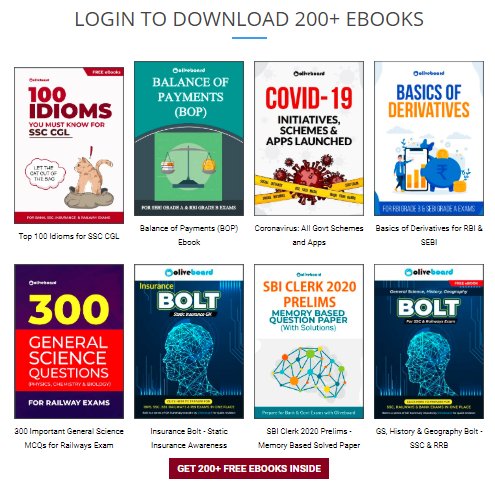 Oliveboard Bolt series E-books:
FAQs
What is the difference between Economic, Financial, and Banking Awareness?
Economic Awareness is a vast, comprehensive field that includes the Indian Economy as well as the World Economy. Economic Awareness includes Financial Awareness and Banking Awareness. Financial Awareness includes Money Market, Financial News, and Trade-related matters, whereas Banking Awareness includes schemes of various banks, RBI circulars, Rules and Regulations set by RBI, and banking-related matters.

How many questions are there for SBI PO Mains General Awareness?
A total of 500+ Questions with detailed solutions covering general, economic & banking awareness topics is mentioned in this e-book.
  Oliveboard Live Courses & Mock Test Series