Read the Success Story of B Vinay Kumar, a highly paid Equity Research Analyst in JP Morgan Chase and a Civil Engineering Graduate from IIT Madras, Class of 2016. Go through his preparation strategy and how he left his job in the pursuit of Civil Services and more.
Success Story of B Vinay Kumar
I am from Srikakulam, Andhra Pradesh. Graduation in Civil Engineering from IIT Madras, 2016. Worked in JP Morgan Chase as an Equity Research Analyst for ~3 years. Left my job in the pursuit of Civil Services.
It's been a great learning path over the past 2.5 years. There were many self-doubts, low points etc. during this period, but I always believed that I'm good enough to clear this exam. Eventually, with the results, all the sacrifices I made felt like they paid off.
---
Subject-wise preparation strategy of B Vinay Kumar
The main focus of the prep has of course been General Awareness in Phase 1, ESI & F-M in Phase 2. I focussed on strengthening my basics of Economy and Finance through whatever sources I can acquire. As I had to give time for UPSC CSE and RBI simultaneously, I tried not to overdo anything (e.g. By hearting too many things)
As I already have prior experience of clearing JEE, Quant has never been a problem. Preparing for CAT a few years ago helped me with Reasoning and English. So for Quant, English and Reasoning, my focus was to not learn anything new but to practice as many mocks as I can and revise and learn from any mistakes made.
Role of Oliveboard in Vinay's Success
Post my clearance of Phase 1, I subscribed for Oliveboard Phase 2 course through which I strengthened the ESI and Finance part which I already have some idea about. Also, the current affairs compilations were on point, to say the least !!
More importantly, the modules on Corporate Governance and Ethics (part of Management in Paper 3) were really helpful for me as I had to start from the very basics. The notes were simple and easily understandable, so I could finish the modules very quickly
Vinay's Tips for Aspirants
Just believe in yourself, your capability and trust your hard work. And during the examination, go with a calm mind but be brave enough to go with your gut feeling. 'Luck favours the brave'.
RBI Grade B Online Course 2022 – By Oliveboard
Oliveboard offers the best RBI Grade B Online Coaching that can help you prepare comprehensively for the exam. Oliveboard's RBI Grade B Online Course 2022 will be your one-stop destination for all your preparation needs for Phase 1 & Phase 2.
Go through free RBI Grade B study materials PDF eBooks and take up RBI Grade B Free mock tests online.
Course Details
RBI Grade B cracker course is designed to cover the complete syllabus for the 3 most important subjects:
GA for Phase 1
Objective + Descriptive portions of ESI for Phase 2 exam.
Objective + Descriptive portions of F&M for Phase 2 exam.
Not just that, it also includes Mock Tests & Live Strategy Sessions for English, Quant & Reasoning for Phase 1.
The course aims to complete your preparation in time for the release of the official notification.

Features
RBI Grade B 2022 Online Course Offerings
Video Lessons & Study Notes
Mock Tests

90+ Video Classes for ESI & FM

LIVE + Revision Sessions for ESI & FM

10+ Descriptive English Classes

Detailed Study Notes ESI & FM Current Affairs Capsules & Past Year Papers

6 Descriptive Mock Tests (ESI & FM)

30 Objective Mock Tests (15 – ESI & 15 – FM)

10 Full-Length Mock Tests for Phase 1

75+ Topic Tests for each chapter of ESI & FM (1 Markers & 2 Markers)
*We will get your ESI & FM descriptive answers evaluated!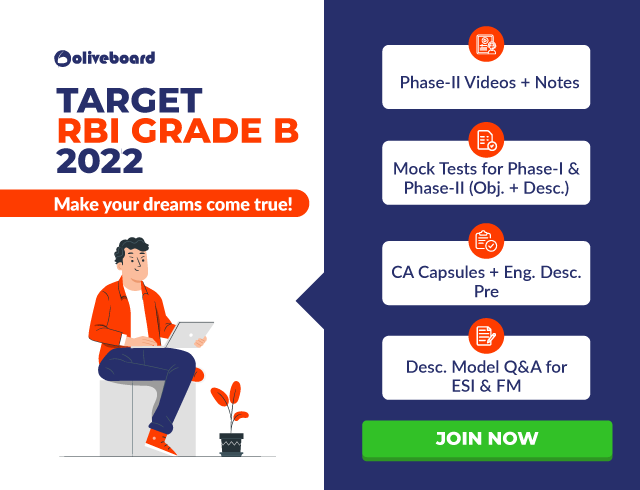 ---
How to Enroll for the RBI Grade B Online Course 2022?
Sign up or log in using the link given below. You will be redirected to the payments page. Read the course offerings and subscribe to RBI Grade B 2022 Cracker Course.
Now that you are aware of the RBI Grade B Online Classes, why wait?
Get Started with RBI Grade B 2022 Online Coaching comprising Video Lessons, Detailed Study Notes & All-India Mock Tests for Phase-1 & Phase-2.
Use Coupon Code LAUNCH & Get 20% off on RBI Grade B Course
Connect with us on:

The most comprehensive online preparation portal for MBA, Banking and Government exams. Explore a range of mock tests and study material at www.oliveboard.in
  Oliveboard Live Courses & Mock Test Series