The announcement for certain SSC exam notifications has become a very big relief for the aspirants preparing for various SSC Exams. With the SSC CGL Tier 1, CHSL exams scheduled for the year 2021, it has become important for us to prepare for the exam with full force. English Section is an integral part of the various SSC examinations. In this section, one of the most important and common topics on which questions are asked is Synonyms and Antonyms. Hence to assist you with your preparation of Synonyms and Antonyms for SSC Exams we have brought a free ebook on Important Previous Year Asked Synonyms and Antonyms For SSC tier 1 & Tier 2 Examination.

Register here for a Free Mock Test & also get Daily Exam & Upcoming Offers
1. Synonyms and Antonyms Asked In Previous Year SSC Exams
1.1 Download 500 Important Synonyms Here | Part 1
You can download both 500 Important Synonyms Asked In Previous Year SSC Exams by clicking on the link given below:


To Download More Free Ebooks Click Here & Register Yourself
1.2 Download 350 Important Antonyms Here | Part 1


To Download More Free Ebooks Click Here & Register Yourself
How to Download Important Synonyms & Antonyms Questions?
Step 1: Click on the above-given download link. You will be taken to Oliveboard's FREE Ebooks Page.
Step 2: Register/Login on to the Free E-Books Page of Oliveboard (It is 100% free, You just enter your valid email id and a password to be able to download the Important Synonyms & Antonyms Questions Asked In Previous Year SSC Exams).
Step 3: After Logging in, you will be able to download the above-mentioned ebooks.
2. Here's A Sneek Peek Into Synonyms Ebook
INTREPID – Resolutely fearless / dauntless / – FEARLESS
ABROGATE – Repeal or do away with (a law, right, or formal agreement) / – REPEAL
DEFERENCE – Polite submission and respect / – RESPECT
COVENANT – Agree by lease, deed, or other legal contract / – CONTRACT
OBNOXIOUS – Extremely unpleasant / – DISGUSTING
PROLIFERATE– Increase rapidly in number/multiply/cause (cells, tissue, structures, etc.) to reproduce rapidly / – REPRODUCE RAPIDLY
PARADOX – A seemingly absurd or contradictory statement or proposition which when investigated may prove to be well-founded or true / – PUZZLE
COLOSSAL – Extremely large or great / – ENORMOUS
INCEPTION – The establishment or starting point of an institution or activity / – ORIGIN
GRANDEUR – Splendour, and impressiveness, especially of appearance or style / – MAGNIFICENCE
TRAMP – A person who travels from place to place on foot in search of work or as a vagrant or beggar / – WANDERER
CONSIGNEE – The person or company to whom goods or documents are officially sent or delivered / – NOMINEE
INFATUATION – An intense but short-lived passion or admiration for someone or something / – PASSION
BEAUTIFUL – Pleasing the senses or mind aesthetically / – HANDSOME
MOMENTOUS – Of great importance or significance, especially in having a bearing on future events / – IMPORTANT
Want To Attempt A Free Mock Test? Take Up A Free Mock Test Here & Assess Your Preparations
3. Here's A Sneek Peek Into Antonyms Ebook
HARMONY – The state of being in agreement or concord – STRIFE
FETTER – Restrain with chains or manacles, typically around the ankles – LIBERATE
PARSIMONIOUS – Very unwilling to spend money or use resources –EXTRAVAGANT
DENSE – Closely compacted in substance – SPARSE
OSTRACISE – Exclude from a society or group – WELCOME
LAMENT – A passionate expression of grief or sorrow / a complaint – REJOICE
MUTILATE – Inflict a violent and disfiguring injury on – MEND
RELUCTANTLY – With hesitation, doubt or dread – WILLINGLY
MYTH – A widely held but false belief or idea – FACT
CONCILIATION – The action of stopping someone being angry / placation – CONFRONTATION
AFFLUENT – Having a great deal of money (especially of a group or area) / wealthy – POOR
ERUDITE – Having or showing great knowledge or learning – UNSCHOLARLY
13. COAX – Persuade (someone) gradually or gently to do something – DISSUADE
ALTERCATION – A noisy argument or disagreement, especially in public -COMPROMISE
ANIMOSITY – Strong hostility – LOVE
RATIFICATION – official way to confirm something, usually by vote – DISAPPROVAL
ROUGH – Having an uneven or irregular surface / not smooth or level – SMOOTH
4. Ebooks

You can download 200+ ebooks important for SSC, Banking, Railway, Insurance, and other government exams here.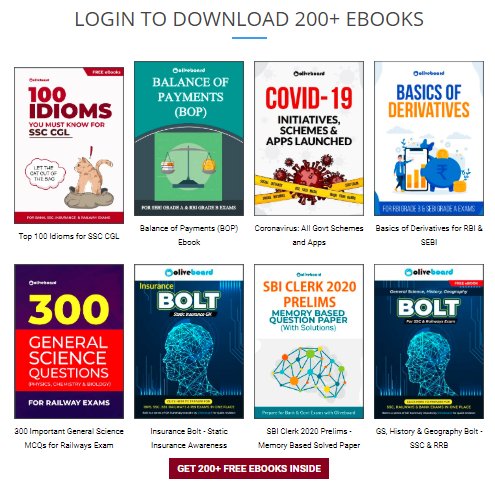 Oliveboard Bolt series E-books: