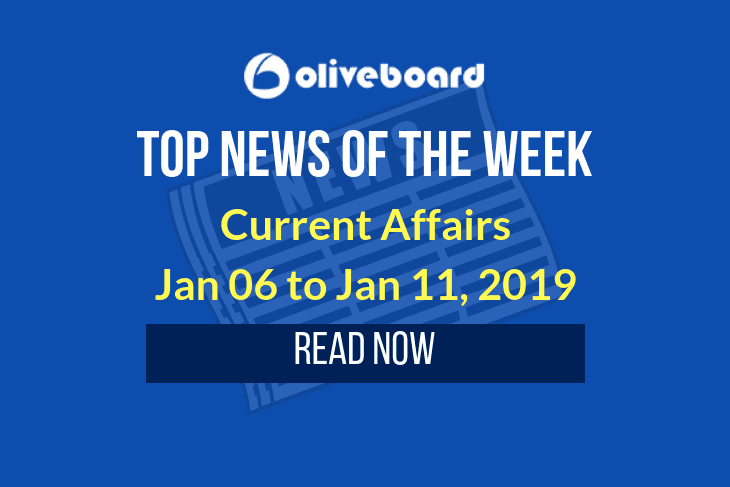 In this blog, All the Top Weekly Current Affairs – Jan 06 to Jan 11, 2019, for your General Awareness and Current Affairs preparation for Bank and Government exams
1) A special court in Mumbai declared Vijay Mallya a fugitive economic offender on a plea of the Enforcement Directorate under the provisions of the new Fugitive Economic Offenders Act which came into existence in August last year.
2) Nepal Rastra Bank has asked the Reserve Bank of India to declare newly circulated Indian currency notes of denominations higher than Rs 100 legal tender in the country under the Foreign Exchange Management Act.
Want to Secure a Bank or Govt Job in 2019? Start Preparing with Oliveboard NOW
3) Indian economy is expected to grow at 7.2% in 2018-19 against 6.7% in the previous fiscal due to improvement in the performance of agriculture and manufacturing sectors. The per capita net national income in 2018-19 shows a rise of 11.1%.
4) India has taken over operations of the strategic Chabahar port. This is the 1st time India will be operating a port outside its territory. The physical take-over of the terminal area, cargo handling equipment & Office building was completed by Dec 29, 2018
5) Guwahati is likely to be the 1st city to be connected internationally under UDAN scheme. Under the scheme, Assam is likely to provide a subsidy of ₹ 2370 & ₹ 4400 for certain no. of seats on the flights operating on Guwahati-Dhaka & Guwahati-Bangkok routes.
Want to Secure a Bank or Govt Job in 2019? Start Preparing with Oliveboard NOW
6) Fund managers raised $757 billion in 2018, against a record of $925 billion in 2017, while only 1,733 funds achieved a final close, down by 28% from the 2,410 funds in 2017 according to Preqin report.
7) Standard Chartered report forecasts that by 2020 onwards China will become the largest economy using purchasing power parity exchange rates and nominal GDP and India to surpass US GDP.
8) RBI has formed a 5-member panel to investigate ways of improving Digital Payments, Identify the current gaps in the ecosystem and suggest ways to bridge them to be chaired by Nandan Nilekani
Want to Secure a Bank or Govt Job in 2019? Start Preparing with Oliveboard NOW
9) In a report titled 'Future of Consumption in Fast-Growth Consumer Market – India' by World Economic Forum, India is set to become the world's 3rd largest consumer market behind the only USA and China by 2030
10) To recognize the fortitude of Indian women stalwarts from across the globe who have used the power of social media to run positive campaigns to steer a change in society, Maneka Gandhi launched Web Wonder Women Campaign
11) Renukaji Multipurpose Dam Project agreement concludes between 6 States. 3 water storage projects are proposed to be constructed on the river Yamuna and 2 of its tributaries, concerning 6 states UP, Haryana, Himachal, Delhi, Rajasthan and Uttarakhand. The project is aimed at meeting the drinking water needs of these states