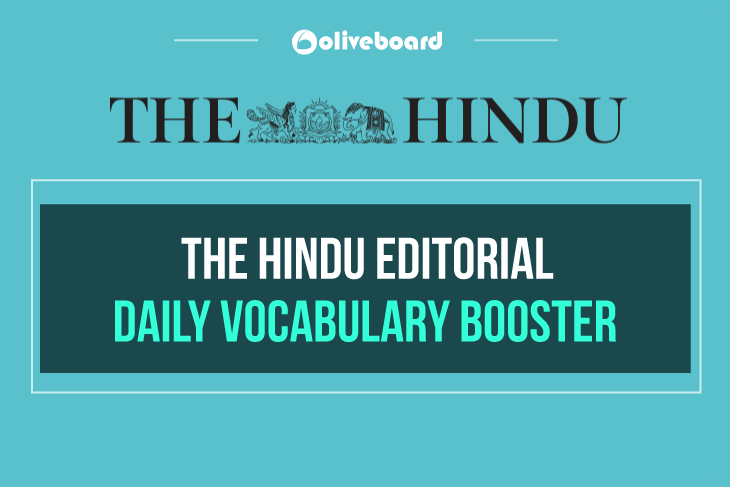 Vocabulary based questions are often asked in all Banking and Government Exams. So we at Oliveboard will be providing you with a daily dose of vocabulary to help you with overcoming your struggle in this section. You need to go through it daily to see a marked improvement in your English vocabulary. We hope it will help you in the upcoming SBI PO, RRB JE, NIACL AO, FCI, CWC, LIC AAO, SSC, NTPC exams as well. The words in the Daily Vocabulary Booster 16 April 2019 are taken directly from the editorial of the Hindu Newspaper.
Read in Hindi: द हिन्दू दैनिक शब्दावली बूस्टर 16 अप्रैल 2019
The Hindu Newspaper is considered the Bible by the various exam aspirants as it has the best unbiased views on various current news and happenings in the world. Also, it helps immensely if you are looking for daily dose of English reading and building your English vocabulary. So, we at Oliveboard present to all our viewers and Exam aspirants a daily dose of difficult words with their meanings, synonyms and the correct usage in this blog of the Hindu Editorial Daily Vocabulary Booster 16 April 2019.
Take more vocabulary tests here
Start Preparing for SBI Clerk 2019 with a Free Oliveboard Mock Test
The Hindu Editorial Daily Vocabulary Booster 16 April 2019
Words
Meanings & Synonyms
Usage
Amicably

In a friendly and peaceable manner

They have

amicably

resolved their outstanding dispute.

Blasphemy

The action or offence of speaking sacrilegiously about God or sacred things;

Profane talk, Irreverence

He was detained on charges of

blasphemy

.

Downturn

A decline in economic, business, or other activity;

A

downturn

in the housing market is clearly visible.

Fortitude

Courage in pain or adversity;

Courage, Bravery, Strength of mind

She endured her illness with great

fortitude

.

Foster

Encourage the development of something, especially something desirable;

Encourage, Promote, Further, Stimulate

The teacher's task is to

foster

learning.

Intimidation

The action of intimidating someone, or the state of being intimidated;

Frightening, Menacing, Terrifying

He tries to

intimidate

his opponents.

Mammoth

Huge, Enormous, Gigantic, Giant

A

mammoth

corporation was declared bankrupt by the government.

Manipulation

The action of manipulating something in a skillful manner

He wasn't interested in marriage and he didn't want her trying to

manipulate

him into it.

Preceding

Come before something in time;

Foregoing, Previous, Prior, Former

He

preceded

the book with a collection of poems.

Spike

A sharp increase in the magnitude or concentration of something

Oil prices would

spike

and fall again in the upcoming months.

Stimulus

Spur, Stimulant, Encouragement,

Impetus, Boost

If the tax were abolished, it would act as a

stimulus

to exports.

Turnaround

An abrupt or unexpected change, especially one that results in a more favourable situation

It was a remarkable

turnaround

in his fortunes.
Start Preparing for SBI PO 2019 with Free Oliveboard Mock Test
For more The Hindu Editorial Daily Vocabulary Booster Click Here.
So, this was from us in this article of The Hindu Editorial Daily Vocabulary Booster 16 April 2019. Go through The Hindu Editorial Daily Vocabulary Booster 16 April 2019 very thoroughly and you will see marked improvement in your vocabulary. We suppose The Hindu Editorial Daily Vocabulary Booster 16 April 2019 has helped you in learning new words for today and added to your vocabulary.
If you have any doubt in respect of Banking and Government Exam, ask directly from the faculty on Oliveboard Telegram Group. Install Telegram and join obbanking. Be a part of the Telegram community of goal-oriented aspirants who aim for just one thing and that is- SUCCESS!
How to Join Oliveboard Telegram Group
Step 1: Install Telegram in your Mobile Phones / Open Telegram on your desktop
Step 2: Search obbanking or click Here for Web Version
Step 3: Join the Group
Step 4: Start Posting and make the most of it!