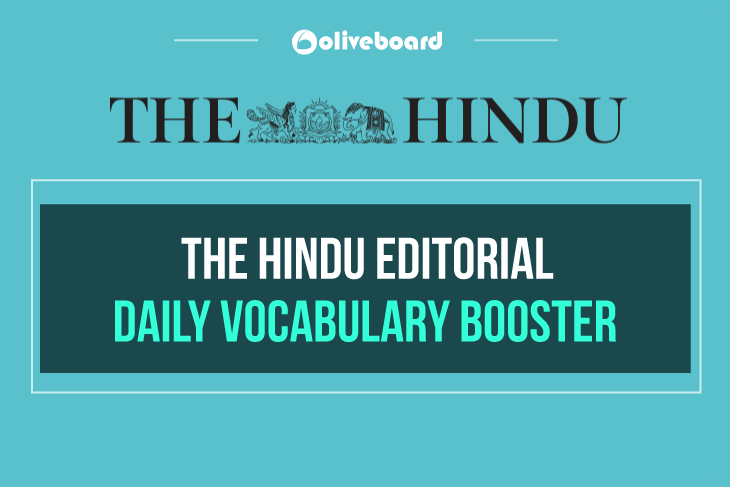 Vocabulary based questions are often asked in all Banking and Government Exams. So we at Oliveboard will be providing you with a daily dose of vocabulary to help you with overcoming your struggle in this section. You need to go through it daily to see a marked improvement in your English vocabulary. We hope it will help you in the upcoming SBI PO, SBI Clerk, RRB JE, NIACL AO, FCI, CWC, LIC AAO, SSC, NTPC exams as well. The words in the Daily Vocabulary Booster 21 May 2019 are taken directly from the editorial of the Hindu Newspaper.
Read in Hindi: द हिन्दू दैनिक शब्दावली बूस्टर 21 मई 2019
The Hindu Newspaper is considered the Bible by the various exam aspirants as it has the best unbiased views on various current news and happenings in the world. Also, it helps immensely if you are looking for daily dose of English reading and building your English vocabulary. So, we at Oliveboard present to all our viewers and Exam aspirants a daily dose of difficult words with their meanings, synonyms and the correct usage in this blog of the Hindu Editorial Daily Vocabulary Booster 21 May 2019.
Take more vocabulary tests here
Start Preparing for SBI Clerk 2019 with a Free Oliveboard Mock Test
The Hindu Editorial Daily Vocabulary Booster 21 May 2019
Words
Meanings & Synonyms
Usage
Ceasefire

A temporary suspension of fighting;

A truce, armistice, Peace

The enemy army have been guilty of violating the

ceasefire

on over 300 occasions.

Crucial

Decisive or critical, especially in the success or failure of something;

Pivotal, Critical, Key, Climacteric, Decisive

Her work has been

crucial

to the project's success.

Deplorable

Deserving strong condemnation; Completely unacceptable;

Disgraceful, Shameful, Dishonourable, Disreputable

The children were raised in

deplorable

conditions.

Erratic

Not even or regular in pattern or movement;

Unpredictable, Inconsistent, Changeable, Variable

In her study room, books were arranged

erratically on chairs, tables, and shelves.
Imperative

Of vital importance;

Crucial, All-important, Vital, Crucial, Critical

It's

imperative

to act now before the problem gets really serious.

Indifference

Lack of interest, concern, or sympathy;

Lack of concern about, Unconcern about, Apathy

Her

indifference

to sports bothered him.

Replicate

Make an exact copy of;

Reproduce, Copy, Reproduce, Duplicate

It might be impractical to

replicate

Eastern culture in the west.

Retaliation

Revenge, Vengeance, Reprisal, Retribution

The bombings are believed to be in

retaliation

for the trial of 15 suspects.

Rivalry

Competitiveness, Vying,

Opposition, Conflict, Strife, Feuding, Discord, Antagonism, Enmity

There's

rivalry

among his three sons.

Truce

Ceasefire, Armistice

After years of rivalry between the two companies have agreed to a

truce

.

Vital

Absolutely necessary;

Essential, Indispensable, Crucial, Key

A strong opposition is

vital

to a healthy democracy.
Start Preparing for SBI PO 2019 with Free Oliveboard Mock Test
For more The Hindu Editorial Daily Vocabulary Booster Click Here.
So, this was from us in this article of The Hindu Editorial Daily Vocabulary Booster 21 May 2019. Go through The Hindu Editorial Daily Vocabulary Booster 21 May 2019 very thoroughly and you will see marked improvement in your vocabulary. We suppose The Hindu Editorial Daily Vocabulary Booster 21 May 2019 has helped you in learning new words for today and added to your vocabulary. You can visit Oliveboard's Discuss Forum to interact with fellow aspirants of Banking and Government exams and learn from your peers.
You can access Oliveboard's Mock Tests and other study materials from your phone. Download Oliveboard Mobile App and prepare on the go! 
If you have any doubt in respect of Banking and Government Exam, ask directly from the faculty on Oliveboard Telegram Group. Install Telegram and join obbanking. Be a part of the Telegram community of goal-oriented aspirants who aim for just one thing and that is- SUCCESS!
How to Join Oliveboard Telegram Group
Step 1: Install Telegram in your Mobile Phones / Open Telegram on your desktop
Step 2: Search obbanking or click Here for Web Version
Step 3: Join the Group
Step 4: Start posting and make the most of it!