In the light of the upcoming RRB Group D & NTPC exam, we have come up with the 200 important expected static GK questions which come under the general awareness section for both exams. The General Awareness Questions are frequently asked in the railway exam, and this section consists of 20 marks. Download the free expected Static GK Questions e-book from the direct download link given below:
General Awareness Questions PDF
How To Download The Free Ebook?
Step 1: Click on the download link. You will be taken to Oliveboard's FREE E-Books Page.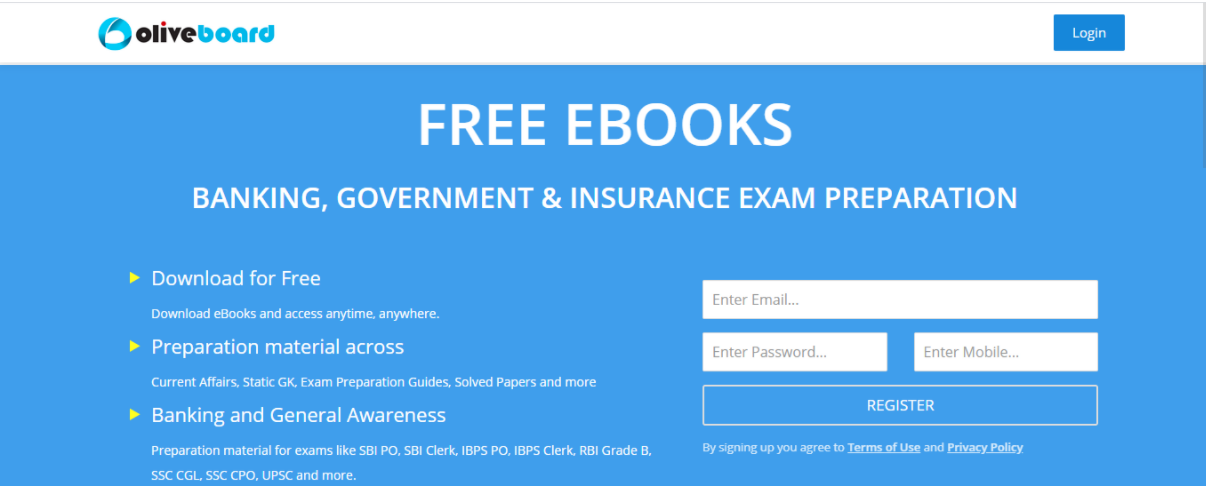 Step 2: Register/Login to the Free E-Books Page of Oliveboard (It is 100% free, You just enter your valid email ID and a password to be able to download the 200 Most Expected Static GK Qs For RRB Group D & NTPC exam.
Step 3: After Logging in, you will be able to download the free e-book.
Sneak Peek Into The Free E-Book
1. Which is the largest island in the continent of Asia?
(a) Borneo
(b) Sri Lanka
(c) Maldives
(d) Java
2. What is the name of the exponent of 'theory of natural selection'?
(a) Charles Darwin
(b) Lamarck
(c) Aristotle
(d) Hargovind Khurana
3. Who wrote the book 'The monk who transformed(UP')
a) Jayatirtha Rao
b) Shantanu Gupta
c) Nirupama Rao
d) Jhumpa Lahiri
4. First cellular phone service started in India-
(A) August 1994
(B) September 1996
(C) August 1995
(D) October 1997
5. The extended form of SIM card is- SIM
(A) Subscriber Identity Module
(B) Subscriber Internet Mobile
(C) Subscriber Identity Module
(D) None of the above
6. Who has been appointed by the Uttarakhand government as its brand ambassador?
a) Sanjay Dutt
b) Rishabh Pant
c) Rahul Dravid
d) Salman Khan
7. In the Republic of India ______ State and _______Union Territory?

(a) 29 & 7
(b) 28 & 8
(c) 28 & 7
(d) 29 & 11
8. What is the full form of "EPF"?
(a) Employees 'Provident Fund
(b) Employee Priority Fund
(c) Employee Personal Fund
(d) Employees Provident Finance
9. Which part of the human body has the largest number of bones?
(A) fingers
(B) brain
(C) Chest
(D) Vertebrae
10. Which campaign has been announced by the central government for 100% literacy from 1 April 2022?
a) Padhna Likhna Abhiyan
b) Padega India Tabhi To Badega India
c) Navbharat Saksharta Abhiyan
d) Gramin Digital Saksharta Abhiyan
More eBooks
Download 200+ Free eBooks important for different government exams here or Oliveboard Online Exam Prep App for easy access to all our learning resources.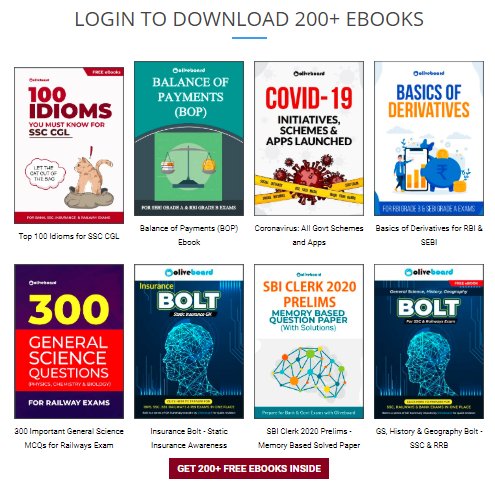 Oliveboard Bolt Series E-books
This is all from us in this blog, 200 Most Important Static GK Questions for RRB Group D & NTPC. Download the free 200 Most Important Static GK Questions PDF from the download link above. Students are recommended to keep checking Oliveboard Online Exam Prep App or the website for latest updates on question patterns, syllabus, mock tests and schedules of upcoming RRB NTPC & SSC exams.
Also, Check:
  Oliveboard Live Courses & Mock Test Series