The mains round of the IBPS clerk 2019 is just around the corner with the exam being scheduled on 19 Jan 2020. In the last few days, it becomes very important to keep your calm and focus on the things you have learned so far and master it. many aspirants tend to get stressed in these last few days before exams. In this blog, we will give you few IBPS Clerk mains preparation tips that will help you sail through the exam with better scores and greater efficiency overall.


Get Ready for IBPS Clerk Mains With A Mock test
IBPS Clerk 2021 Latest Update
IBPS Clerk examination is put on hold by the Finance Ministry. The Finance Ministry on Tuesday directed IBPS to put on hold the examination for clerical cadre in public sector banks (PSBs) till a final view is taken on conducting tests in regional languages. In order to look into the demand for holding examination for clerical cadre in Public Sector Banks (PSBs) in local/regional languages, a Committee has been constituted to look into the matter in its entirety. The Committee will give its recommendations within 15 days. The ongoing process of holding the examination initiated by IBPS will be kept on hold until the recommendations of the Committee are made available.
IBPS had earlier released the recruitment notification for the IBPS Clerk exam 2021 on 11th July 2021. A total of 5830 vacancies have been released by the IBPS for 2021. As per the latest official notification, IBPS Clerk prelims is scheduled to be held on August 28th & 29th and September 4th 2021, and the mains examination is scheduled to be held on 31st October 2021. Check out all the latest news on IBPS Clerk exam like admit card, result, free mock test etc. Now with the release of the notification, it is important to prepare for the IBPS Clerk exam with the latest pattern mock test series and online courses on Oliveboard.
IBPS Clerk Mains Preparation Tips For Last Few Days
Before moving ahead with the preparation tips, let's have a look at the exam pattern that will be seen on the exam day, a clear picture of exam pattern of ibps clerk mains 2019 will help you foster better techniques for the attempt of the questions.
IBPS Clerk Mains Preparation tips – Day-Wise
As you are aware that not much time is left in the exam day of ibps clerk's mains, everything you study at this point of time becomes more crucial. Focussing more on your stronger areas at this point of time will be a pro tip to follow. You can distribute your daily time, taking as many IBPS Clerk mains mock test as possible.
Gear Up For IBPS Clerk Mains with a Mock Test
IBPS Clerk Mains Preparation tips – Few Things To Follow
There are few very basic steps which if followed will help you score maximum in the examination.
Keep a regular check on General/Financial Awareness till the day of the exam. General/Financial Awareness is one section which could set the game apart for you. It is easy and scoring, it just requires you to be thorough and regular with your preparations.
Solve the questions from the topics you have mastered and focus on two things, accuracy and time spent on questions.
In these final days, you can focus completely on your stronger areas, thus allowing to score maximum from the topics you find easy.
Solve a few RC's and Puzzles as they are amongst the favorite topics for the exams. Try and solve RC with a timer and see how well you summarize it.
Keep taking a mock test, as it is similar to the actual pattern of the exam and it will make you feel like taking the actual exam before the exam. Analyze each and every questions in-depth to better understand your mastered topics and time spent on each question.
In the end, just relax and have faith that you have prepared well and nothing could stop you from achieving your dreams.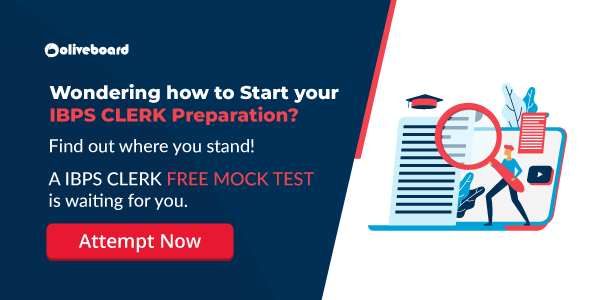 That is all from us in this blog for ibps clerk mains exam preparation tips. Just follow the tips and get ready for the exam day to give your best. Do not stress and give your mind complete rest before the exam. Also, keep a check on the essentials that are needed to be carried to the exam hall. ALL THE BEST…
Also, Check:
  Oliveboard Live Courses & Mock Test Series