As we know, IBPS has released exam dates for the IBPS Clerk mains exam which is to be scheduled for 28 February 2021. For this, you need a daily study plan for better preparation with limited time. So, we are providing you a 15 days study plan for a planned preparation which will help you to strategize your preparation and also assure you to score well in the exam. Let us first go through the IBPS Clerk Mains exam pattern and then we will see the IBPS Clerk study plan.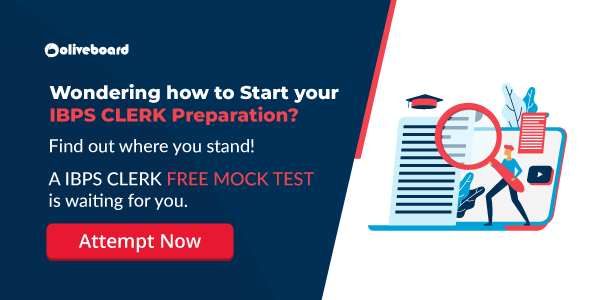 Register here for Free IBPS Clerk 2020 Mock Test
IBPS Clerk Mains Exam Pattern
The IBPS Clerk mains exam is of 200 marks. The mains exam will have a total of 190 questions with a duration of 160 minutes.
The mains exam of IBPS Clerk will have four sections i.e Reasoning & Computer Aptitude, Numerical Ability, General/ Financial Awareness, English Language.
| Name of Test | No. of Question | Maximum marks | Duration |
| --- | --- | --- | --- |
| Reasoning Ability and Computer Aptitude | 50 | 60 | 45 minutes |
| Quantitative Aptitude | 50 | 50 | 45 minutes |
| General/Financial Awareness | 50 | 50 | 35 minutes |
| English Language | 40 | 40 | 35 minutes |
| Total | 190 | 200 | 160 minutes |
Want A Free Mock Test? Register Here & Attempt A Free Mock Test
15 days study plan for IBPS Clerk 2020
The following study plan is a planned way to prepare for IBPS Clerk Mains Exam within 15 days in which we have covered all the important topics asked in the paper. This study plan will help you in recognizing the better way of preparation and also in utilizing your effort and time efficiently.
Computer Aptitude and General Awareness are not bound to specific topics. To help candidates with these two sections we have –
Days
Slot 1
Slot 2
Day 1
Reading   Comprehension/ Idioms & Phrases
Data Interpretation/   Puzzles
Banking Awareness/ Input-Output
Pipes   and Cisterns/ Inequalities/ Problem on Ages/History of computers
Day 2
IBPS Clerk Mock Test 1
Day 3
Reading   Comprehension/ Number System and Conversions
Puzzles/ Problems on   Trains/ Latest Appointments
Inequalities/ India's Financial and Banking   System
Financial Awareness/   Mensuration
Day 4
IBPS Clerk Mock Test 2
Day 5
Current   Affairs/ Windows operating system basics
Seating   Arrangements/ Basics of Banking/ Networking and communication
Impportant Days/ Partnership/   Security Tools
Cloze   Tests/ Order and Ranking
Day 6
IBPS   Clerk Mock Test 3
Day 7
Number   Series/ Budget and Monetary Plans of the Government
Government   Schemes and Policies/ Problems on Boats and Streams
Cloze Tests/ Awards & Honours
Fill   in the blanks/ Average, Ratio and Proportion
Day 8
IBPS Clerk Mock Test 4
Day 9
Direction Sense/   Probability, Permutation and Combination
Approximation   and Simplification/ Key National Institutions
Static Awareness/ Basics of Hardware and   software,
Sentence Errors/   Speed Distance and Time
Day 10
IBPS Clerk Mock Test 5
Day 11
Blood Relations/   Logical Reasoning/ Basics of Hacking
IBPS Clerk Mock Test 6
Syllogisms/ Mixture and Alligation
Day 12
Vocabulary based   questions/ Data Sufficiency
IBPS Clerk Mock Test 7
Data Sufficiency/ Coding-Decoding
Day 13
Sentence   Improvement/ Internet terms and services
IBPS Clerk Mock Test 8
HCF and LCM/ SI & CI
Day 14
Para-jumbles/ Work   and Time
IBPS Clerk Mock Test 9
Profit and Loss/ Basic Functionalities of   MS-Office( MS-word, MS-Excel, MS-PowerPoint)
Day 15
Paragraph Based   Questions/ Static GK/Database basics
IBPS Clerk Mock Test 10
Machine Input-Output/ Alpha-Numeric-Symbol   Series
Along with the above study plan, there are some important points to be taken into consideration:
Since there are sectional timings in the exam, so focus on every section individually.

Practice as much as different type questions to improve speed and accuracy.

Analyze your strengths and weaknesses and work on them.

Give mock tests, analyze them, and track your performance to recognize your success rate towards your selection.
That's all from us in this blog. We hope this study plan for the IBPS Clerk Mains Exam helps in your preparation.
Start your preparation with a free mock now.
IBPS Clerk Mains Crash Course
Complete Prelims Coverage – Complete Mains syllabus covered.
Bilingual Course – The course will be in a bilingual format where the aspirants can be comfortable with their choice of language (Hindi/English)
10+ Live Practice Sessions – Students will be present in an exam-like real-time simulation where they will participate in practice sessions with the faculty wherein they can attempt the questions in a format similar to the IBPS Clerk exam so there are no surprises at the day of the Exam!
8 Live Doubt Clearing Session – Doubts will be cleared by India's Top Faculty in Live Doubt Clearing Sessions with the Faculty directly. Students can interact with the faculty for clearing any doubts they have which enables access to personalized learning & mentoring
6 Mock Discussion Sessions – Live Interactive Mock test Discussion sessions with Faculty
80+ Concept Videos – Exclusive Videos will be available from the 1st day onwards spread out across all major topics
Live Sessions with India's Top Faculty – Students will be present in a classroom-like environment with India's Top Faculty when it comes to Banking Exams, and especially IBPS Clerk. Learning will be easier and more seamless on this platform than on any other!

Topper's Strategy Session – These sessions will extensively cover the Topper's Strategy from each year in IBPS Clerk. The faculty will analyze the strategy of Toppers and guide students on how to crack the IBPS Clerk Mains Exam with maximum efficiency & Time Management Skills.
Tests: You will be given 10 IBPS Clerk Mains Tests, 30 Sectional Mains Tests, 99 Topic Tests & GK Tests for your complete preparation.
Enroll for IBPS Clerk Mains Crash Course
Know Here How can you Join the IBPS Clerk Online Course?
The steps through which you can start attending the sessions are –
Step 1: Register to create your Oliveboard Account or Login if you are a registered user.
Step 2: Find the IBPS CLERK MAINS CRASH COURSE TILE.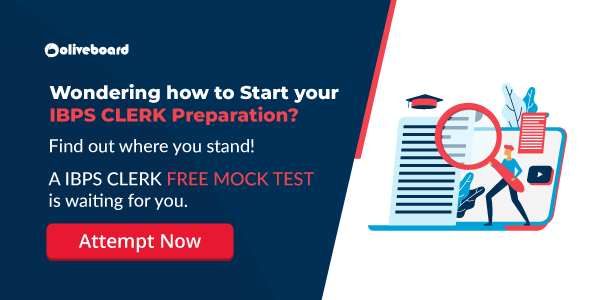 Step 3: Click on the IBPS Clerk Mains Crash Course
Step 4: Click on Buy Now
FAQs
Where can I get the IBPS Clerk Mains study plan 2020-21?

This blog features a 15-day study plan for IBPS Clerk Mains.
Is the IBPS Clerk Mains exam bilingual?

Yes, the exam will be available in English and Hindi. Candidates may opt for language at the time of the test. All Oliveboard Mocks are bilingual so that candidates that the actual exam-like experience.