We often tend to get confused while referring to both of these terms: Monetary Policy and Fiscal Policy. While the former refers to the actions undertaken by a nation's central bank to control the money supply to achieve macroeconomic goals that promote sustainable economic growth, while the latter refers to the use of government spending and tax policies to influence economic conditions, especially macroeconomic conditions, including aggregate demand for goods and services, employment, inflation, and economic growth. Let us now understand the basic differences in a tabular form here in this blog of Monetary Policy vs Fiscal Policy. Let us get started.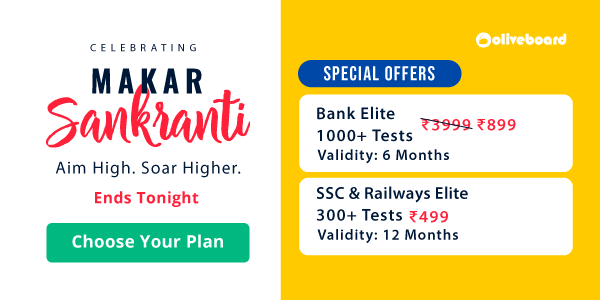 Monetary Policy vs Fiscal Policy
Sr. No.   

Monetary Policy   

Fiscal Policy   

   




1   

The monetary policy addresses interest

rates and the supply of money in

circulation, and it is generally

managed by a central bank.

The fiscal policy addresses taxation and government spending, and it is generally determined by government legislation.

   




2    

Monetary Policy is announced by the monetary authority of the country (Central Bank).   

Fiscal policy is announced by the Ministry of Finance.




   




   

   


3   

Monetary policy is more of a blunt tool in terms of expanding and contracting the money supply to influence inflation and growth and it has less impact on the real economy.    

The fiscal policy generally has a greater impact on consumers than monetary policy, as it can lead to increased employment and income.   

   


4    

The monetary policy seeks to spark economic activity.   

The fiscal policy seeks to address either total spending, the total composition of spending, or both.   

   


5   

Expansionary monetary policy can have limited effects on growth by increasing asset prices and lowering the costs of borrowing, making companies more profitable.   

If the economy is near full capacity, expansionary fiscal policy risks sparking inflation.    

   


6    

Monetary policy can boost consumer spending through lower interest rates that make borrowing cheaper on everything from credit cards to mortgages.   

Fiscal policy involves tax and spending decisions set by the government and will impact individuals' tax bills or provide them with employment from government projects.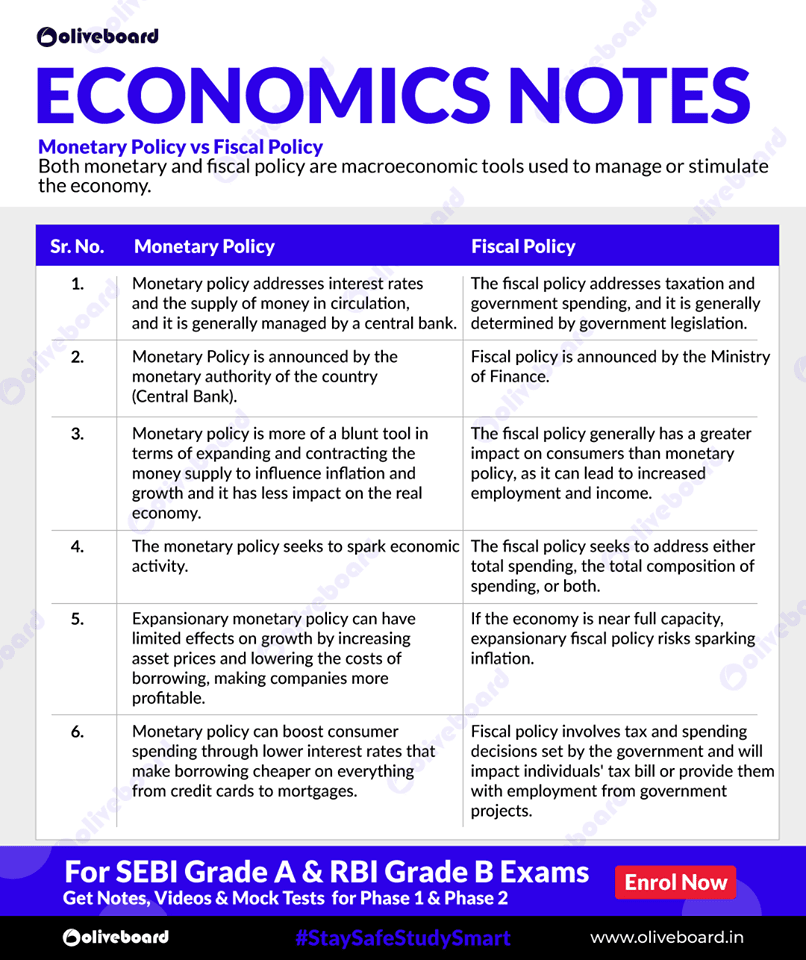 Read More: 
Study material for RBI Grade B 2020
If you are an RBI Grade B aspirant and also a working professional and find it difficult to find enough time for your RBI Grade B Preparations, do not worry at all. 
Oliveboard has come up with RBI Grade B Online Cracker Course for RBI Grade B 2020 Exam. Oliveboard's RBI Grade B Online Course 2020 will be your one-stop destination for all your preparation needs.
What all the course offers you:
Course Details
RBI Grade B Cracker is designed to cover the complete syllabus for the 3 most important subjects: GA for Phase 1 and ESI + F&M for Phase 2 exam. Not just that, it also includes Mock Tests & Live Strategy Sessions for English, Quant & Reasoning for Phase 1. The course aims to complete your preparation in time for the release of the official notification.

Use Coupon Code 'MY20' to avail a 20% discount on RBI Courses!
Features: