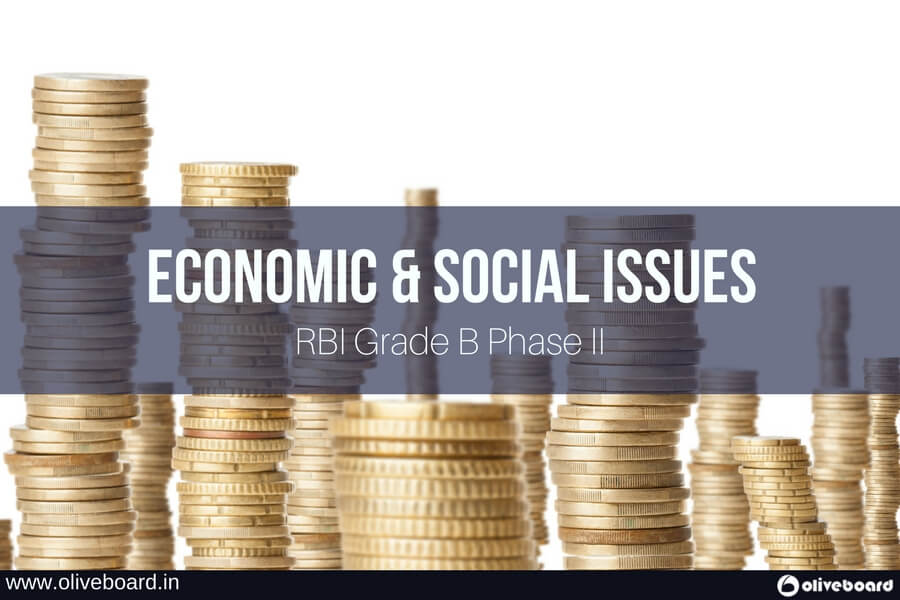 The Economic & Social Issues (ESI) is an important section of the RBI Grade B Phase II Examination. It tests a candidate's knowledge about the Economic & Social concepts (static knowledge) and the various issues related to National & International Economic & Social issues (current affairs). It's an objective paper carrying 100 marks and duration 90 minutes.
In the following article, we have provided the syllabus, resources & guideline to approach the Economic & Social issues section for your preparation:
What to study?
Following is the syllabus of Economics & Social Issues:
Syllabus of Economics [2017]
Growth and development
Measurement of growth: National income and per capita income

Poverty alleviation and employment generation in India

Sustainable Development and Environmental issues
Economic reforms in India
Industrial and Labor policy

Monetary and Fiscal policy

Privatization

Role of Economic Planning
Globalization
Opening up of the Indian Economy

Balance of Payments

Export-import policy

International Economic Institutions

IMF and World Bank

WTO

Regional Economic Co-operation
Syllabus of Social Issues [2017]
Social Structures in India
Multiculturalism

Demographic Trends

Urbanization and Migration

Gender Issues

Social Justice: Positive Discrimination in favor of the under privileged

Social Movements

Indian Political system

Human development

Social sectors in India: Health & Education
Order of Economics topics according to the weight-age given per topic in 2016 exam:
Sustainable development and environmental issues

Monetary and fiscal policy

Growth and development

Regional Economic cooperation

Export and import policy

IMF and World Bank

Industrial and labor policy

HRD

Poverty alleviation

Role of economic planning

Opening up of Indian economy

WTO

Balance of payment
Order of Social Issues topics according to the weight-age per topic given in 2016 exam:
Social justice

Social sectors

Demographic trends

Multiculturalism

Social Movements

Urbanization & Migration

Human development

Indian political system

Gender issues
Note: The RBI Grade B Exam can be unpredictable. Therefore, it's not a good idea to base your preparation on the Previous Year RBI Grade B question paper analysis alone. If a particular topic got more weight-age in the 2016 exam, there is no guarantee that the same topic is going to get similar weight-age in the 2017 exam.
Resources for preparation
After a thorough analysis of last year's RBI Grade B question paper, we found that most of the questions asked in Economics & Social Issues section were from the following sources:
Economic Survey of India

The Budget Document

Conceptual based (Books)

Basic knowledge (NCERT)

Newspapers (Current events, factual in nature)

Press Information Bureau
Most of the questions were based on facts, figures, numbers, percentages, that are required to be remembered. Therefore, based on last year's question paper we concluded that the following are three most important sources:
The Hindu Newspaper

The Economic Survey of India

The Union Budget
However, since the RBI Grade B Exam is unpredictable, you need to go beyond these above-mentioned sources. The above-mentioned sources contain the topics and brief description of those topics. To dig deeper into those topics and gain an in-depth understanding, you will need to exploit the other, below mentioned resources:
Books
Indian Economy by Uma Kapila

Indian Economy by Mishra & Puri

Growth & Development: Devraj Ray

Sociology: C.N. Shankar Rao

How to read balance sheet

How to read cash flow

How to analyze financial statements

IGNOU B.A. Economy Booklets.
Reports
Economic Survey of India

World Development Report

Union Budget

RBI's Annual Report.
Newspapers
Economic Times

The Hindu

Business Standard
Magazines/Bulletins
Economic & Political weekly

Yojana

Pratiyogita Darpan

Southern Economist

Business India

RBI Bulletins
News channels
Listen to views of Economic experts
Others
Sample question papers by RBI. This will give you an idea of both the nature & the difficulty level of questions asked.

FAQ Section of the RBI website

Investopedia Website

Do not let the length of the above-mentioned list of preparation resources intimidate you. You do not have to read them cover to cover, as that is going to take plenty of time. You need to smart and selective in your preparation and be selective about reading.
The best way to find out what you need to prepare from these resources is by referring to the RBI Grade B preparation material prepared by experts in the industry after thorough research. This is where RBI Grade B Mock Tests come in handy.
The Mock Tests are created by exam toppers and experts who have extensive knowledge about the exam, its pattern and syllabus. Taking RBI Grade B Mock Tests will:
Familiarize you with the pattern, nature and difficulty level of the exam
Help you figure out exactly what you need to focus on for the exam from your study material so you can be smart & selective and save time
Determine your speed & accuracy
Identify your strengths & weaknesses
Approach
The Economic & Social Issues preparation can be broadly divided into two parts:
While the static section focuses on conceptual understanding of Economic & Social concepts, the Dynamic section focuses on current affairs related to Economic and Social issues.
Static
If you had Economics as a topic in your graduation, you can simply refer to your Economics textbooks or notes to brush up your basics.
However, if you're new to Economics, we recommend you start your preparation by referring to NCERT Economics textbooks of classes 10, 11 and 12 and Day to Day Economics by Satish Deodhar. Get your fundamentals in Economy in place and learn macroeconomics concepts like National income, Development and growth, Budget, Bank Rates, Fiscal/Revenue Deficits, Banking & Finance sector of India, NITI Aayog, Planning Commission, Role of Govt. of India, Taxation, Inflation, Repo rate, etc.
Once your foundation is strong, you can start referring to books like Indian Economy (Uma Kapila) for advanced Economic concepts and read up summary of the Economic Survey of India, Latest census, Union budget, FAQ section of the RBI website (which covers concepts like foreign exchange, government securities market, banking, currency, etc.)
For social, you can pick up topics from newspapers and exploit the internet for deeper knowledge on the topic. Read up summary of Socio-Economic & Caste census and latest census.
Dynamic
Refer to magazines like Yojana and Pratiyogita Darpan and newspapers like The Hindu and Economic Times for current affairs of last 1 year, related to Economic & Social Issues and make notes. Pay extra attention to the minute details like facts, figures, numbers and percentages mentioned. A lot of questions asked in this section are factual in nature.
For social, read up about the various Social Sector schemes & Welfare programs.
Download & use the above as a handy guide to prepare for your Economic & Social Issues section of the RBI Grade B Phase II Examination.
We wish you all the very best!
Further reading:
RBI Grade B Official Notification [2017]
Banking Awareness Notes: International Financial Institutions