Economic & Social Issues (ESI) is an important section of the RBI Grade B Phase II Examination. It tests a candidate's knowledge about the Economic & Social concepts (static knowledge) and the various issues related to national economic & social issues (current affairs). As per the changed pattern of Phase-II, ESI will have two separate subsections: Objective (30 minutes) and Descriptive (90 Minutes) with a total of 100 marks. In the following article, we have provided the syllabus, resources, and some tips on how to approach the Economic & Social issues section for your preparation.
Have a look at the RBI Grade B Crash Course covering all the Changes introduced in the Exam Pattern.
Economic & Social Issues Preparation [ESI]
Going through the sample paper released by RBI will give you a fairly good idea of the kind of questions asked in the examination. This will also help you understand how deep you need to go into the topics while preparing. The type of questions asked in the ESI section can be broadly classified as:
i. Static: Conceptual questions that test basic knowledge of different concepts of macroeconomics like national income, the repo rate, bank rate, fiscal deficit, revenue deficit, budget, inflation, banking sector in India, etc.
ii. Dynamic: Questions based on current affairs related to Economic & Social issues.
The topics to be prepared for ESI are listed below.
Growth and Development

Measurement of growth: National Income and per capita income

Poverty Alleviation and Employment Generation in India

Sustainable Development and Environmental issues

Economic Reforms in India

Industrial and Labour Policy

Monetary and Fiscal Policy

Privatization

Role of Economic Planning

Globalization

Opening up of the Indian Economy

Balance of Payments

Export-Import Policy

International Economic Institutions

IMF and World Bank

WTO

Regional Economic Cooperation

Social Structure in India

Multiculturalism

Demographic Trends

Urbanization and Migration

Gender Issues

Social Justice: Positive Discrimination in favour of the underprivileged

Social Movements

Indian Political System

Human Development

Social Sectors in India, Health, and Education
Have a look at the ESI notes & video here
---
I. Resources for ESI Preparation
After a thorough analysis of last year's RBI Grade B question paper, we found that most of the questions asked in the Economic & Social Issues section were from the following sources:
Economic Survey of India

Newspapers (Current events, factual in nature)

Press Information Bureau
Most of the questions were based on facts, figures, numbers, percentages, that are required to be remembered. Therefore, based on last year's question paper we concluded that the following are the three most important sources:
The Hindu Newspaper

The Economic Survey of India
However, since the RBI Grade B Exam is unpredictable, you need to go beyond these above-mentioned sources. The above-mentioned sources contain the topics and a brief description of those topics.
---
II. ESI Preparation Tips
» General Tips
1. Brush up on your basic concepts.
2. Current affairs would dominate here.
3. Know the latest development related to the topics given in the syllabus.
4. Descriptive Questions can be of three types: Completely static, Static + Current Affairs + Completely Current Affairs Based, or Opinion Based.
» Important Chapters for the Objective Paper?
You might expect objective questions from the following topics: 
Get thorough with the basic concepts (fundamentals).
Cover these basic chapters of ESI & FM like

Measurement of Growth – Various Indicators like GDP, GNP, NNP, National Income, etc.

What is Monetary and Fiscal Policy?

Various tools used by RBI (as part of Monetary policy) and the Government as part of Fiscal Policy.

Balance of Payments

Industrial & Labour Policy 

Sustainable Development

Indian Political System (important articles)
» Important Chapters for the Descriptive Paper
You might expect some descriptive questions from the following topics:
Poverty Alleviation

Employment Generation

Changes in Industrial Policy & Labour Policy

Monetary & Fiscal Policy 

Priorities & recommendations of Economic Survey& Union Budget.

Indian Agriculture

Export & Import Policy

Human Development 

Social Sectors in India 

Health & Education
Have a look at the sample descriptive Q&A here
---
III. Approach for Economic & Social Issues (ESI) Descriptive Paper
Step 01: Get a grip on all imp. concepts. List them down and make sure to understand each one.
Step 02: Expect questions related to Current Affairs, so track all the important events, reports, schemes, policies and have key points ready for these. Coverage: Last 6 months.
Step 03: Make a list of imp. points mentioned in the Union Budget and Economic Survey. Note the points such that you can use them for any type of questions asked from these two sources.
Step 04: For opinion-based questions which would mostly be asked from the Social Issues section, you need to justify the stand you take. Do not spend time preparing points for these. You can use a few data points noted down while studying current affairs for these answers.
Step 05: Practice at least 12-15 answers before you go for the examination.
Start out by Practising Free Descriptive Tests for ESI
---
Do not let the length of the above-mentioned list of preparation resources intimidate you. You do not have to read them cover to cover, as that is going to take plenty of time. You need to smart and selective in your preparation and be selective about reading.
The best way to find out what you need to prepare from these resources is by referring to the RBI Grade B preparation material prepared by experts in the industry after thorough research. This is where RBI Grade B Mock Tests come in handy.
The Mock Tests are created by exam toppers and experts who have extensive knowledge about the exam, its pattern, and syllabus. Taking RBI Grade B Mock Tests will:
Familiarize yourself with the pattern, nature, and difficulty level of the exam
Help you figure out exactly what you need to focus on for the exam from your study material so you can be smart & selective and save time
Determine your speed & accuracy
Identify your strengths & weaknesses
Try it yourself! Take Free RBI Grade B Phase 2 Mock Tests.
---
RBI Grade B Online Course 2021 by Oliveboard
Oliveboard offers the best RBI Grade B Online Coaching for you all which will help you crack the exam with ease in your first attempt.
Do join for your RBI Grade B 2021 exhaustive preparation.
Go through free RBI Grade B study materials PDFs and take up RBI Grade B Free mock tests online.
Oliveboard's RBI Grade B Online Course 2021 will be your one-stop destination for all your preparation needs
1. Course Details
RBI Grade B Cracker is designed to cover the complete syllabus for the 3 most important subjects: GA for Phase 1 and Objective + Descriptive portions of ESI + F&M for Phase 2 exam. 
Not just that, it also includes Mock Tests & Live Strategy Sessions for English, Quant & Reasoning for Phase 1. The course aims to complete your preparation in time for the release of the official notification.

» Features:
RBI Grade B 2021
Crash Course Offerings
Video Lessons & Study Notes

Mock Tests

90+ Video Classes for ESI & FM

LIVE + Revision Sessions for ESI & FM

10+ Descriptive English Classes

Detailed Study Notes ESI & FM

Current Affairs Capsules & Past Year Papers

6 Descriptive Mock Tests (ESI & FM)

30 Objective Mock Tests (15 – ESI & 15 – FM)

10 Full-Length Mock Tests for Phase 1

Topic Tests for each chapter of ESI & FM (1 Markers & 2 Markers)
 *We will get your ESI & FM descriptive answers evaluated!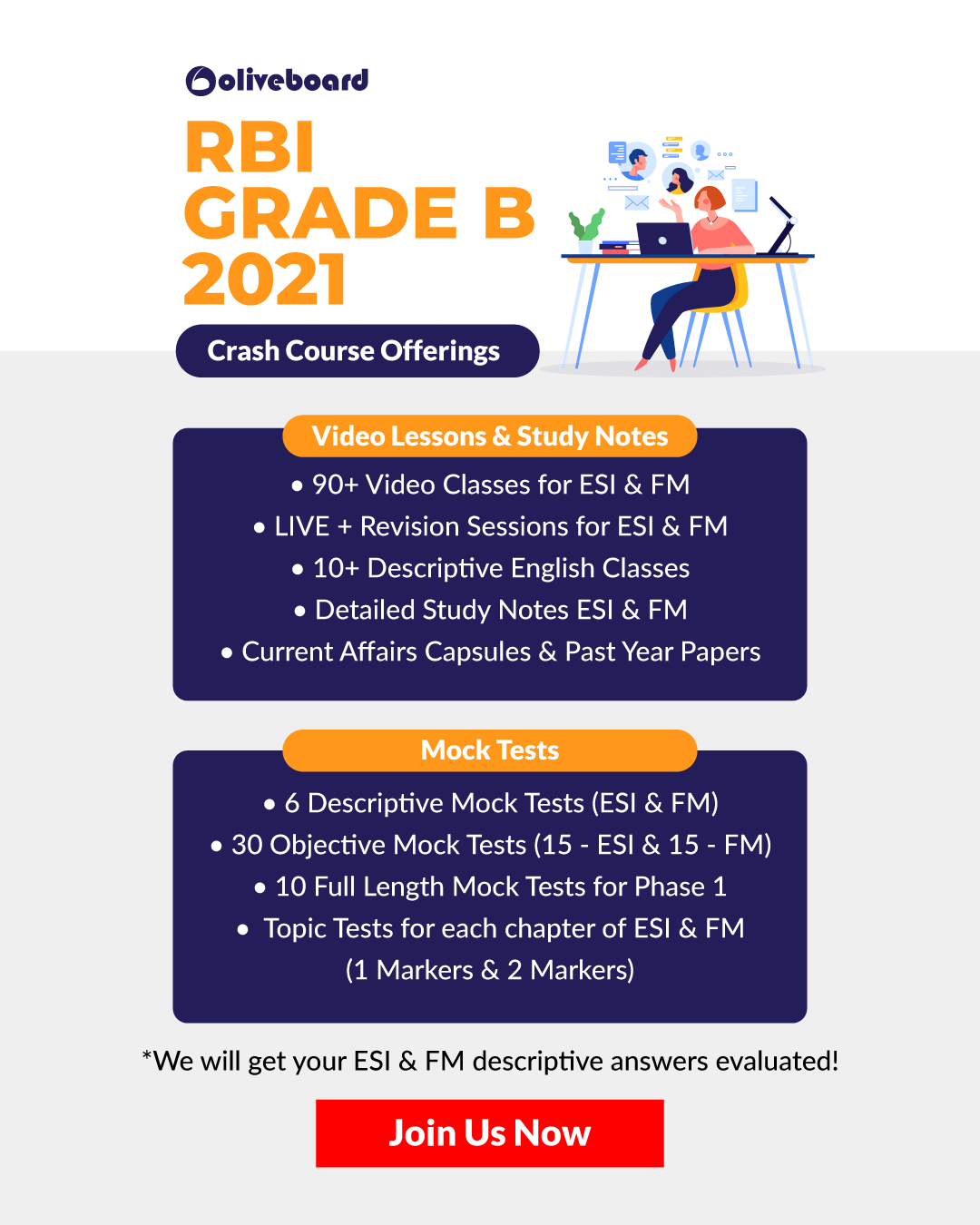 Oliveboard Live Courses & Mock Test Series