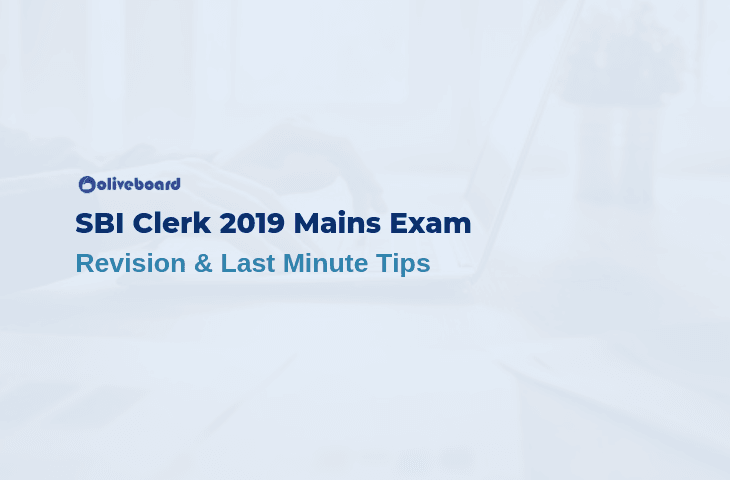 SBI Clerk Mains Exam is scheduled on 10th of August 2019 and it is time to show up completely prepared and hit the target. Your target should be your name in the merit list. Remember you have successfully crossed a hurdle of SBI Clerk Prelims Exam 2019 and emerged victorious. The same has to be repeated with the Mains Exam. Fasten your seat belts and get ready to hit the mark again because it is possible and can be achieved. Let us go through the "SBI Clerk Mains Revision and Last Minute Tips" in this blog. Read it carefully and try to implement it. You can amend the strategy as per your preparation level.
Oliveboard's Subscription Platform for Unlimited Access to Online Classes
SBI Clerk Mains 2019 – Exam Pattern
The structure of the main examination (online objective type) would be as follows.:
Take up Oliveboard's SBI Clerk Mains Mock Tests Here
SBI Clerk Mains Revision Plan, Strategy & Last Minute Tips 
Now you must realise that you do not have all the time in the world to sit and prepare from scratch. Therefore it is prudent to apply a smart strategy and thereby get the desired results. SBI Clerk Mains Paper would be easy as per the past few years exam analysis and also the cut off ought to go high. 
SBI Clerk Mains Revision – General/Financial Awareness
I hope that you were regular in reading and revising the Daily Current Affairs and News. These days the duration of the past few months from which the current affairs would be asked cannot be predicted. Therefore for the safe side, you need to go through the current affairs of the past 6 months prior to the Exam. A thing that could be noticed from the SBI PO Mains Exam 2019 Analysis, there were questions in the GA section from the news of the past few days. It is recommended that you go through the current affairs from 1st to 9th of August 2019 as well. 
For the sake of your revision, you can go through the following freely downloadable PDFs that contain the GA from the months of January to July and also most probable questions PDF. These, I bet would definitely help you a great deal.
1. Special SBI Clerk Mains BOLT – 300+ Current Affairs MCQs PDF
2. SBI PO Mains BOLT -: Comprehensive Current Affairs PDF (Jan to July 2019)
---
SBI Clerk Mains Revision – General English
1. If you have taken the SBI Clerk Mains Mock Tests, it is advisable to read and revise the English Language sections of these Mock Tests, both the questions and the solutions part. Revising the Mock Test Solutions will aid you in going through a variety of questions as well as the approach to solve those.
2. If you haven't practised for the English Section enough, we would suggest you to practice the following simple questions now rather than indulging in higher difficulty level questions.
Practice Error Spotting questions.
One-Line Para-jumbles questions (At this point of time, do not get indulged in Paragraph based Para-jumbles)
Solve questions on finding the central idea of the passage.
You can also practice questions of Finding Odd One Out.
The above question types, you could easily get in Oliveboard's Mock Tests.
Take up Oliveboard's SBI Clerk Mains Mock Tests Here
---
SBI Clerk Mains Revision – Quantitative Aptitude
For now that you don't have much time, you can go with these tips:
1. Practice Simpler Data Interpretation questions. Remember it is SBI Clerk Mains Exam. The paper would not be of the same difficulty level as that of SBI PO Mains Exam.
2. Practice New Pattern Number Series.
3. Master Basic Fundamental Rules that would be beneficial for the questions of Data Sufficiency.
4. Revise the formulae and rules of Topics such as Mixtures & Alligations, SI & CI, Time, Speed and Distance, Time & Work, Profit & Loss, Mensuration, Averages, Number System, Algebra etc.
5. These above rules should be at your fingertips so that you could recollect them as and when a question is asked upon them.
6. What more you can do is Google the Basic Rules of these topics one at a time and make rule book and keep revising it on a regular basis.
7. You will find questions upon these topics in Oliveboard's Mock Test Series.
8. Solve these Mock Tests with full concentration and do note down the Important Tips and Formulae given in the Solution Part of these Mock Tests.
Take up Oliveboard's SBI Clerk Mains Mock Tests Here
---
SBI Clerk Mains Revision – Reasoning Ability & Computer Aptitude
1. We would again recommend going through the solutions part of the Reasoning Ability & Computer Aptitude section of SBI Clerk Mock Test. Mock Tests give you a variety of different types of questions of varying difficulty level with the correct approach to solve them given in the Solutions part. 
2. Go through them and understand the solution part. What else you can do is practice the following types of questions also to increase your chances of selection.
Practice a few Seating Arrangement & Puzzles, for example, Rectangular seating arrangement types and simpler two-variable puzzles types. Do not waste your time in solving complex puzzles containing more than two variables. 
Practice the Input-Output Questions of Latest Pattern (Take cur from the SBI PO Mains Exam)
Practice the Latest Pattern questions of Coding-Decoding.
Practice Coded Direction Sense questions now.
Take up Oliveboard's SBI Clerk Mains Mock Tests Here
---
Also Read:
Now, this was all that we could probably suggest in this blog of "SBI Clerk Mains Revision & Last Minute Tips". We hope that you would like it and be able to implement it as well. You can download your SBI Clerk Mains Exam Call Letters using the link given below:
Register for IBPS Cracker Course only for Rs 999