We are inching closer towards SSC CGL 2020 exam. If you are the one who is aiming for a stable and prestigious government job under different ministries and departments, then now is the time to start your preparations and hone your skills. Preparing for this exam is a task in itself and we, at Oliveboard have always been there to guide you through your preparation journey. The SSC CGL Exam is one of the toughest exams that Staff Selection Commission conducts but to make it a lot easier, we're launching SSC CGL 2021 Crash Course – An SSC CGL Online Preparation Course.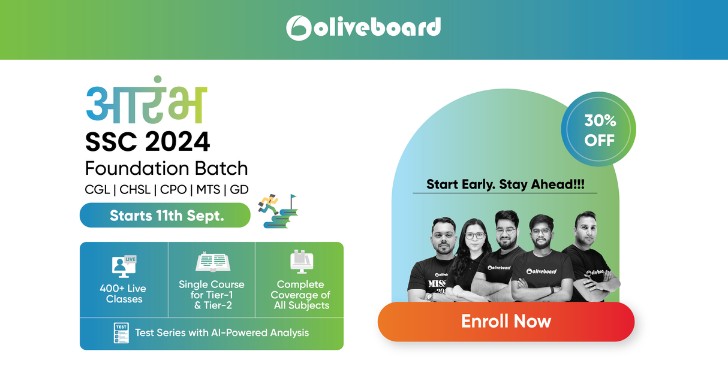 The SSC CGL 2021 Crash Course for 2020-21 is one of the most comprehensive online coaching for the CGL Exam preparation. The SSC CGL Online course will be beneficial to all, especially to those who do not have access to the coaching classes. We assure you that if you join us, it would be the best decision taken, and you will be one step closer towards your goal that is getting into the merit list of SSC CGL. To make it even more attractive, we are providing this course with a lifetime pass. Wondering what that means? It simply means that we will be there with you, guiding, till you reach the goal set. In this blog, we are going to tell you everything that you need to know about this upcoming SSC CGL 2021 Crash Course.
SSC CGL 2021 Crash Course – An SSC CGL Online Preparation Course | Features
To help you ace the SSC CGL 2021 exam through the power of PRACTICE of 750+ Fully Updated SSC CGL Exam Level Questions, Oliveboard brings to you SSC CGL 2021 Crash Course Course. This course focuses on the PRACTICE aspect of your preparation and also covers the entire syllabus for SSC CGL. It includes Concept Videos, Live Practice Sessions for English, Reasoning, Quant, General Studies and also some Toppers Strategy Sessions.
This course caters to the ENTIRE needs for cracking an exam as challenging as SSC CGL 2021 in the last one month before the exam.
You will also receive complimentary access to our Tier 2 Course in the future
Course Features
Learning
Live Video & Audio Interaction with the faculty
Special Focus on learning through Practice
Special Sessions from SSC CGL 2019 Toppers
Practice
30+ Live Practice Sessions (led by faculty)
750+ Fully Updated SSC CGL Exam Level Questions
General Studies for All Round Practice
Exam Strategy
Special test-taking strategy sessions
Last Minute Exam Tips
*Course Validity: Until SSC CGL Mains 2021
*Test Validity: Until SSC CGL Mains 2021
SSC CGL 2021 Crash Course – Schedule For Live Classes
Download the calendar for Mission SSC CGL Course Live Classes on clicking the link mentioned below:
Advertisements

SSC CGL Online Preparation – Know Your Faculty Members
Aditya Sir – General Awareness Faculty
He has experience of more than 5 years in teaching. He has successfully conducted multiple Banking, SSC and Interview batches over the years and helped thousands of students fulfill their dreams. Below is the sample video provided for you to know our faculty member who is going to be with you throughout the course.
Mukesh Sir – Reasoning Faculty
He has more than 5 years of experience in teaching Reasoning for various Bank and Government Exams in India. His Short cut tricks for solving Puzzles and other reasoning questions has made him popular with students all over the country. Below is the sample video of our Reasoning faculty whose tricks will help you get a good score in the exam.
Saurabh Sir – Quant Faculty
She is one of India's Top Quant Faculty for SSC and other Government Exams. She has a total of 10+ years experience of teaching Quant in India. Below is the sample video of our quant faculty.
Kanak Ma'am – English Faculty
She has more than 5 years of experience in teaching English for various SSC, Bank and Government exams. Her knowledge of vocabulary can ease your path of cracking SSC CGL. Just find a sample video of our English faculty and her class on one word substitution.
So hurry up and Start Registering Yourself as soon as the link is active to not miss out on this excellent opportunity of enrolling yourself for the best SSC CGL Online Preparation for the SSC CGL  Exam.
Previous Course on SSC CGL 2021
Helping anyone and everyone who wants to learn is the vision for us at Oliveboard, and we are following this vision adamantly. Our Online Mock Test series has already been on the row, and now we aim to make your Online Learning experience rich. Following are the details of the upcoming Mission SSC CGL Course on our platform:-
80 Live Classes of Quant, English, General Intelligence/Reasoning, and GS by highly experienced Faculties: In these live classes, India's Top Faculties are going to help you understand advanced concepts, tips, tricks,

new pattern question

, shortcuts to solve tricky questions, etc.

18 Video Doubt Clearing Sessions With the Faculties: Yes, in this course you will get special attention. As a part of the course, you will be able to directly reach out to the faculty for addressing your queries in specified doubt clearing sessions.

22 Live Practice Tests for Topic Mastery: Get practice tests after every Concept clearing Video Lessons to master what you have studied. You can discuss it later with the Faculty during Live Sessions if you have any doubt.
Special Exam Strategy Sessions: Just attempt the exam or attempt the exam with a plan, I am sure you will prefer that later. Our experts will guide you on how to go about the exam and few do's and dont's.
This was all from us in this blog for Mission SSC CGL Course – An SSC CGL Online Preparation Course. To know every detail regarding our course stay tuned with Oliveboard.
Also Check:

---
Recommended Readings

Oliveboard is a learning & practice platform for premier entrance exams. We have helped over 1 crore users since 2012 with their Bank, SSC, Railways, Insurance, Teaching and other competitive Exams preparation.
  Oliveboard Live Courses & Mock Test Series