"Opportunities don't happen. You create them." Similarly, Anubhav followed his ambition and kept working hard to achieve success in his life. Here is the success story of Anubhav Panigrahy in his own words:
Success Story of Anubhav Panigrahy
"Greetings everyone!
My name is Anubhav Panigrahy and I am from Bhubaneswar, Odisha. I completed my B.Tech in Electronics and Instrumentation Engineering from National Institute of Technology, Rourkela in 2014. Currently, I am working as an Administrative Officer at New India Assurance Co Ltd in Mumbai.
Recently the final results of RBI Grade B 2018 were announced and I  am one of the shortlisted candidates. This is a short narration of my story so far.
Following two successive failed attempts at UPSC Civil Services Examination after my graduation in 2016, I decided to shift focus to banking and insurance examinations. My first tryst was with RBI Grade B exam 2016, in which while I cleared phase I of the examination, I could not clear phase II.
However, I managed to get selections at New India Assurance Co Ltd as well as Punjab National Bank. In fact, I had scored the highest marks in the NIACL exam, and second highest in the IBPS PO exam that year. I decided to join the former as I was faced with the opportunity to work in Mumbai. But in the back of my mind, I always knew that I had it in me to reach RBI.
---
RBI Grade B Preparation Strategy
And thus in March 2018, I started my preparation for RBI Grade B 2018 examination. I relied mostly on standard textbooks like Ramesh Singh for ESI and Prasanna Chandra for Finance, complementing them with my own notes drawn from current affairs and newspapers.
For phase 1, I enrolled for Oliveboard mock tests as I had done for my earlier exams too, and I wasn't disappointed either. I cleared phase I comfortably with 135/200 marks. While I appreciate the effort put in by Oliveboard in their phase II mock tests, given the nature of the examination it is very difficult to provide tests that can give you an experience similar to the actual exam.
Though I cleared phase II, I was well aware of the fact that I may not have cleared the exam by a huge margin as my performance was not up to my expectations. So, I pulled up my socks and was ready to go that extra mile to score big in the interview so that I had a shot at the final selection.
I started reading 4-5 newspapers every day including a couple of business newspapers. I checked the RBI website regularly for updates, notifications, policy decisions, speeches, etc and made my own notes on them. I thoroughly went through the functions of RBI and their various departments. I even revised Ramesh Singh at least thrice before the day of my interview. Finally, my perseverance paid off when I found my roll number in the final list of selected candidates. However, more telling were the final marks scored by me:
ESI: 64.75/100
FM: 75.50/100
English: 67/100
Interview: 42/50
Total: 249.25/350 (UR cut-off: 248.50)
I had made it by just a whisker!
Through my story, I would like to draw attention to two things.
Firstly, when one wants to achieve a big success in life, she has to be self-motivated. For two full years, I was in the comforting environment of my home while preparing for examinations. All I had to do was sit and study while everything else was served to me on a platter. But that wasn't enough for me to clear UPSC or RBI examinations because there was this great fear of "what-ifs".
However, when I moved to Mumbai, I had to spend 8 hours at work, travel 2-3 hours daily, and then come back home to take care of my daily household chores, before I could even sit down to study. And yet I managed to clear the examination. The reason being, I literally did not have to look for inspiration any further than outside my office window to sneak a glance at the towering structure of the RBI central office.
Secondly, the game is not over until the final results have been declared. My task was cut out for me after my phase II examination as I realized that any interview score less than 40 could sound like a death knell for me. And I went all in, giving it my best, with the confidence that I was still in the running despite my slightly below-par performance in phase II. And it was my interview that made all the difference in the end.
I would consider it a huge success if I could inspire even a handful of people through my story.
Always remember that there could be a thousand reasons why you fail, but there should be no excuses.
Read more success stories here.
---
RBI Grade B Online Course 2021-22 by Oliveboard
If you are someone who is aiming for the RBI Grade B Exam and are confused about how to start or go about the preparation, Oliveboard has come up with RBI Grade B Online Cracker Course to help you ace the RBI Grade B exam for serious aspirants. Read below what is included in the Course.
Oliveboard offers the best RBI Grade B Online Coaching for you all which will help you crack the exam with ease in your first attempt. Oliveboard's RBI Grade B Online Course 2021-22 will be your one-stop destination for all your preparation needs.
Do join for your RBI Grade B 2021-22 exhaustive preparation.
Go through free RBI Grade B study materials PDF and take up RBI Grade B Free mock tests online.
1. Course Details
RBI Grade B Cracker is designed to cover the complete syllabus for the 3 most important subjects: GA for Phase 1 and Objective + Descriptive portions of ESI + F&M for Phase 2 exam. 
Not just that, it also includes Mock Tests & Live Strategy Sessions for English, Quant & Reasoning for Phase 1. The course aims to complete your preparation in time for the release of the official notification.
1.1. Features
RBI Grade B 2021-22 Crash Course Offerings
Video Lessons & Study Notes
Mock Tests

1. 90+ Video Classes for ESI & FM




2. LIVE + Revision Sessions for ESI & FM




3. 10+ Descriptive English Classes




4. Detailed Study Notes ESI & FM




5. Current Affairs Capsules & Past Year Papers

1. 6 Descriptive Mock Tests (ESI & FM)




2. 30 Objective Mock Tests (15 – ESI & 15 – FM)




3. 10 Full-Length Mock Tests for Phase 1




4. Topic Tests for each chapter of ESI & FM (1 Markers & 2 Markers)
 *We will get your ESI & FM descriptive answers evaluated!
Enroll Here for the RBI Grade B Cracker Course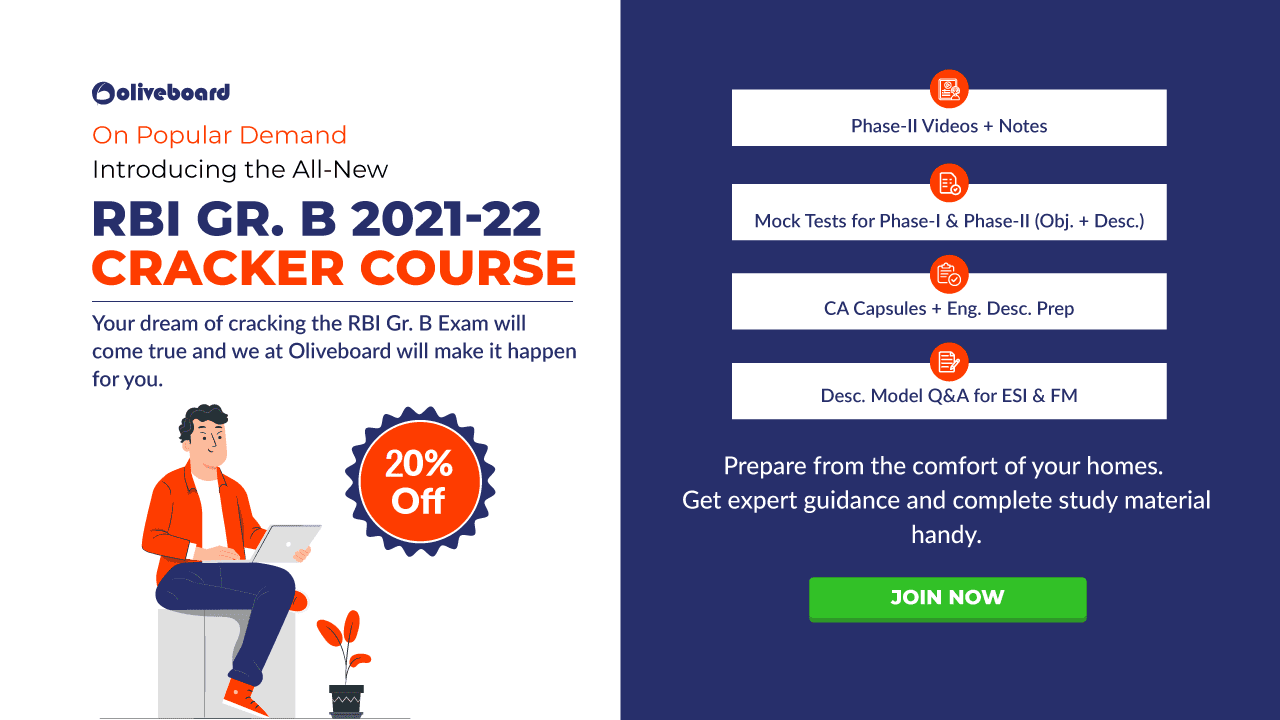 ---
1.2. How to enrol for the RBI Grade B Online Course 2021-22?
Sign up or log in using the link given below. You will be redirected to the payments page. Read the course offerings and subscribe to RBI Grade B 2021-22 Cracker Course. 
Now that you are aware of the RBI Grade B Online Classes, why wait?
Get Started with RBI Grade B 2021-22 Online Course comprising Video Lessons, Detailed Study Notes & All-India Mock Tests for Phase-1 & Phase-2.
Use Coupon Code LAUNCH & Get 20% off on RBI Grade B Course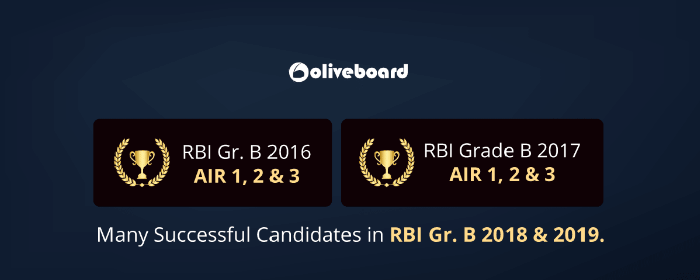 Connect with us on

The most comprehensive online preparation portal for MBA, Banking and Government exams. Explore a range of mock tests and study material at www.oliveboard.in
  Oliveboard Live Courses & Mock Test Series