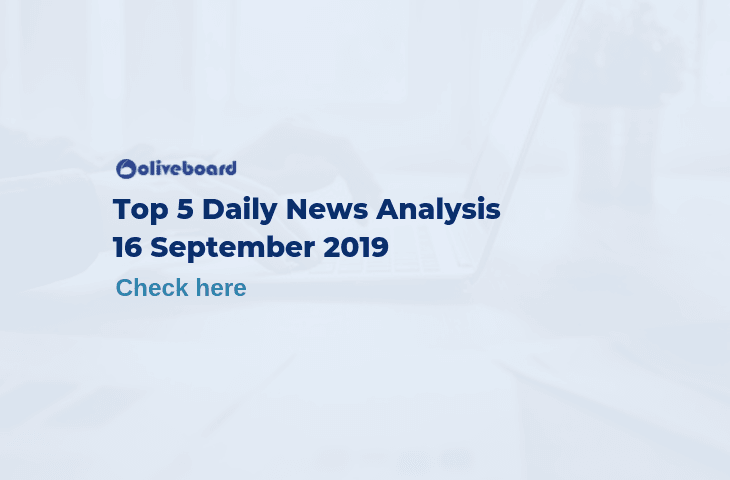 In view of the number of aspirants preparing for the exams, we are going to introduce a daily blog on top 5 daily news, which will eventually help the aspirants in staying up to date with the latest and essential happenings for the day at a single place. Top 5 daily news Analysis is an attempt to reach out to the public with highlights for the day and get them to familiarise with the happenings. These updates will be very helpful in preparation for various exams like SBI PO, RBI Grade B, IBPS PO, IBPS Clerk, etc. To get a real-time understanding of the exam and exam pattern follow link.
Checkout Oliveboard for Exam Preparation 
Top 5 Daily News Updates:
National Payments Corporation of India (NPCI) has rationalized the Merchant Discount Rate (MDR) for Rupay Debit Cards.
As per the recent notification from the NPCI, the merchant discount rate on the usage of Rupay debit cards has been revised to 0.60 % for transactions above 2000/-INR. with a maximum cap at 150/- INR per transaction. Presently this MDR was at 0.90% above the transaction of 2000/- INR with a cap at 1000/- INR. Rupay Card was launched in the year of 2012.
MDR on Bharat QR codes have also been reduced to 0.50% with a cap at 150/- INR per transaction.
This revision will come into effect from 20th October 2019.
SBI Revises the Charges on Minimum Monthly Balance limit for their bank account holders:
SBI has reduced the limit for minimum monthly balance for their bank account holders from 5000/- to 3000/- INR.
Charges levied on non-maintenance of minimum monthly balance has been revised region-wise, details are as below-
For customers in Metro and Urban it was rupees 50, now it will be rupees 15 excluding GST.
For semi-urban and rural centers, it has been revised from rupees 40 to rupees 12 and rupees 10 respectively.
As per bank, it will benefit approximately 250 million savings account customer of theirs.
These service charges will be rolled on from 1st October 2019.
Take Free General Awareness tests on Oliveboard Platform
SBI Revises their NEFT and RTGS Charges:
As per SBI's latest attempt to attract customers, SBI has slashed the charges for their NEFT and RTGS facilities. The charges incurred for NEFT will be as follows-
Up to 10,000 Rupees- Rs 2 +GST
Above 10,000 and up to 1 Lakh INR – Rs 4 + GST
Above 1 lakh and up to 2 lakhs – Rs 12 + GST
Above Rs 2 lakhs- Rs 20 +GST
There is neither minimum limit of transaction on NEFT nor minimum.
For RTGS revised prices will be-
From Rs 2 lakhs to 5 Lakhs- Rs 20 +GST
Above Rs 5 lakhs- Rs 40 +GST.
For RTGS the minimum limit is 2 Lakhs but there is no maximum limit.
World Ozone Day 2019:
Every year on 16th September, we observe World Ozone Day to spread awareness regarding the salvation of the ozone layer. This day was designated in December 2000 by United Nations General Assembly as a commemoration to the Montreal Treaty that was signed in 1987 against the substances that deplete the Ozone layer.
Ozone is considered to be an important thin gas shield layer that protects our earth from Harmful UV rays.
The theme for this day is '32 years and Healing'. The tagline denotes three decades of efforts of world organizations in protecting the Ozone Layer.
Great Ganga Run 2019 Flagged Off:
Jal Shakti Minister Gajendra Singh Shekhawat and Sports Minister Kiren Rijiju together flagged off Great Ganga Run 2019 at Jawahar Lal Nehru Stadium in New Delhi.
This marathon is an attempt from our government to create awareness among the people for the revival and saviour of River Ganga. A large group of people participated in the run and were found to be highly enthusiastic.
This mission is been flagged in association with National Mission for Clean Ganga. Jal Shakti minister Gajender Singh Shekhawat is associated with NMCG. Approximately 20,000 People registered for the event.
Watch Detailed analysis with Aditya Sir. Click on the link below.
We have tried to cover major facts in top 5 daily news that will help you in the Banking, UPSC, RRB, etc exams. This will be a daily blog filled with interesting news and important facts. Please stay connected to Oliveboard page for receiving the daily updates.
Also Check: