Banking and Financial Current Affairs constitute the majority of the General Awareness / General Studies / Genereal Knowledge in various Bank and Government Exams like IBPS PO Mains, SBI PO and Clerk, RBI Grade B Officer and Assistant, RRB PO, RRB ALP, RRB Group D, SEBI and more. To make you mains exams and the GA sections easy to solve, we have designed this e-books with banking and financial current affairs MCQs. If you like to watch and learn, find these questions and their detailed analysis on Olivebaord YouTube channel. You can also subscribe to the channel and stay updated with all concepts you'll ever need to ace your banking exams.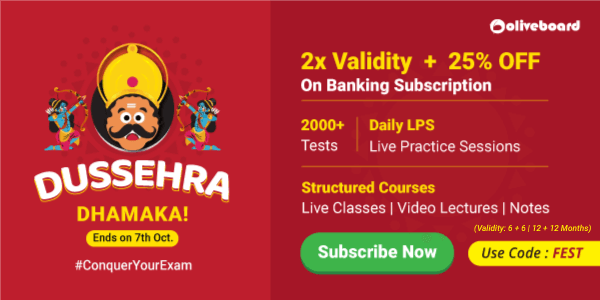 Ctrl+D to Bookmark This Page
130+ Additional Current Affairs MCQs
Apart from the Banking Thunder BOLT (Download link below), we are here with an additional 130+ most important Current Affairs MCQs that you can expect in the upcoming IBPS Clerk Mains Exam 2021. Use the link given below to download the banking current affairs free PDF.
SBI, IBPS, RRB PO THUNDER BOLT | Download Free eBook Now
Register and Download the PDF version of the important banking and financial current affairs MCQs and all free resources on Oliveboard from the download link given below.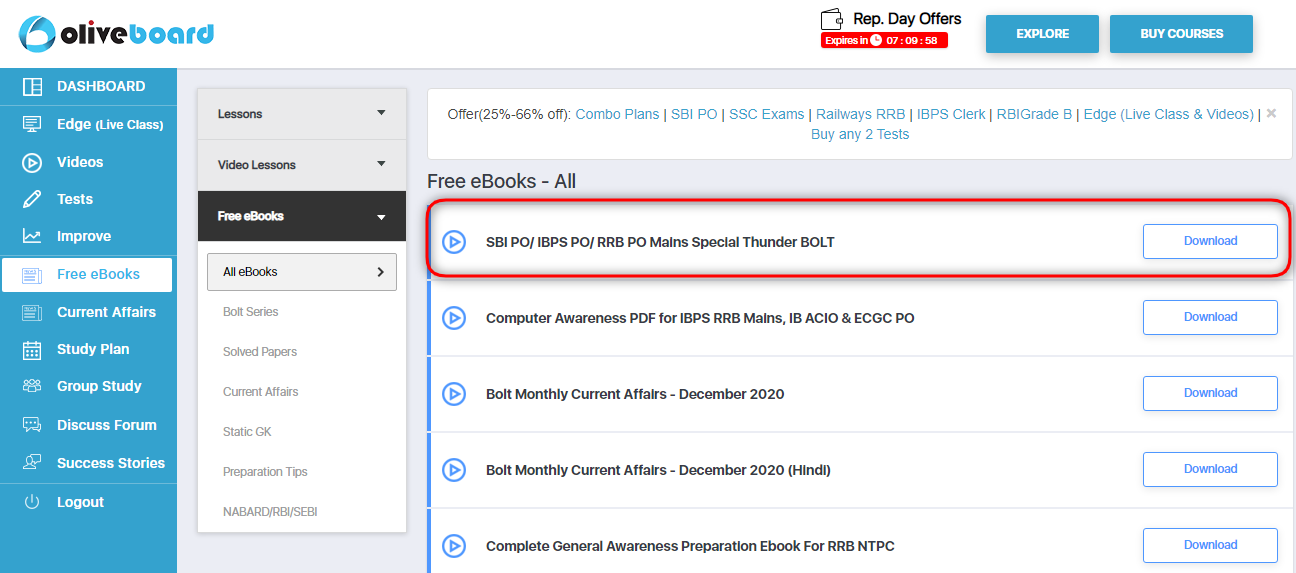 Sneak Peek Into the Ebook
1. What is the name of the remote-controlled medical trolley which has been developed by Indian Railways?
(1) MEDRAIL
(2) RCMT
(3) MED-RBOT
(4) MEDBOT
(5) NONE OF THE ABOVE
2. Dr. Siva Ramakrishna Iyer Padmavati, passed away at the age of 103 of coronavirus disease (COVID-19)-related complications. She was popularly known as?
(1) God Mother of Cardiology
(2) God Mother of Dermatologist
(3) God Mother of Endocrinologist
(4) God Mother of Immunologist
(5) God Mother of Anaesthesiologist
3. Every year World Letter Writing Day is celebrated on?
(1) 30th August
(2) 31st August
(3) 1st September
(4) 2nd September
(5) 5th September
4. Which of the following Airport is bestowed with the 21st National Awards for Excellence in Energy management organised by CII and GBC?
(1) Indira Gandhi International Airport
(2) GMR Hyderabad International Airport Ltd
(3) Chhatrapati Shivaji International Airport
(4) Kolkata International Airport
(5) Rajiv Gandhi International Airport
5. The first-ever flight was operated between Israel and UAE. What is the name of the deal that was signed between the countries to normalize the relationship?
(1) Israel-UAE Treaty
(2) Mersen Accord
(3) Abraham Accord
(4) Treaty of Verden
(5) None of the above
6. Who has become the first woman IG to lead CRPF in Kashmir?
(1) Kiran Bedi
(2) Archana Ramasundaram
(3) Kanchan Chaudhary Bhattacharya
(4) Charu Sinha
(5) Dr B. Sandhya
Answer keys:
1. – 4, 2. – 1, 3. – 3, 4. – 2, 5. – 3, 6. – 4
689. Which of the following banks introduced a digital lending platform to provide paperless loans for retail customers?
(1) Axis Bank
(2) Bank of Baroda
(3) Punjab National Bank
(4) Canara Bank
(5) ICICI Bank
690. Who among the following partnered with Jammu & Kashmir Government to implement the PMJAY SEHAT scheme?
(1) ICICI Prudential Life Insurance
(2) Bajaj Allianz General Insurance
(3) LIC
(4) SBI General
(5) Aegon Life Insurance
691. Which of the following banks bought a stake in Myclassboard Educational Solutions Pvt Ltd?
(1) ICICI
(2) Axis
(3) SBI
(4) PNB
(5) Canara
692. With which of the following did the Central Bank of India sign a pact for using their Asset Restructuring Module for MSMEs?
(1) National Small Industries Corporation
(2) Small Industries Development Bank of India
(3) Reserve Bank of India
(4) National Institute for micro, Small and Medium Enterprises
(5) Asset Reconstruction Company (India) Limited
693. What is the minimum limit on the amount that could be transferred using NEFT??
(1) 50 Rs
(2) 20 Rs
(3) 10 Rs
(4) 100 Rs
(5) No minimum limit
694. What is the minimum CRAR requirement for small finance banks and payment banks?
(1) 9%
(2) 10%
(3) 12.5%
(4) 15%
(5) 20%
Answer keys:
689. – 2, 690. – 2, 691. – 1, 692. – 2, 693. – 5, 694. – 4
Banking and Financial Current Affairs MCQs | Download Free eBook Now
Register and Download the PDF version of the important banking and financial current affairs MCQs and all free resources on Oliveboard from the download link given below.
Here is a Sneak Peek into the PDF with Answer keys.
1. The knowledge platform MSME Saksham was launched by Trans Union CIBIL in partnership with which of the following?
A. RBI
B. SEBI
C. SIDBI
D. NITI Aayog
E. Education Ministry
12. PM Modi has recently released the sixth instalment of Rs ________ crore under PM-KISAN scheme.
A. 10,100
B. 21,100
C. 12,100
D. 17,100
E. 15,100
19. Andhra Pradesh Government partnered with which of the following IT firms to set up centres in the state?
A. Mphasis Ltd
B. Boston Group
C. MindTree Ltd
D. Tata Consultancy Services Ltd (TCS)
E. Tech Mahindra Ltd
24. Delhi – Katra expressway being built at a cost of Rs 35,000 crores is to be completed by which year?
A. 2021
B. 2022
C. 2023
D.2024
E. 2025
30. The RBI has mandated that the Core Investment Companies (CICs) have only ________ layer(s).
A. Three
B. Four
C. Two
D. One
E. Zero
40. Which General Insurance company has launched 'Shagun-Gift an insurance' policy?
A. HDFC ERGO General Insurance
B. IFFCO Tokyo General Insurance
C. SBI General Insurance
D. ICICI Lombard General Insurance
E. Kotak Mahindra General Insurance
48. Ministry of Finance has announced tax exemption for businesses with an annual turnover of up to how much rupees?
A. ₹ 20 Lakh
B. ₹ 40 Lakh
C. ₹ 60 Lakh
D. ₹ 80 Lakh
E. ₹ 1 Crore
65. Who is the head of the 6-member committee set up by IRDAI to study index-linked products for life insurance companies?
A. Anil Kumar Singh
B. Jose C John
C. Dinesh Pant
D. Manish Kumar
E. Y Srinivasa Rao
77. SBI Card has joined hands with which of the following entity to offer global benefits and exclusive privileges for consumers in India?
A. Mastercard
B. Visa
C. American Express
D. Discover Financial Services
E. Both C and D
Watch Detailed Analysis on YouTube
More Financial Awareness Resources
Financial Awareness Questions Including Previous Year Questions | Download Now
Download the financial awareness practice questions eBook from the download link given below:
Complete Financial Awareness Notes | Download Now
Check out some important topics that you'll find in this eBook to prepare for the financial awareness section. You may find questions related to these topics in the Financial Awareness section of Bank and Government exams.
Top Banking Committees and their Focus Area
| | |
| --- | --- |
| Finance | Financial Inclusion (FI) |
| Important Financial Terms | GST e-way Bill |
| Indian Financial System | Indian Currency |
| Foreign Exchange Reserves | Negotiable Instruments |
| International Financial Institutions | Cheques and its Types |
| Indian Economy | Crossing of Cheques |
| Structure and Functions of RBI | Electoral Bonds |
| Subsidiaries of RBI | Bancassurance |
| GDP and GNP | Banking Ombudsman Scheme (2006) |
| NDP and NNP | Confusing Banking Terms |
| MIBOR and MIBID | Important Banking Terminologies |
| Balance of Trade and Balance of Payment | Basic Economic terminologies |
We hope you find the Banking and Financial Current Affairs MCQs and other Resources useful.
To connect directly with our faculty for your queries related to bank and government exams, please download the Telegram App and interact directly with our faculty members. Join the Oliveboard Telegram group at obbanking or click on the image provided below:
To Download More Free Ebooks Click Here & Register Yourself
Register Here & Attempt Important GK Questions Here
Ebooks
Enroll For IBPS PO Mains Cracker Course
You can download 200+ ebooks important for SSC, Banking, Railway, Insurance, and other government exams here.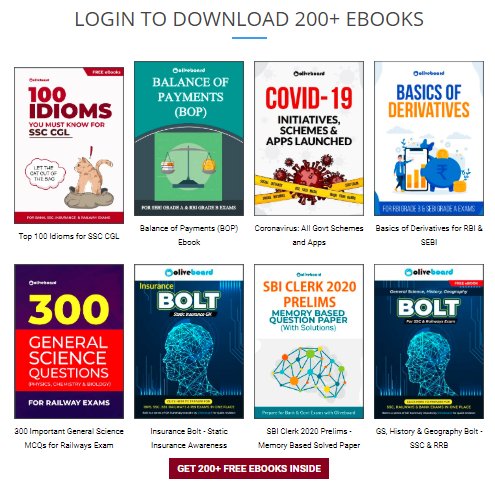 Oliveboard Bolt series E-books
Free Static GK E-book – More Study Materials

Oliveboard is a learning & practice platform for premier entrance exams. We have helped over 1 crore users since 2012 with their Bank, SSC, Railways, Insurance, Teaching and other competitive Exams preparation.
  Oliveboard Live Courses & Mock Test Series