IBPS RRB Preparation Strategy: Chalking out a preparation plan and then sticking to it and following it religiously serves half the purpose. While the other half requires practice by taking Mock Tests. This completes your preparation and makes you Exam-Ready. With the recent announcement of IBPS RRB for PO & Office assistant recruitment 2022, it is now high time to get on with your IBPS RRB Preparations.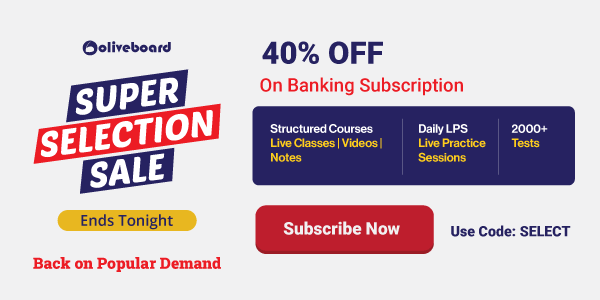 As the dates for the prelims exam are not announced yet, it is suggested to start your preparations at the earliest. Be exam-ready before the exam. And to help you do that, we have compiled a detailed IBPS RRB Preparation Strategy for IBPS RRB PO (Scale 1) & IBPS RRB Clerk. Keep reading for more information.
Let's have a look at a few important tips for preparing for the IBPS RRB prelims exam 2022.
How To Prepare For IBPS RRB Exam 2022?
Below are a few tips on how to prepare for IBPS RRB 2022 exam that will help candidates to clear the exam in one go.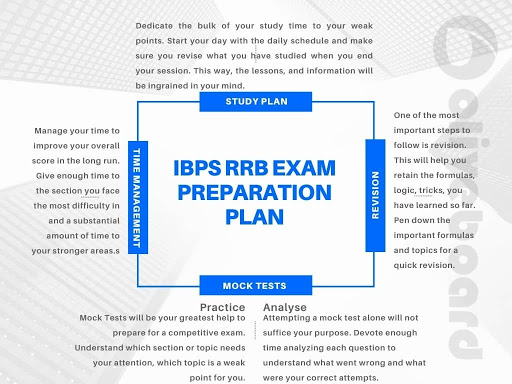 (i) Create a Study Plan: Preparing a timetable at home will help you with a study plan. Spending an entire day trying to solve similar questions or studying the same topic will not help you progress any further. Dedicate the bulk of your study time to your weak points. Start your day with the daily schedule and make sure you revise what you have studied when you end your session. This way, the lessons, and information will be ingrained in your mind.
(ii) Practice Mock Tests:  Mock Tests will be your greatest help to prepare for a competitive exam. Understand which section or topic needs your attention, which topic is a weak point for you. You can attempt Free IBPS RRB PO and Clerk Mock Test Here at Oliveboard.
(iii) Analyze the Mock Tests:  Attempting a mock test alone will not suffice your purpose. Devote enough time to analyze each question to understand what went wrong and what were your correct attempts. Next time, when you attempt another mock test, keep your previous mistakes in mind and try not to repeat them.
(iv) Time Management: The biggest task in the IBPS RRB exams is to solve a maximum number of questions in a minimum time. So, manage your time to improve your overall score in the long run with the help of mock tests. Give enough time to the section you face the most difficulty in and a substantial amount of time to your stronger areas.
(v) Revision of Learned Concepts: One of the most important steps to follow is revision. The important formulas and short tricks to solve questions should be at your fingertips. This will help you retain the formulas, logic, and tricks, you have learned so far. Pen down the important formulas and topics for a quick revision and revise them frequently.
IBPS RRB Preparation Strategy – Section-wise Tips For Prelims
IBPS RRB

Reasoning Preparation Strategy
IBPS RRB

Quantitative Aptitude Preparation Strategy
IBPS RRB Preparation Strategy – Some General Tips
Aspirants often prepare for prelims and mains separately. As a very small amount of time is available after the prelims, the preparation should go hand in hand from the very beginning.
Note: Remember that in order to clear the IBPS RRB Exam, you have to increase your speed of solving questions.
IBPS RRB Preparation 2022- Selection Procedure
The selection procedure of IBPS RRB PO & Assistant is almost similar, with an extra interview round in RRB PO selection. The prelims and mains exam pattern for IBPS RRB PO (Scale 1) & Office Assistant is similar. Let's have a look at the exam pattern first to get an understanding.
Prelims Exam Pattern – RRB PO & Clerk
Name of Tests

No. of Ques.

Maximum Marks

Duration

Reasoning

40

40

Composite time of 45 minutes

Quantitative Aptitude

40

40

Total

80

80
Note: Candidates (for both posts) have to qualify in both the tests by securing minimum cut-off. An adequate number of candidates in each category, depending upon requirements, will be shortlisted for Online Main Examination.
Register Now & Get Access To Free Mock Test To Assess Your Preparations
How To Prepare For Bank Exams? Read The Complete Blog Below
Tips To Crack IBPS RRB Exam By Toppers
Toppers
Tips To Fellow Aspirants
Aman Srivastava (Cleared IBPPS RRB PO 2020)

Never lose hope. Always focus on your goal and always stick to your plan. Never change your strategy and just believe in yourself. Keep calm and stay away from negative things. Spend more and more time with your family because family always stands with you no matter what the situation is. Keep practicing and keep smiling.

Read Complete Success Story Here

Sutapa Roy (Cleared IBPS RRB PO 2020)

I want to say, just keep patience and never give up. Firstly, I sincerely suggest everyone to make a proper daily schedule covering all subjects. I used to prepare for 8-9 hrs every day. Gave priority to each section. Trust me, the schedule you prepare will remind you what you have to do next and definitely push you close to your dream.

Read Complete Success Story Here

Pronab Banik (Cleared IBPS RRB Officer Scale 1)

Just one thing, you can do it only if you really want to do it! There will be failures, obstacles, competition will increase day by day but you have to leave all these behind and start thinking that whatever it takes, I will do it. It may take time but it will come to you after all. And above all, always stay happy and never doubt yourself if you know you are doing the right for a better future.

Read Complete Success Story Here

Karan Pratap Singh | Cleared IBPS RRB PO 2020

Never think that you can't. You can and you will. Once you let doubt settle in, it is nearly impossible to let go. Do not, I repeat do not go browsing through hundreds of YouTube channels. Keep your sources limited. The competition is getting ruthless out there and only the banking sector keeps its recruitment timely and fast. Choose wisely.

Read Complete Success Story Here

Success Story of Shikhar Dwivedi (Cleared IBPS RRB Officer Scale)

Just study, the job is yours. Don't focus on just 1 exam, prepare for all. Study and study, that's it. Motivation comes from within, don't find it in someone else.

Read Complete Success Story Here

Mansi Arora (Cleared IBPS RRB PO 2020)

Free videos and quizzes of Oliveboard really helped me. I heard a lot about Oliveboard from other aspirants but for my first attempt, I wanted to give it a try without any course to see where I stand on my own.

Read Complete Success Story Here

Ashutosh Shukla (Cleared IBPS RRB PO 2020)

Practice Practice and Practice is a success mantra for banking exams as it requires speed, knowledge, and accuracy. Firstly by giving mock tests, get to know your weak area and work on them, and again practice. Follow one source and then if time permits explore different sources and add knowledge. After all, practice makes a man perfect.

Read Complete Success Story Here

Sagar Mehra (Cleared RRB Clerk and Officer Scale 1)

Planning, Practice, and Perseverance are the most imp things that are required to get success. Focus on accuracy rather than attempts in Mock Tests. Just do your work and don't focus on results.

Read Complete Success Story Here

Sohini Banerjee (Cleared IBPS RRB OA 2020)

I would like to thank Oliveboard for bringing me the confidence that helped me to crack the exams and get selected. And for the candidates, I'll say, never ever lose hope. Failure is the part of the success and that makes us stronger. All the best.

Read Complete Success Story Here
This course will cover every aspect of preparation starting from basics to building concepts to practicing to strategizing your preparations. Get the best guidance from some top faculty of the country.
That brings us to the end of this article on IBPS RRB Preparations. We hope the tips and tricks shared here helps you in planning your prep. Enroll Now for IBPS RRB Selection Batch and get expert guidance for your exam preparations. Interact with faculty and get your queries answered.
Oliveboard Bolt series E-books:
FAQs
Is IBPS RRB Exam easy to crack?
Based on the difficulty level for both PO & Clerk we have brought you a complete preparation strategy for IBPS RRB exam. Find Complete IBPS Preparation strategy here.
Can I crack the IBPS RRB exam with six months of preparation?
Many aspirants have cleared IBPS RRB PO & Clerk exam with only 6 months of preparation.
Can I prepare for IBPS RRB by practicing mock tests only?
With mock tests you need to build up your concepts and for that you need proper guidance from a faculty. So, you should join online course also.
Is IBPS RRB mock test better than solving previous years' question papers?
You need to practice & solve both mock tests and previous year IBPS RRB papers.

Oliveboard is a learning & practice platform for premier entrance exams. We have helped over 1 crore users since 2012 with their Bank, SSC, Railways, Insurance, Teaching and other competitive Exams preparation.