Are you preparing for SBI PO 2020? Well, if your answer is yes, then this article is for you. Here we have covered the top 10 best SBI PO Strategy by topper's who have cleared the exam in the past.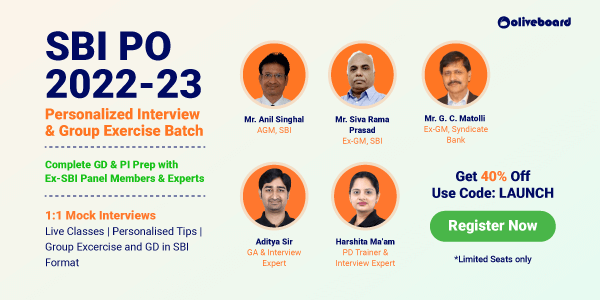 This will help you strategize your approach and will provide you with a guided direction so as to approach your goal of becoming an SBI PO.
So, without any further ado, let's start the article.
1. Top 10 Best SBI PO Strategy – Topper's Talk
A candidate selected and a candidate who is not almost put in the same effort to reach there. But there are often a few pointers that made the difference.
To help you understand what should be your approach and how can you earn that extra mark in limited time, we are sharing with you topper's strategy.
These people worked hard and most importantly smart. Go through their stories and their strategies to better understand how to approach the SBI PO 2020.
1.1 Success Story of Govind Upadhyay
Hailing from the town of Varanasi, Govind 6 months into his career in an MNC realized that banking job is his calling owing to the dynamic nature of the job.
From the very beginning, he was sure that he wants to join the SBI bank as a PO.
He believes that every individual has strength when it comes to subjects for exams. Just pick on your strength and make it flawless and continue working on the weaker areas.
Maximizing your score in the strong section would help you cover for others.
Read his complete Success Story Here

1.2 Success Story of Meghna Rathore
Meghna motivated herself by reading the success stories of others. She always felt that learning from other's mistakes is the best way to learn.
So when she cleared the SBI PO exam she was sure that she will share her journey and preparation strategy with other fellow aspirants. This will help others not repeat the mistakes that Megna did in her preparation days.
She believes as an individual every person's approach could vary but she very well knows that hoe small details often help in understanding the bigger concepts.
Read about her complete journey here.

1.3 Success Story of Ashutosh Jha
Ashutosh is a B.Com graduate who refused to settle for regular and motivated himself and eventually went to clear SBI PO 2020. Along with this he also cleared NABARD Gr. A and RBI Gr. B 2018.
This is what he says to aspirants –  There is no destiny in life where we can say that we have succeeded, but life is a journey full of ups and downs.
He believes that people often keep on focussing on their stronger areas and forget to brush their weaker areas. It is strongly advised to follow all-round preparation techniques and give each subject equal importance.
Read hic complete preparation strategy & preparation tips here 

1.4 Inspiring Story of Rishav Kudyar
Rishav cleared SBI PO after 5 years of rigorous struggle. He is the motivation for all those who are trying for years to clear the banking exams.
He started preparing for bank exams in 2014 but could not get to his dreams until 2019. But what is more commendable is that he never gave up on his dreams.
He is a true motivation for all those who are seeking a job in banking or any other industry. He says practice tests and video lessons were his major source of preparation.
Read here for his complete preparation strategy

Read Ahead to Know Complete Details of SBI PO Complete Course
1.5 Journey of becoming SBI PO – By Sneha Pandey
The support from your family and your loved ones will be your biggest supporting pillar, says Sneha. Even after starting her preparations late she always made sure that her dedication shows results.
She believes Accuracy and speed are two things that matter the most in banking exams. And why not, in an exam where every single marks matter, 1 mark is a big trough.
Get Her Planned preparation strategy here

1.6 Preparation Tips by Vishal Khanapure
Vishal was always an adamant guy in terms of is dedication. He believes that no matter how tough the competition is and whatever the number of vacancies is, one needs only one seat to get through the competition and it is very much possible with determination and strategic planning.
After graduating from college in 2018, he started preparing for the bank exams and made it to SBI as a PO in 2019 in his first attempt.
Read his complete story here & get his preparation Strategy

1.7 Success Story of Tamonas Pal
This story is of a guy who believed that Luck only favors you if you are brave enough to put your heart and soul for it.
He always believed that depriving him if regular activities might push him towards a depressed state, so he always took out time for his favorite activities and took Sundays off to rejuvenate his mind.
As a result of it, he went on to clear multiple exams and one of which was SBI PO 2019.
Know about his complete journey here

1.8 Journey of becoming an SBI PO – By Unzila Nawab
They say friends and family will be your biggest support pillar when the times are tough or the wind is against you.
Unzilla proves that friends and family support could take you places you never imagined. A simple girl from Uttarakhand who went on to clear SBI PO 2019 says here circle made it possible.
Consistent motivation is the biggest factor to push you towards your goal and Unzilla had it.
With the right strategy from Oliveboard and support from her family, she made it through.
Read her complete journey & preparation tips here

---
To Prepare for SBI PO 2020, Join SBI PO Complete Course!
---
1.9 SBI PO 2019 – A Story by Aman Verma
A lot of struggles, Financial problems, multiple failures and more could not stop Aman from achieving what he aspired for.
They say the dream you see in childhood for your professional career, you put your heart and would in it. Aman did exactly the same thing and realized his dream of joining the SBI as a PO.
Despite being an average student, he never cared for the luck and put his hard work and dedication to achieve his goal.
Read the complete story of how his father has been his backbone and what was the strategy that helped him stay afloat and achieve what he dreamt of.

1.10 Inspiring Story of Siva Kanth
It is not easy to stay focussed on something which is repeatedly being turned into failure. Despite this, your dedication and hard work are what keeps you motivated.
After clearing the exam in his 22nd attempt, Siva can proudly say that he kept working towards his dream.
Patience and positivity showed by him truly suggest that only your dedication will take you where you aspire to reach.
He says that Oliveboard Faculty played an important role for him in boosting his morale. In their classes, they always made the topic much simpler than before thus motivating him to take up the exam again.
See which all exams he attempted, failed by a margin, started off with his preparations from basics again, and eventually reached his goal.
Read about his journey and complete strategy here.

Reading Topper's point of view and their strategies help a lot in understanding and approach towards the exam. But there is one thing that often crosses the mind is Where do I get the relevant materials to guide my prep.
Don't worry we have a solution for you. When it comes to preparing for the exam, one would definitely prefer to have all the necessary materials in one place, isn't it? SBI PO Complete Course 2020 is your answer to this query.
This course is a complete mixture of Practice tests, doubt classes, video lessons, strategy sessions, previous year paper discussions, and more.
Read Ahead to know complete details about the course!
2. SBI PO Online Course – Complete Details
This course is structured on the 3 very basic pillars of Learning, then applying through the practice and eventually Strategizing so as to maximize your scores.
The course features are as below. Join Now & Avail Early Bird Offer
Learn

Practice

Exam Strategy

Live Video & Audio Interaction with the faculty

18   Live Practice Sessions (led by faculty)

Special   test-taking strategy sessions

80+ Hours of Doubt   Cum Revision Classes

20   Prelims + 10 Mains Mock Tests

Previous   year Topper sessions for tips and strategies

120+ Video Lectures

90   Sectional Tests for Prelims & Mains

Topic + GK Tests + 200   Ebooks
Wait, there's more for you,
If you Register for this course before 3rd July 2020, you will also get access to our Special SBI PO Mock Recruitment Drill. It is a special exercise to give our users a complete recruitment process experience before the actual SBI Recruitment is released on the SBI website begins.
So what are you waiting for? Start Your Prep Now!
---
Join Now, Use Coupon Code TS60 & Avail Instant 60% Off
---
That brings us to the end of this article. I hope after the experts take your stress of preparing for the SBI PO 2020 exam, you will be even more confident in your success. The above SBI PO Strategy by toppers will help you understand what should be avoided while preparing and what measures to be definitely taken. Follow the expert tips along with the video lessons, mock tests, doubt sessions, and more to ultimately ace the exam.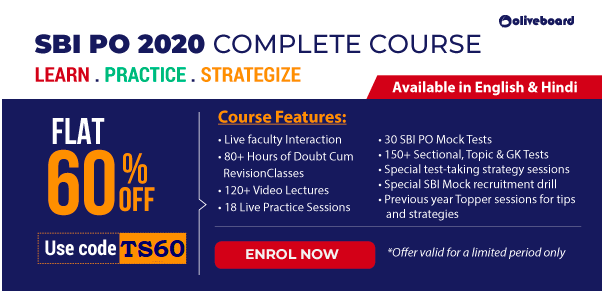 Oliveboard is a learning & practice platform for premier entrance exams. We have helped over 1 crore users since 2012 with their Bank, SSC, Railways, Insurance, Teaching and other competitive Exams preparation.