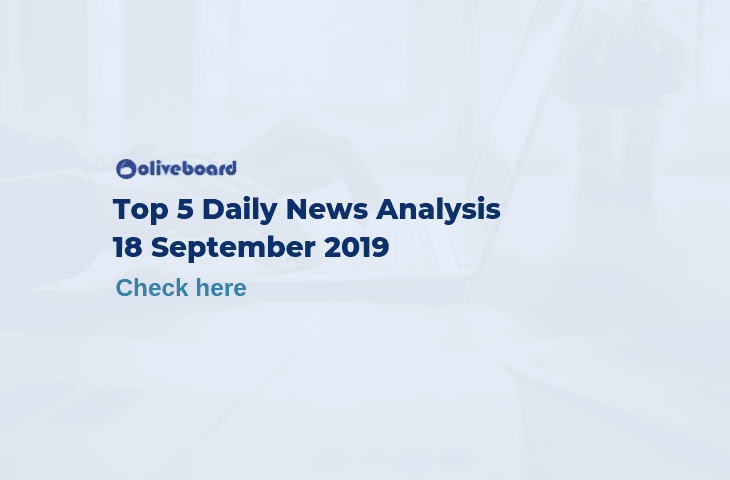 Here we bring you the top 5 daily news- 18 Sep 2019 to familiarize you with today's important news. Top 5 daily news- 18 Sep 2019 is an attempt to help you all with various government exams that are approaching. These important news headlines will help you in staying up to date with the latest happenings of the day. Prepare for exams like SBI PO, RBI Grade B, IBPS PO, IBPS Clerk, etc. with Oliveboard Edge.
Top 5 Daily News- 18 Sep 2019
Payment Scope Broadened for Baharat Bill Payment System(BBPS)
Bharat Bill Payment System (BBPS) is a central application for payments of Telephone bills, gas bills, water bills, DTH and electricity for the customers.
As per the latest intimation by RBI, BBPS is expanding the payment options to Insurance premium, school fees.
Municipal taxes will also become payable via BBPS. BBPS payments is giving the feasibility of using cash, cheques as well as digital methods such as internet banking, debit, credit card, among others.
All the merchants where the payments are made on a postpaid basis are asked to volunteer for the BBPS platform.
India's First Female Military Diplomat- Wing Commander Anjali Singh
Anjali Singh has become the First Female Military Diplomat for India. She has joined the Indian Embassy in Russia as the deputy Air Attache.
She has received the training on a MiG-29 fighter aircraft.
An air attache is an Air Force officer who represents home air force in the foreign land.
Visa and Billdesk partner to roll out new interface for Recurring payments
Visa and BillDesk have partnered to roll out a joint venture to make the recurring payments more secure and seamless.
Recurring payments are done using Visa cards. Billdesk is an Indian online payment Gateway to enable a secure payment.
Payments will be done on this joint platform with a one-time enrolment.  Billdesk is speculated to be handling almost 70% of the payments in India.
T.R. Ramachandran is current India and South Asia Head for Visa.
Srinivasu MN is the current CEO of Billdesk.
Cognizant India appointed New CMD
Ramkumar Ramamoorthy is appointed as new CMD for Cognizant India.
Cognizant current CEO Brian Humphries announced the news, stating that Mr. Ramkumar will be reporting directly to the Executive Committee of the Company.
Cognizant has taken this step to boost its performance in Indian Market. Cognizant is headquartered in New Jersey, United States.
Sunil Paliwal appointed as Chairman and MD of Kamarajar Port
Sunil Paliwal has taken charge as the Chairman and MD of kamarajar Port. He is an IAS officer of 1993 batch from Tamil Nadu cadre.
Prior to this position, he worked as Secretary to Tamil Nadu Labour and Employment wing. He has replaced P. Raveendran who was the previous CMD for Kamarajar Port.
Kamarajar Port was earlier known as Ennore Port. It is situated on the Coromandel coast about 24 km north of Chennai Port.
Kamarajar Port is the first port in India which is a Public Company.
Watch Detailed News analysis with Aditya Sir.
This is all from us on today's blog for top 5 daily news- 18 Sep 2019. For more such updates please keep following
Oliveboard
Get Yourself Exam ready with Oliveboard Edge
Also Check: