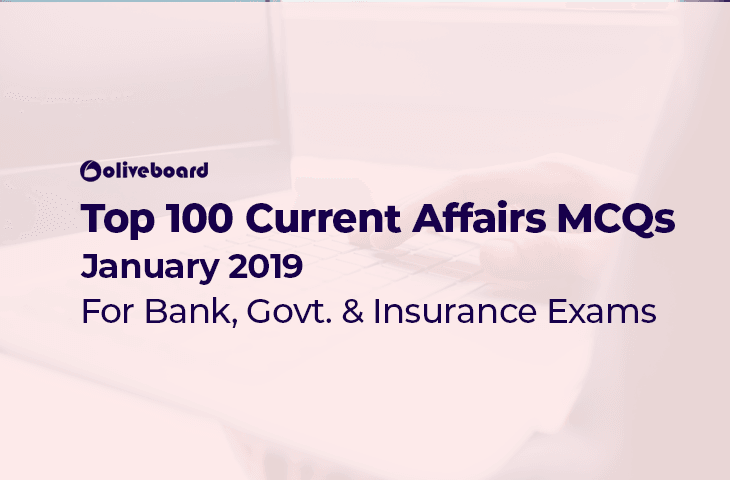 This is part 1 of the Monthly Top 100 Current Affairs Questions PDF Free Ebook Series. This E-Book series is aimed to provide high quality practice questions for Current Affairs preparation. In this Free Ebook PDF series you will not just get 100 Questions and Answers but also detailed explanations as well. These explanations are a type of short notes in themselves. Reading these explanations would equip you to solve any type of questions on the specific current affairs topic asked in any Banking, Insurance, SSC or Railways Exam.
In this First part, Top 100 Current Affairs Questions PDF from the Month of January 2019 are covered. All the important current affairs topics like Appointments, summits and conferences, economic news, sports news, science news, government schemes, etc are covered in this Top 100 Current Affairs MCQs PDF.
These Current Affairs Questions PDF can be a great source of revision for exams like SBI, SSC CGL, RRB NTPC, EPFO, etc.
So, Download the first part of the Top 100 Current Affairs Questions PDF Ebook Series –: http://bit.ly/Jan-CA-100MCQ
Download January CA Questions PDF
Top 100 Current Affairs Questions PDF (January 2019) – Sneak Peek
Q1. Who among the following has been appointed as the Chief Operating Officer of RBL Bank?
1) Vishwavir Ahuja
2) Pankaj Sharma
3) PV Bharathi
4) Mrutyunjay Mahapatra
5) Rajeev Ahuja
correct option : 2
RBL Bank has appointed Pankaj Sharma as its chief operations officer to overlook the corporate services function & bank's overall operations. He was heading retail operations in Axis Bank. He also worked with GE Countrywide, ICICI Bank & ICICI Prudential.
Q2. Recently, oil PSUs have signed a memorandum of understanding with _________ to set up centre of excellence.
1) IIT Delhi
2) IIT Madras
3) IIT Bombay
4) IIT Kanpur
5) IIT Kharagpur
correct option : 3
IIT Bombay & 7 oil PSUs inked a MoU for setting up Centre of Excellence in Oil, Gas and Energy to develop a mechanism to link up our energy industry and academics & academics to address energy requirements with new and innovative, indigenous technology.
Q3. Recently, ___________ has started delivering policies and renewal premium receipt to customers through WhatsApp.
1) Bharti AXA Life Insurance
2) HDFC Life Insurance
3) Aviva Life Insurance Company
4) Max Life Insurance
5) TATA AIA Life Insurance
correct option : 1
Bharti AXA Life Insurance has started delivering policies and renewal premium receipt to customers via instant messaging platform WhatsApp. It is a part of its alternative service option to the policy holders.
Download PDF for Full 100 Questions, Answers and Explanations
Oliveboard SSC Exams E-books:
Oliveboard Bolt series E-books: 
Free Static GK E-book – More Study Materials :
We hope you like the questions and answers provided in the above Free Ebook PDF would be helpful for Bank, SSC, Insurance and Railways Exam preparation. Keep visiting this page to get more E-books on Static GK, Banking awareness and Current Affairs for free. All the best for your exams.

  Oliveboard Live Courses & Mock Test Series