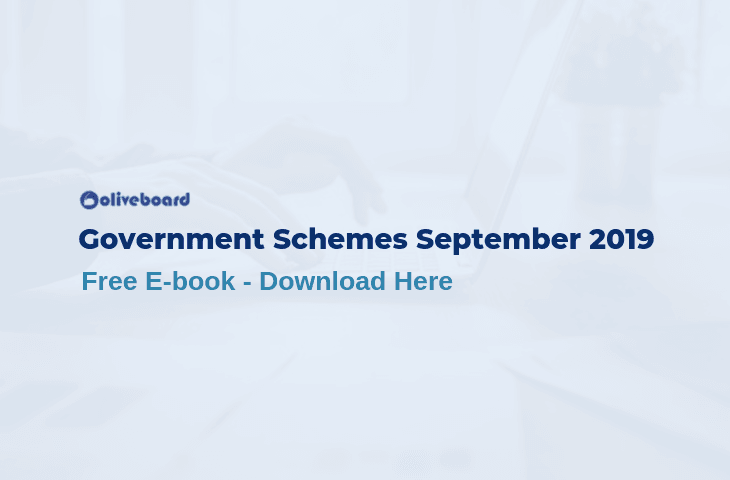 Very often questions on Government Schemes are asked in the General Awareness section of Banking and Government Exams. Questions may be asked about the recently launched schemes, about changes made in already existing schemes or about budget allocation to the scheme in exams like NABARD, IBPS RRB, SBI PO and Clerk, IBPS PO and IBPS Clerk, RBI Grade B and RBI Assistant, SSC CGL, UPSC, LIC Assistant,  etc. To give you answers to all these questions, here we provide you with the important Government Schemes from the month of June 2019. Download the free PDF for the Government Schemes September 2019  from the adjoining link or from the link provided below: http://bit.ly/Govt-Sept-2019

Check Out Oliveboard's Subscription Platform to Access Online Classes & Tests
Important Government Schemes September 2019
Sample Questions
Q. PM Kisan Man Dhan Yojana has been launched for ……?
Small Traders & Shop Owners

Small & Marginal Farmers

Elderly people

Tribal Women
Answer: (2)
Q. Which of the following month was celebrated as "Rashtriya Poshan Maah"?
August

September

February

March
Answer: (2)
1. Centre to set up 12,500 Ayush Health and Wellness Centres across the country
Union Government has set a target of setting up 12,500 Ayush Health and Wellness Centres across the country. Out of which 4000 will be set up during this year. Ayush is an acronym for Ayurveda, Yoga & Naturopathy, Unani, Siddha and Homoeopathy.
Why AYUSH Centres?
The main focus of these centres will be to empower community for self-care by assimilating AYUSH based healthy food and lifestyle, social behaviour as well as the use of medicinal plants for primary health care (PHC).
2. PM Narendra Modi launches 'Pradhan Mantri Kisan Maan Dhan Yojana'
Under the 'Pradhan Mantri Kisan Mandhan Yojana', farmers between 18 and 40 years of age will get Rs 3,000 monthly pension after reaching 60. The Scheme shall secure the lives of 5 Crore Small and Marginal Farmers. The scheme has an outlay of Rs 10,774 crore for the next three years.
3. ECGC introduces Nirvik to enhance loan availability for exporters
Ministry of Commerce & Industry through Export Credit Guarantee Corporation (ECGC) has introduced a new Export Credit Insurance Scheme (ECIS) called NIRVIK to enhance loan availability and ease the lending process.
To read more download the Ebook.
Check Out Oliveboard's Subscription Platform to Access Online Classes & Tests
We hope that you benefit from the free Ebook "Government Schemes September 2019" provided and ace your exams.
For more eBooks, Click Here
Keep visiting this page to get more E-books on Static GK, Banking awareness and Current Affairs for free.
Oliveboard Bolt series E-books: