JAIIB Important Topics
JAIIB Important Topics: JAIIB is an flagship course of IIBF. It is the statutory professional body for Bankers in India. Around 1.50 Lac candidates appear for the exam, this makes JAIIB Exam competitive. Syllabus of the JAIIB exam is huge, as working professionals you won't get much time to prepare for the exam, hence we are providing you a list of JAIIB important topics that you must cover before exam. Find out the list below.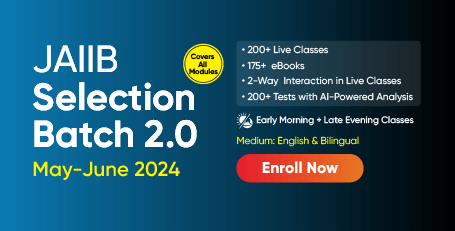 Attempt A free JAIIB Mock Test
JAIIB Important Topics AFB
Module A and Module B are the most important modules of AFB. Often many questions come from these two modules. It is evident from all the previous exams that Module A and B are highly significant.
JAIIB Important Topics AFB – Module A Priority list Chapter wise
Depreciation and its accounting
Foreign Exchange Arithmetic
Calculation of YTM
Capital Budgeting
Calculation of Interest and Annuities
Module B – Priority List Chapter Wise
Module B consists of some of the theory part as well, so it is scoring for non commerce candidates as well. It helps non-commerce candidates to score well in the exam.
Trial balance, rectification of errors and adjusting and closing entries
Capital and revenue expenditure
Bank reconciliation statement
Basic accounting procedures
Definition, scope and accounting standards
Bills of exchange
Maintenance of cash/ subsidiary books and ledgers
Module C – Priority List Chapter Wise
Ratio Analysis is an must topic of JAIIB. You have to prepare for Ratio Analysis without fail.
Ratio analysis
Preparation of final accounts
Balance sheet equation
Company accounts
Final accounts of banking company
Accounting in computerized environment
JAIIB Important Topics PPB
Just like AFB, even in PPB module A and B are extremely Important. Covering these two module is mandatory.
JAIIB Important Topics PPB – Module A Priority list Chapter wise
Indian Financial System: role of RBI, and the entities that consists the Indian Financial System
Factoring And Forfaiting Services and Off-Balance Sheet Items;
Risk Management and Basal Records: Basel I, II & III Accords
Banking Regulation; objects, tools, functions & restrictions;
Retail Banking, Wholesale Banking & International Banking: requirements, products & instruments etc.
CIBIL, Fair Practices Code for Debt Collection And BCSBI: role & functions of CIBIL, Codes of BCSBI
Role Of Money Markets, Debt Markets and Foreign Market: Kinds of money, Debt instruments, FEMA etc.
Role And Functions of Capital Market And SEBI: Stock exchanges, Financial products, ASBA, QIP, Stock Brokers etc.
Mutual Funds and Insurance Companies: the management, role & functions of IRDA
Recent Development in The Financial System
Looking for JAIIB Study Materials? Click Here and Get Free JAIIB Study Materials
Module B Priority List Chapter Wise
Priority Sector Advances; Targets & Sub-targets
Different Mode of Charging Securities; Assignment, Lien, Set-off, Pledge, Hedge, & Mortgage etc.
Payment And Collection of Cheques and Other Negotiable Instruments; Bouncing, Forging, return etc.
Consumer Protection Act & Ombudsman Scheme: operational aspects
Bankers Special Relationship: Garnishee Order, Attachment Order, Right of Setoff, Banker's Lien
Know Your Customer, Anti Money Laundering: Norms
Micro Small and Medium Enterprises (MSME): Act, Policy Package, Credit rating
Non-Performing Assets: Income recognition, Asset classification & norms;
Agriculture Finance: Loans & Risk mitigation
Documentation: Stamping and Securitization; procedures
SHG: Self Help Groups and Other Schemes; functions, role & capacity building etc.
Types Of Collaterals and Their Characteristics: definitions of various securities that can be taken as collateral.
Principles Of Lending, Working Capital Assessment and Credit Monitoring: Non fund-based lending, Term Loans, credit monitoring etc.
Banker Customer Relationship: Deposit products & the services available for customers.
Credit Loans, Home Loans, Personal Loans, Consumer Loans
Financial Literacy: how is customer made aware of the various customers
Opening Accounts of Various Types of Customers: operational aspects & maintenance etc.
Ancillary Services such as Remittances, Safe, Deposit Lockers: Electronic Benefit Transfer etc.
Cash Operations
Financial Inclusion: BC & BFs, mobile based transactions, rural training institutes.
JAIIB Study Material Compilation

Oliveboard is a learning & practice platform for premier entrance exams. We have helped over 1 crore users since 2012 with their Bank, SSC, Railways, Insurance, Teaching and other competitive Exams preparation.
  Oliveboard Live Courses & Mock Test Series