This Lockdown across the country had given an unexpected break in our daily schedule. Many are already utilizing this time to enhance their skills or learning something new. If you are one of those aspirants preparing for the bank or any other government exams, this could be your time to get an edge over others. Preparing for exams becomes so much better when you do not wait for the exam dates to get yourselves prepared and just give your everything so that you are fully prepared when the exams are here. Learning during lockdown could help you achieve that.
Register Here & Receive Daily Updates on Upcoming Exams & Courses
Given that this break from our regular schedule could be a blessing in disguise and can be put to full use. And, to that, we are here to help you do that. In this article, we are going to provide you a daily plan which you can implement to strengthen your preparations
Let's dive in and see what all is there for you apart from the daily schedule, free tests and more.
1. Learning During Lockdown – Daily Time-Table
This daily Time-table shared here could help you manage your time more effectively and will boost your preparations.
| Time | Activity |
| --- | --- |
| 6:30 – 7:00 AM | Wake Up |
| 7:30 AM | You can read the newspaper so as to cover the daily current affairs or you can also watch TNA on our youtube channel, of course with a cup of tea/coffee |
| 8:30 AM | Have a Healthy Breakfast to Kickstart your day |
| 9 AM – 12 PM | Take Topics From Quantitative Aptitude |
| 12 PM – 1 PM | Practice Reading Comprehension/Puzzle |
| 1 PM – 2 PM | Lunch |
| 2 PM – 3 PM | Relax / Hobby Time |
| 3 PM – 5 PM | Use This time for Concept Learning (English Language/Reasoning Ability) |
| 5 PM – 8 PM | Take Complete Mock Test |
| 8 PM – 9 PM | Dinner/Relax |
| 9 PM – 11 PM | Take Test/ Analyze Your Tests |
| 11 PM – 12 PM | Leisure Time |
1.1 Few Things To Keep In Mind While Learning During Lockdown
Apart from the schedule in the table, there are a few pointers that need to be taken care of to efficiently manage your time.
Try and give maximum time to the topic or the subject you do not feel comfortable in.
Analyze the syllabus for the exam you are aiming for. This will help you pick topics and sections wisely.
Follow Daily Current Affairs religiously, this will remove your burden of gobbling up the information all at once.
Put aside some time for your leisure activities, this will refresh your mind and will help it function even better.
Take mock tests regularly to see your improvements and scope of improvements. Analyzing a mock test is equally important. And with Oliveboard this is way to easy. We provide with complete analysis of each question starting from time taken to the difficulty level.
In the small slots of the day like 1 hour or 1:30 hour, try and take the topic test or sectional test on your stronger areas. This will keep your command over your plus point.
Apart from this, we are here to give you the best experience when it comes to preparing for an upcoming exam.
Amidst this lockdown, to keep your preparations intact, we are providing free tests and free live classes so that your preparations should stop no matter what the reason.
Let's move ahead and see what all do we have in for you:
2. Learning During Lockdown – Free Tests & Classes
Oliveboard Edge is a platform where we provide students with best in class exam courses, Live Classes, Video lessons, previous year paper discussions and much more.
On Edge, as is popular among students, a free course is being run to help you with upcoming exam preparations. It is termed as GharPe Coaching 2.0. The most important thing is that it is completely free to access:
Here are the complete details about the course that is being run:
2.1 GharPe Coaching 2.0 – Free Online Live Classes
There will be 60+ hrs of Live Classes + Live Practice Sessions. It is compiled to prepare you completely for upcoming bank exams.
The course is taken by some of the best faculties in the country. Here are a few highlights of this course:
Live Practice Sessions
Concept clearing & Questions practice now on the same day.
Wait, there is something more now it will also cover the model paper discussion for SBI PO. Isn't that exciting?
It is effortless to access the course, all you need is a mobile phone and working internet. Here are the steps:
Download Oliveboard App from PlayStore
Register with your Email Id & Phone Number
Go to Edge.
Click 'GharPe Coaching 2.0 & Start Attending Classes
That's it you are ready to Learn.
2.3 Free Online GK Tests – Complete Learning During Lockdown
General Awareness section is one section that requires consistency in order to score well. There is a large amount of information that is to be covered before the exam. Retaining of the learned information is even more crucial.
We provide free GK tests on multiple topics. Here is a glimpse of topics that are covered in the Free GK Tests.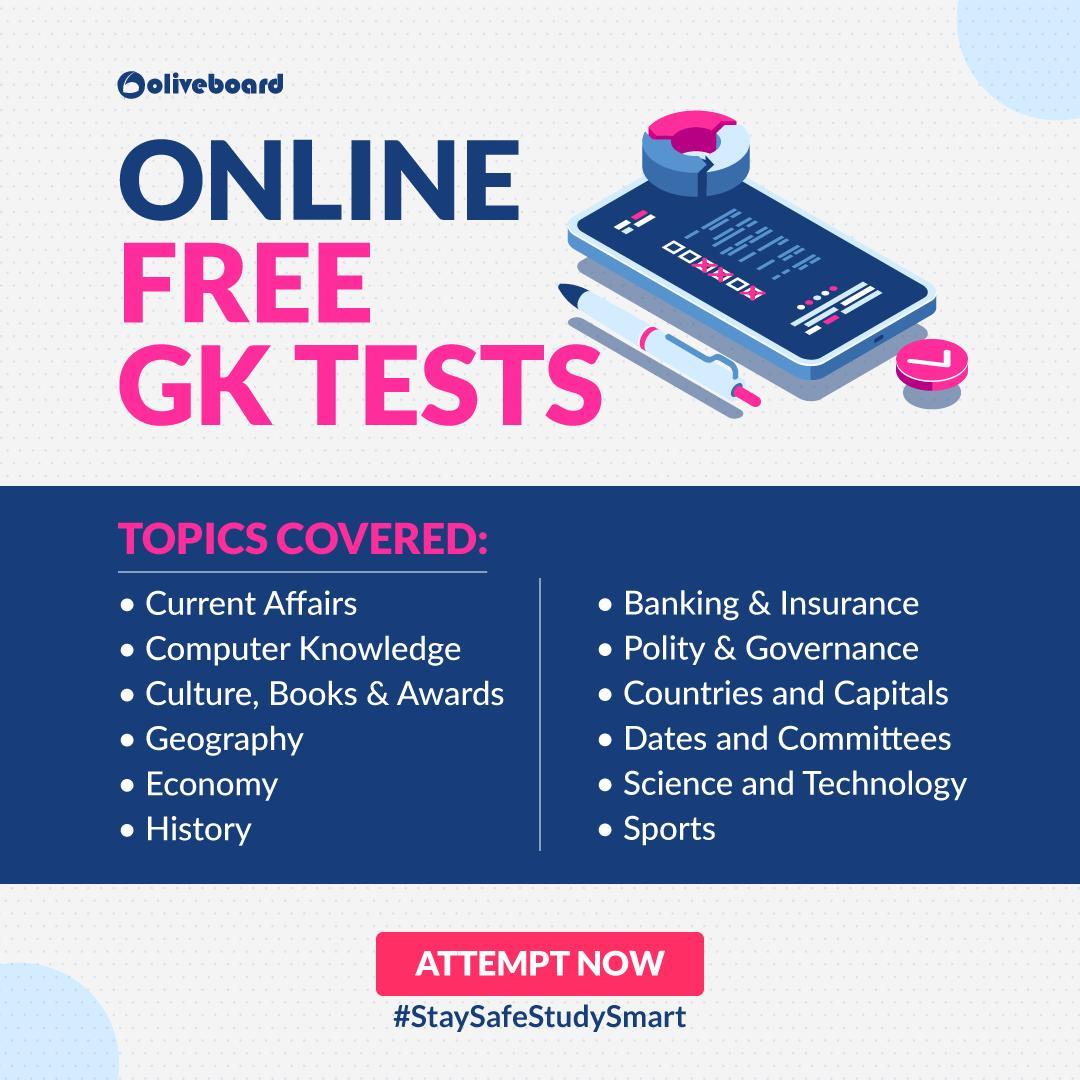 2.4 All Exam Online Mock Test – For Complete Preparations
One Free Full Length Mock Tests is being provided by us for all Banking, Railway, SSC & Government Exams ( for Prelims). We believe that students should take the best Mock test series for their exam preparations. And what could be better than taking a mock test series after getting a proper idea of the pattern and difficulty level.
Here are the list of exams that we cover:
We also do provide with free sectional test, topic test, Full-length tests. You can get complete about it by clicking on the link here.
3. Learning During Lockdown – Previous Year Paper
When it comes to practice for the exams, the most trusted and viable source becomes your previous year paper and the memory-based questions from the last years. And here we are providing you with the previous year papers for exams and memory-based questions for practice.
Well, that is not all, we also provide you with free ebooks to aid your preparations even further. We have ebooks for Banking, SSC, Railway, Government & Regulatory body exams & they are available for free to access.
Click on the link here to access the Free ebooks Now.
That brings us to the end of this article. The article is written with an intention to provide you with a plan on how you can approach your studies even in these difficult times. It is our way of saying "We Stand By You" during these times. All you need to do is study and not let the lockdown affect your preparations & we will come out of this situation positively.
Also, Check:
Oliveboard's discuss forum – For any more query, you can directly join our telegram channel. Our experts will definitely help you.
---
Related Posts