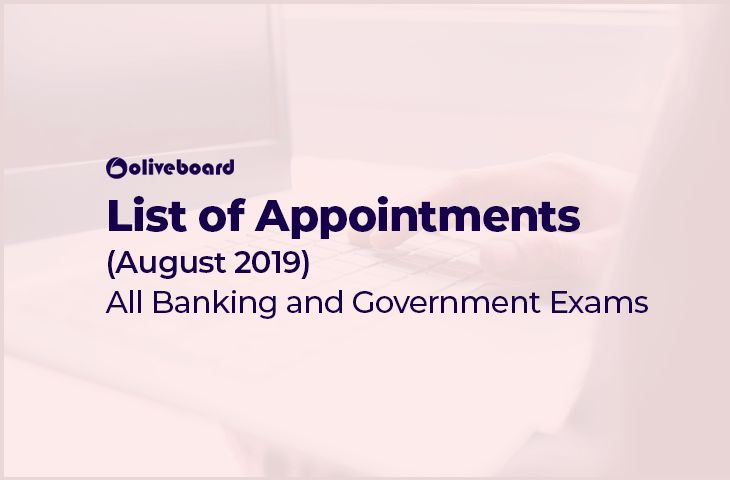 New Appointments August 2019:- In most of the competitive exams, Current Affairs is an integral part of the General Awareness section. Here, questions related to new joining and appointments are commonly asked in various Bank and Government exams like SEBI, ESIC SSO, NABARD, IBPS RRB, SBI PO, and SBI Clerk, IBPS PO and IBPS Clerk, SSC Exams, UPSC and more. Hence, we provide you free ebook every week to keep you updated with all the important joining that has happened in the month. In this article, you'll find List of New Appointments of August 2019.
Practice Daily Free GK Quiz on Oliveboard
Download the List of New Appointments August 2019
Click on the adjoining link of Current Affairs free ebook which gives you List of Appointments (August) for the year 2019: http://bit.ly/Appointments_Aug2019
Download Free eBook Here
Practice Daily Free GK Quiz on Oliveboard
List of Appointments August 2019
New Appointments – August 2019
Name
Designation
Aditya Pande
CFO, InterGlobe Aviation Ltd. (IndiGo)
Ajay Kumar
Secretary, Defence – India
Ajay Kumar Bhalla 
Home Secretary, India
Alejandro Giammattei
President of Guatemala
Amit Nayyar
President of Financial Services, Paytm
Arif Mohammed Khan
Governor of Kerala
Atish Dabholkar
Director, Abdus Salam International Centre for Theoretical Physics (ICTP), Trieste, Italy
Bandaru Dattatraya
Governor of Himachal Pradesh
Bhagat Singh Koshiyari
Governor of Maharashtra
Brij Kumar Agarwal
Secretary, Lokpal
Chandrima Shaha
First Woman President of the Indian National Science Academy (INSA)
Debashis Chatterjee
MD & CEO, MindTree Ltd

Practice Daily Free GK Quiz on Oliveboard
Here are a few Sample Questions:
Q1. __________ has been appointed the Governor of Kerala.
A. Biswa Bhusan Harichandan
B. Acharya Devvrat
C. Arif Mohammed Khan
D. Phagu Chauhan
Solution: C
Q2. __________ has been appointed as the CFO of HDFC Bank.
A. Srinivasan Vaidyanathan
B. N S Vishwanathan
C. Madhur Deora
D. Rajni Saraf
Solution: A
For more eBooks, Click Here
We hope you find the List of Appointments (August 2019) E-Book useful.
To connect directly with our faculty for your queries related to bank and government exams, please download the Telegram App and interact directly to our faculty members. Join the Oliveboard Telegram group at obbanking.