NMAT which is an abbreviation for "Narsee Monjee Institute of Management Studies" Management Aptitude Test is a National Level Computer Based Examination conducted by GMAC (Graduate Management Admission Council) for admissions into various MBA Programmes in NMIMS in its Mumbai, Hyderabad & Bengaluru campus. The NMAT exam notification was released a while ago, and the online registrations have been declared.
Register Here to Receive Daily Updates on Upcoming Exams
Nevertheless, in this article, we will share with you details like important dates, exam fees, exam patterns, and more. So let's start.
1. NMAT Exam 2020 – Important Dates
The important dates have been declared by the authorities. Find the important details below: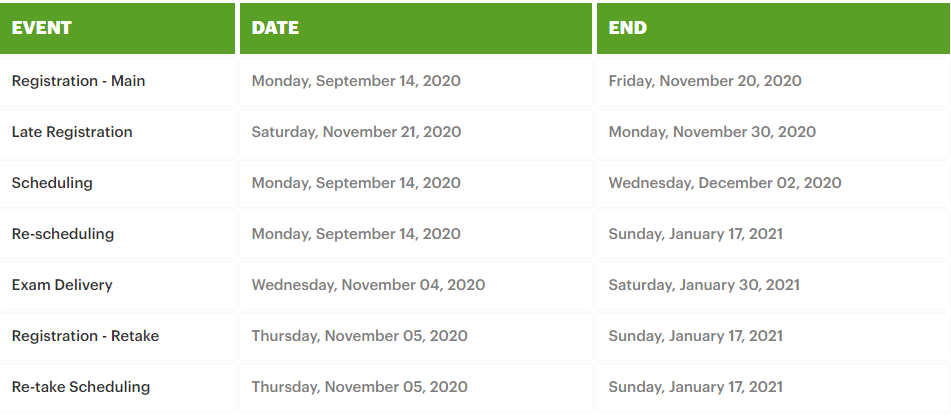 2. NMAT Exam 2020 – Online Application Link
The link to apply online is still not activated and is expected to e open soon. You will be able to fill-up the form and apply online once the link is made available by the officials. Remember you have to fill up the forms for NMIMS & NMAT separately to be considered for the admission if selected.
3. NMAT 2020 Exam Fees
| | |
| --- | --- |
| Service | Fee |
| Test Registration (Early) | INR 2000 + applicable taxes |
| Test Registration (Late) | INR 2500 + applicable taxes |
| Retake | INR 2000 + applicable taxes |
| Reschedule | INR 1100 + applicable taxes |
| Additional Score Reports (beyond first five) | INR 200 per Score Report + applicable taxes |
Payment modes excepted are the following – Visa, MasterCard, American Express, Debit Card, Net Banking, Diners Club, Mobile Wallets.
Register Here & Get Complete Mock Tests for NMAT 2020
4. NMAT 2020 Exam Pattern – New Pattern Introduced
The biggest change in this year's NMAT exam notification was the induction of a new adapted pattern of the test to be conducted. The overall form of the exam has also been updated which was being stagnant from the last few years.
Let's have a look at the new pattern
The 2-hour long NMAT by GMAC test contains multiple-choice questions. Prior to the start of the test, there will be a 2-minute period for the test taker to agree to the Non-Disclosure Agreement, a 10-minute tutorial, and a 3-minute period for section selection and sequencing.
4.1 NMAT Exam Pattern – Things to Keep in Mind
No Ability To Return Ta a Section After Leaving It: Test takers need to answer the questions of each section within the allotted section time. Once the test taker completes a section, whether the test taker selects to move to the next section or if time runs out, the test taker will not be able to return to that section.
No Carryover Of Time: Test takers cannot add the remaining time of one section to other sections. If a test taker completes answering and reviewing a section before the allotted section time expires, the test taker may either choose to revise their answers in the section or move to the next section, but the balance time cannot be added on to the next section's allotted time.
5. NMAT Rescheduling 2020
The NMAT also provides the option of rescheduling the exam but within certain limits. Here's what you have to keep in mind.
Candidates can reschedule their exam 72-hour prior to the test in a given exam slot.
Rescheduling will be subject to the availability of a time slot on a different date.
Candidates opting for rescheduling will have to pay an additional amount of 1100/- INR + Taxes for the rescheduling.
Once past the 72-hour mark, no rescheduling will be possible.
6. NMAT Exam Centres 2020
| | |
| --- | --- |
| Region | Cities |
| North | Agra, Chandigarh, Dehradun, Delhi, Faridabad, Ghaziabad, Gurugram, Jammu, Kanpur, Lucknow, Noida, Patiala, Varanasi |
| West | Aurangabad, Rajkot, Ahmedabad, Jaipur, Jodhpur, Kota, Mumbai, Nagpur, Nasik, Pune, Pilani, Surat, Vadodara |
| South | Bengaluru, Chennai, Coimbatore, Kochi, Hyderabad, Mangalore, Manipal, Madurai, Mysore, Thirupampuram, Tiruchirapalli, Vellore, Vizag, Vijaywada |
| Central | Bhilai, Bhopal, Indore, Jabalpur, Raipur |
| East | Bhubaneswar, Guwahati, Jamshedpur, Kolkata, Patna, Ranchi, Shillong |
You can also visit the Official website of NMAT by GMAC for any other details and the official sample questions by clicking on the link here.
That will be all from us in this article NMAT Exam 2020. We hope that the details shared here for the exam are beneficial to you. eep checking this space for more information and updates on the exam dates and online application link.