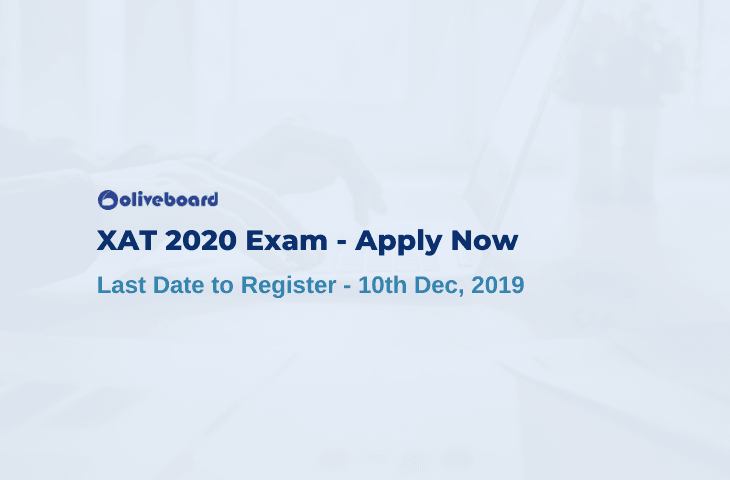 XAT 2020 or Xavier's Aptitude Test 2020 registrations are still ongoing as the last date to register for the exam has been extended from Nov 30, 2019, to Dec 10th, 2019. Candidates who keen on taking admission into the Xavier School of Management, need to hurry up and apply as soon as possible. Waiting for the last minute to apply for the exam can have serious repercussions. The XAT 2020 Registration Last Date without late fee has been extended till midnight of December 10, 2019. So hurry up and register. The XAT Exam is scheduled on 5th of January 2020. 
Xavier Aptitude Test (XAT) 2020 – Know All About the Exam Here
XAT 2020 will be conducted on Sunday, January 5, 2020. XLRI conducts XAT on behalf of XAMI. XLRI conducts XAT at all India level to select the most appropriate students for management education. The XAT score is being used by more than 150 institutes for the admission. The Mode of Examination is Online. Applicants for XAT 2020 need to make the payment through online mode using credit card/ debit card/ online banking and net banking.
XAT Registration and Application – Direct Link 
XAT 2020 Registration Last Date – 10th of Dec 2019
Click Here to Register for XAT 2020
Important Points to be kept in mind for registering your application
 Click on the above-given link and choose the tab "Registration" and enter Name, Date of Birth, Email-id and select Country and enter Mobile number. An Email & SMS indicating the XAT ID and Password will be sent.

Please quote your email (provided during the registration) and XAT ID for all future communication.

Please ensure that you provide a valid email address and mobile number.

Please ensure that you use your personal email address only as your primary email address in the application. (If you use your official email address and in case you switch jobs, it would be difficult for us to communicate with you).

Please access your emails regularly and ensure that your inbox is accessible.

Please note that the XAT ID and password gives you an individual login on www.xatonline.in and on frequent intervals, you need to check for mails from XAT & other associated institutes.

Please ensure that you give your correct mobile No. to receive SMS alerts.
XAT Registration Fee (without late fee) – Rs. 1700/-  
  Candidates interested in XLRI programmes need to pay an additional fee of Rs. 300/- each.
XAT Registration Fee (with late fee) – Rs. 2000/-  
  Candidates interested in XLRI programmes need to pay an additional fee of Rs. 500/- each.
Academic Programmes offered at XLRI
XLRI conducts the online Xavier Aptitude Test in January every year. The online exam is conducted all over India in 72 cities.
A candidate may apply for multiple programmes. Those who apply for more than one programme may be called for multiple interviews and/or group discussions. The selection criteria for different programmes may differ depending on the nature of the programme.
PGDM (Human Resource Management Programme)

PGDM (Business Management Programme)

PGDM (General Management Programme)
Doctoral Level Programme
Fellow Programme in Management (FPM)

Executive Fellow Programme in Management (EXEC-FPM)
Read more about the admission procedure Here.
XAT Sample Papers – Download Here
XAT 2020 Exam Pattern
The exam consist of the following sections:
Verbal and Logical Ability (VA & LR)

Decision Making (DM)

Quantitative Ability & Data Interpretation (QA & DI)

General Knowledge (GK)
XAT 2020 – Some Preparation Tips 
1. Give each section its requisite importance.
Your aim is to maximise the overall marks. Therefore, it is advisable to prepare for all the sections equally and not to make a mistake of avoiding a particular section thinking that you would make educated guesses in that particular section.
2. Concepts, Formulae and Practise – For QA & DI
For Quantitative Ability & Data Interpretation, your concepts of all the topics should be crystal clear. This section would require consistent practise to be able to attempt questions in the real paper. 
3. Reading Comprehension Speed & Vocabulary
To be able to solve Verbal Ability, you need to be adept in Reading Comprehension and Vocabulary section. Critical Reasoning can be tricky thus requires adequate practice from your end. 
4. Decision Making – Practise makes perfect
Practise would make Decision-making ability section easier for you. If you have worked in the corporate environment for quite some time, then it is somewhat possible to attempt this section with a little ease. But be logical and moderate when you give your opinions. Avoid extremism of any sort. 
5. General Knowledge – Both Static & Current Affairs 
Both static and Current GK should be prepared so that you do not lose any marks in this section and thus maximising your overall score. Current affairs of at least six months should be your priority while preparing for this section. 
So, this was all from us in this article. We hope that the information provided here helps you in more ways than one. Prepare well. All the Best.
XAT 2020 – Online Preparation & Practice
5 Complete Tests

as per the Latest Exam Pattern with Detailed Solutions.

First Mock Test is Completely Free.