Various data transmission components are usually used in data communications. The components are considered to create a network when they work together to share resources. Different data communication components make up data communication, and there are parts of them. In this blog you will learn about Data Communication Network and EFT Systems. It is very important for aspirants of the JAIIB exam to be aware of the Data Communication Network and EFT Systems. There are two JAIIB exams each year. Data Communication Network and EFT Systems will be discussed in this blog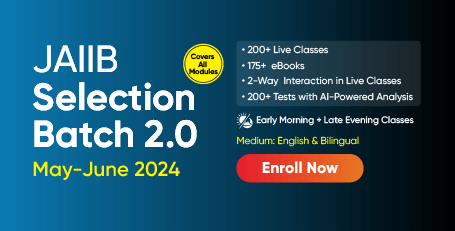 Download Data Communication Network and EFT Systems
How to Download Data Communication Network E-book for JAIIB?
Step 1: Click on the download link. You will be redirected to Oliveboard's FREE E-Books Page.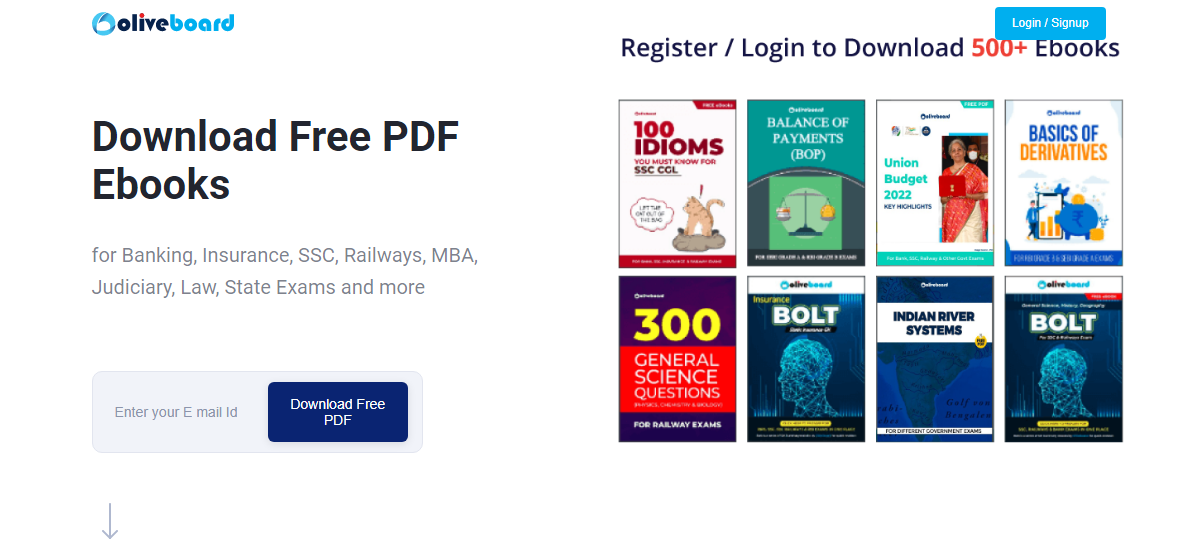 Step 2: Create a free Oliveboard account or login using your existing Oliveboard account details
Step 3: Download the book by clicking on the link presented on the page.
Introduction
Data Communication Networks
Data communications reduce the time it takes to move data from a place of origin to a computer and data from the computer to the site of use.
Components of Data Communications Networks
Various data transmission components are usually used in data communications. The components are considered to create a network when they work together to share resources. Different data communication components make up data communication, and it is made up of three parts.
1. Transmission Devices and Interface Equipment
Electrical signals and bit sequences are used to represent numbers and characters when data is conveyed over the communication line between computer equipment.
A modem is a hardware or application that allows a computer to send data via a telephone or cable connection. Information saved on computers is stored digitally, but information sent via telephone lines is sent as analogue waves. Between these two versions, a modem transforms, and an interface device called a modem performs modem conversion between digital and analogue formats.
2. Transmission Medium
Data must pass through some media during transmission when communicating between computers. Terrestrial, microwave, and satellite data communication systems are the most common.
(a) Terrestrial Cables (Three types)
Twisted-wire Pair: Two insulated copper wires are twisted together to form a twisted pair.
Coaxial cable is made up of an inner copper conductor that is kept in place by round spacers.
Optical Fibre: Optical fibre has revolutionised communications technology. It has a data throughput of 2 gigabits per second. Fibre Optics allows for high-speed, high-quality signal transmission. Electromagnetic interference has no effect. Data is sent by a laser beam through very thin glass or plastic fibres. The laser beam is the light source, which is powered by a high-speed, high-current driver.
(b) Microwave systems: A microwave system is a set of equipment that transmits microwave data. Radios mounted high atop microwave towers are used to transmit microwave communications utilising a line of sight microwave radio technology in a conventional microwave system.
(c) Communication satellite:
A satellite is a body that travels around another body in a mathematically predictable Orbit.
A communication satellite is nothing more than a space-based microwave repeater station that aids in telecommunications, radio, and television, as well as internet applications.
A repeater is a circuit that amplifies the signal it receives and then retransmits it. However, in this case, the repeater acts as a transponder, switching the broadcast signal's frequency range from the received one.
Uplink frequency refers to the frequency with which the signal is transmitted into space, whilst Downlink frequency refers to the frequency with which the signal is sent by the transponder.
3. Transmission Processors
Transmission processors are designed to improve data communication between two places. The following are some examples of communications processors:
A message switcher is a device that stores and forwards data to several terminals over a single communication channel.
A multiplexer sends several signals across a single communication channel at the same time.
The front end Processors for the host computer that intercept and manage communication activity. A device that connects the CPU to the host computer. It frees the computer from communication responsibilities, allowing it to focus on application processing.
Modes of transmission
Simplex – data is sent in only one direction (commercial radio)
Half-duplex transmission sends data in both directions at the same time. WALKY TALKY WALKY
Take a peek at the Data Communication Network E-book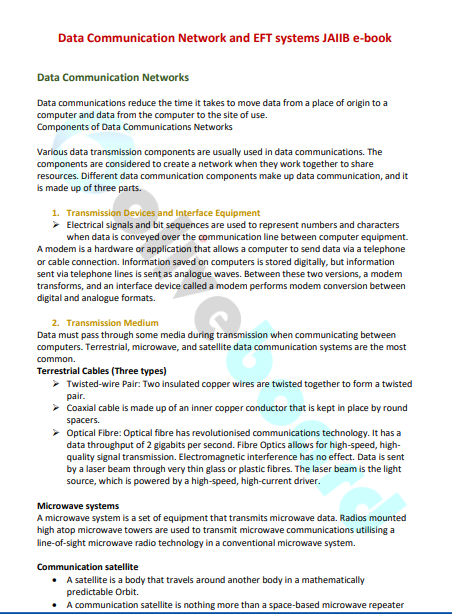 Conclusion
This was all about Data Communication Network and EFT Systems for JAIIB. Our goal is to provide candidates with information that will help them prepare for the JAIIB exam. Keep following Oliveboard for more updates. To stay updated, follow Oliveboard on Facebook and Telegram.
FAQs
Q. What distinguishes RTGS from NEFT (National Electronic Funds Transfer)?
A. NEFT is an electronic financial transfer system that uses a Deferred Net Settlement (DNS) model. In other words, NEFT transactions are paid in batches, but in RTGS, each transaction is resolved separately. As a result, every transaction launched after a specified settlement/cut-off time in NEFT must wait until the next specified settlement time. 

Q.  What are the benefits of utilizing the NEFT system?
A. For cash transfer or reception, NEFT gives the following benefits:
– Availability every day of the year, 24 hours a day.
– Funds move to the recipient account in near-real-time and safe settlement.
– Pan-India coverage is provided through a wide network of bank branches of various sorts.
– Interest penalty provision for late credit or transaction returns.
JAIIB Study Material Compilation
Also Read:
Also Check:

Oliveboard is a learning & practice platform for premier entrance exams. We have helped over 1 crore users since 2012 with their Bank, SSC, Railways, Insurance, Teaching and other competitive Exams preparation.
  Oliveboard Live Courses & Mock Test Series