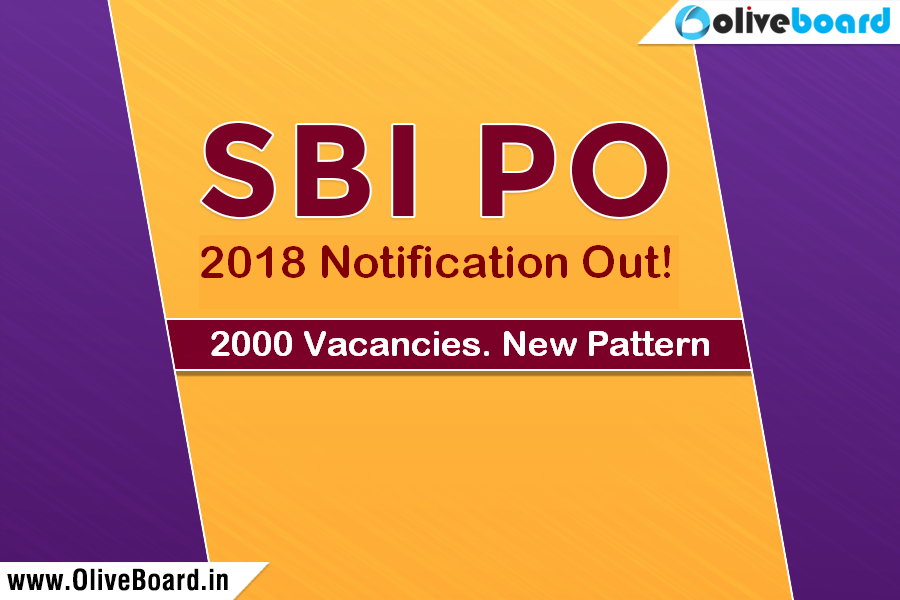 SBI has released the much awaited SBI PO 2018 Notification for the recruitment of POs for the year 2018. 2000 vacancies have been announced. There's a changed pattern for SBI PO Prelims with sectional timing introduced.
Download Full SBI PO 2018 Notification here:
Important Dates as per SBI PO 2018 Notification
Online Registration Begins: 21 April 2018
Online Registration Ends: 13th May 2018
Date of Prelims: 1st, 7th, 8th of July
Date of Mains: 4th August 2018
SBI PO Exam Pattern (Prelims)
The SBI PO Exam pattern, like SBI Clerk, will have sectional timing for the first time. There is no change in the pattern of the SBI PO Mains.

SBI PO Exam Pattern (Mains):

Sign up early for the Entire SBI PO 2018 Course in New Pattern with:-
1) 20 Tests for SBI PO Prelims in New Pattern
2) 10 Tests for SBI PO Mains
3) 99 Topic Tests with Level 1(Easy), Level 2 (Moderate), Level 3(Difficult) tests to build conceptual understanding in every topic for SBI PO.
4) 60 Sectional Tests for practice across each section of SBI PO
5) GK Tests by Topic covering Current Affairs, Banking Awareness and more.
6) Video Lessons across all topics of SBI PO.
+ more new features coming up in the next few days.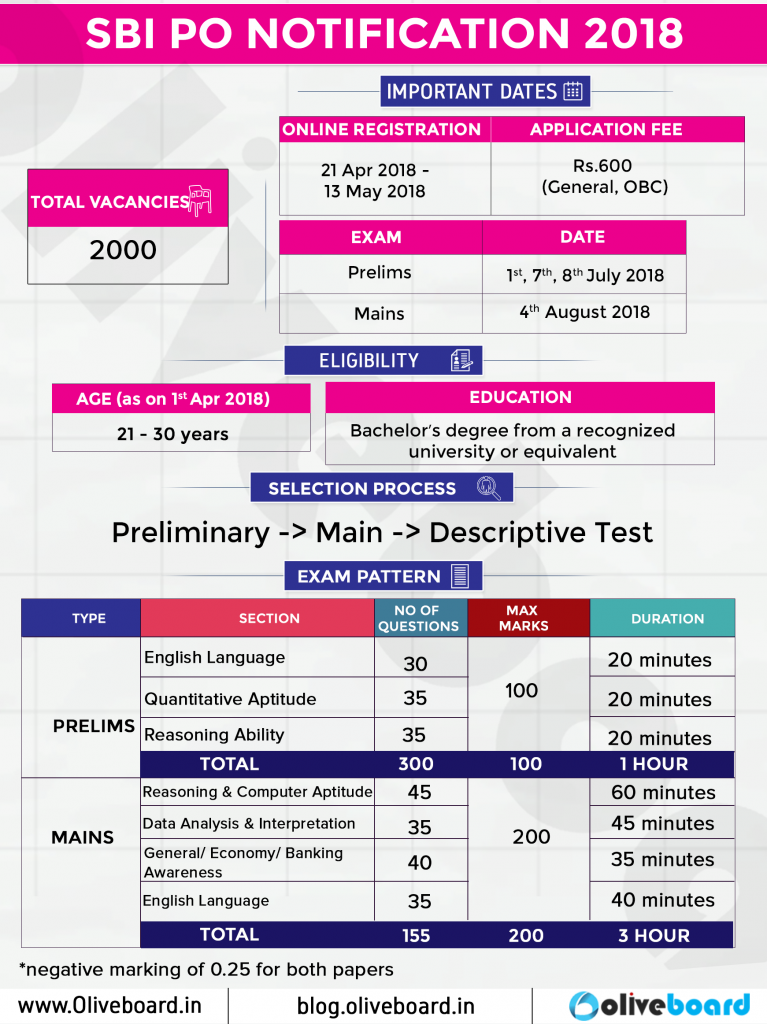 Eligibility Criteria as per SBI PO 2018 Notification:
Age Limit: (As on 01.04.2018):
Not below 21 years and not above 30 years as on 01.04.2018 i.e. candidates must have been born not later than 01.04.1997 and not earlier than 02.04.1988 (both days inclusive).
Read detailed notification here: Click
Essential Academic Qualifications as per SBI PO 2018 Notification: (AS ON 31.08.2018):
Graduation in any discipline from a recognised University or any equivalent qualification recognised as such by the Central Government. Those who are in the Final year/ Semester of their Graduation may also apply provisionally subject to the condition that, if called for interview, they will have to produce proof of having passed the graduation examination on or before 31.08.2018. Candidates having integrated dual degree (IDD) certificate should ensure that the date of passing the IDD is on or before 31.08.2018. Candidates possessing qualification of Chartered Accountant may also apply.
APPLICATION FEE AND INTIMATION CHARGE (Non-Refundable) as per SBI PO 2018 Notification:
SC/ST/PWD 100/- (Intimation Charges only)
General, OBC 600/- (App. Fee including intimation charges)
HOW TO APPLY as per SBI PO 2018 Notification:
As per the SBI PO 2018 Notification Candidates can apply online only from 21.04.2018 to 13.05.2018. No other mode of application will be accepted. Candidates will be required to register themselves online through Bank's website https://bank.sbi/careers or https://www.sbi.co.in/careers. After registration candidates are required to pay the requisite application fee through online mode by using debit card/ credit card/ Internet Banking.