Institute of Banking Personnel Selection (IBPS) holds IBPS RRB Clerk Examination every year for recruitment of Group "B"- Office Assistant. Eligible candidates, who aspire to join any of the Regional Rural Banks as Group "B"- Office Assistant (Multipurpose), are required to register for the Common Recruitment Process. The examination will be two tiers i.e. the online examination will be held in two phases, Prelims and Mains. This article is intended to provide all the details about IBPS RRB Clerk Recruitment Notification 2020 like eligibility, exam date, exam pattern, job profile, salary, etc. So, read along to check the details, and don't forget to Register for the Free IBPS RRB Clerk Mock Test.
Important Update 
Competent Authorities at IBPS have decided to hold an Additional Cycle of Online Preliminary Examinations under CRP-RRBs-IX for the post of Officers Scale-I and Office Assistant (Multipurpose) by releasing a Supplementary Advertisement in continuation to the actual notification released on 01.07.2020. New Candidates will be able to register for this exams tentatively between 26.10.2020 to 09.11.2020. Keep visiting this page for frequent updates. 
The Applications Will Be Opened Only for Candidates of the Following Categories
Who attained the eligibility in terms of educational qualifications by 09.11.2020.

Who could not register successfully from 01.07.2020 to 21.07.2020.
All those who had applied successfully during the registration window for CRP- RRB IX from 01.07.2020 to 21.07.2020 and were called for the Online Preliminary Examination during September 2020 for a particular post should NOT apply for that post.
Important Dates
| | |
| --- | --- |
| Activity | Tentative Dates |
| On-line registration including Edit/Modification of Application & Payment of Application Fees/Intimation Charges | 26.10.2020 to 09.11.2020 |
| Online Examination – Preliminary | Officers Scale-I- 31.12.2020  | Office Assistant (Multipurpose)- 02.01.2021/04.01.2021 |
Official Notification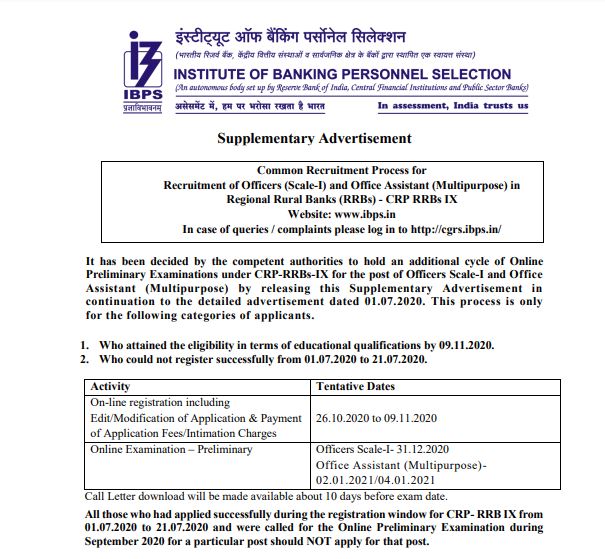 IBPS RRB Clerk Mains Exam Postponed 
Further to our notice dated 10.08.2020, kindly note that Online Main Examinations for the post of Officer Scale-I scheduled on 18.10.2020 and Office Assistants scheduled on 31.10.2020 have been deferred.
Online Single Examination for the Post of Officers Scale- II and III will be held as per the announced date i.e. 18.10.2020.
Candidates are requested to visit the authorised website of IBPS (i.e. www.ibps.in) regularly.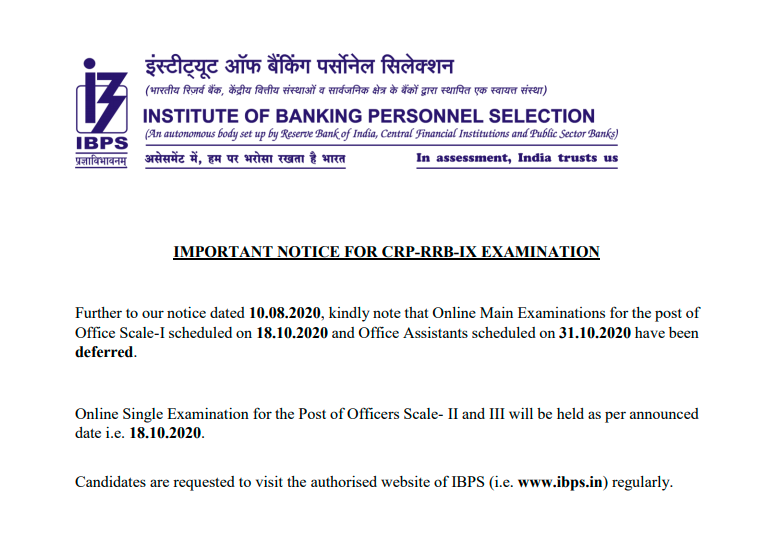 The dates for prelims and mains are officially notified in the annual calendar released by the IBPS.
Register Here & Take Free IBPS RRB Clerk Mock Test
1.1 IBPS RRB PO Apply Online Link Active | Apply Here
All candidates can apply online for IBPS RRB 2020 Office Assistant (Clerk), Officer Scale-I (PO) and Officer Scale-II and III by clicking on the links mentioned below:
Apply Online for IBPS RRB-IX Office Assistant (Clerk)
Apply Online for IBPS RRB-IX Officer Scale-I (PO)
1.2 IBPS RRB PO Official Notification PDF
Download the detailed notification below:


2. IBPS RRB Clerk Notification 2020 Vacancy
The vacancy for the year 2020 will be released once the official notification is released for the year 2020. As for 2019, there was a total of 4282 vacancies released for the office assistant post.
| States | Overall Vacancies |
| --- | --- |
| Andhra Pradesh | 144 |
| Arunachal Pradesh | 6 |
| Assam | 100 |
| Bihar | 56 |
| Chhattisgarh | 71 |
| Gujarat | 247 |
| Haryana | 103 |
| Himanchal Pradesh | 68 |
| Jammu & Kashmir | 87 |
| Jharkhand | 0 |
| Karnataka | 0 |
| Kerala | 0 |
| Madhya Pradesh | 414 |
| Maharashtra | 190 |
| Manipur | 10 |
| Meghalaya | 23 |
| Mizoram | 29 |
| Nagaland | 5 |
| Odisha | 30 |
| Puducherry | 7 |
| Punjab | 88 |
| Rajasthan | 313 |
| Tamil Nadu | 260 |
| Telangana | 350 |
| Tripura | 30 |
| Uttar Pradesh | 1852 |
| Uttarakhand | 8 |
| West Bengal | 133 |
| Grand Total | 4624 |
Check Category-wise Vacancies Here.
3. IBPS RRB Clerk Recruitment 2020 – Eligibility Criteria
3.1 Age Criteria
Between 18 years and 28 years i.e., candidates should have not been born earlier than 02.06.1991 and later than 01.06.2001 (both dates inclusive)
3.2 Nationality/Citizenship
A candidate must be either –
(i) A Citizen of India or
(ii) A subject of Nepal or
(iii) A subject of Bhutan or
(iv) A Tibetan Refugee who came over to India before 1st January 1962 with the intention of permanently settling in India or
(v) A person of Indian origin who has migrated from Pakistan, Burma, Sri Lanka, East African countries of Kenya, Uganda, the United Republic of Tanzania (formerly Tanganyika and Zanzibar), Zambia, Malawi, Zaire, Ethiopia and Vietnam with the intention of permanently settling in India, provided that a candidate belonging to categories (ii), (iii), (iv) and (v) above shall be a person in whose favour a certificate of eligibility has been issued by the Government of India.
3.3 Educational Qualifications
Bachelor's degree in any discipline from a recognized University or its equivalent
(a)  Proficiency in local language as prescribed by the participating RRB/s*
(b)  Desirable: Working knowledge of computers.
All the educational qualifications mentioned should be from a University/ Institution/ Board recognized by Govt. Of India/ approved by Govt. Regulatory Bodies and the result should have been declared on or before 02.07.2019.
Proficiency in the local language – For recruitment of Office Assistant (Multipurpose), proficiency in local language as specified below shall be an essential qualification:-
Candidates who have already studied the language of the State in standard VIII or any level above standard VIII in Government recognized Boards of Education/ School or having any certificate to the effect for standard VIII or any level above standard VIII would be considered proficient in that local language
Where the candidate does not meet the aforesaid requirement in the local language at the time of selection, he will be given a time of six months from the date of joining to acquire the proficiency. This period can be extended by the Boards of RRBs within the framework of the rules and provided that such an extension should not be beyond the probation.
Take Free IBPS RRB Clerk Mock Test & Assess Your Preparation
4. IBPS RRB Office Assistant 2020 Selection Procedure
The structure of the Examinations which will be conducted online are as follows:
 IBPS RRB Assistant Prelims Exam Pattern 
Sr.

No.

Name of Tests

Medium of Exam

No. of Qs

Maximum

Marks

Duration

1

Reasoning

Hindi/English

40

40

Composite time of 45 minutes

2

Numerical Ability

Hindi/English

40

40

Total

80

80
Candidates have to qualify in both the tests by securing minimum cut-off
Want To Test Your Preparation? Take A Free Mock Test Now!
 IBPS RRB Assistant Mains Exam Pattern
For each question for which a wrong answer has been given by the candidate one fourth or 0.25 of the marks assigned to that question will be deducted as penalty to arrive at corrected score.
Register Here & Attempt Free IBPS RRB Clerk Mock Test

5. IBPS RRB Assistant Cut-off Score
Each candidate will be required to obtain a minimum score in each test of Online Main examination to be considered to be shortlisted for provisional allotment. Depending on the number of vacancies available in each state, candidates will be shortlisted for provisional allotment.
6. IBPS  RRB Clerk Recruitment 2020 Job Profile
Office Assistants are the first point of contact between the bank and the customers. Office assistants operate the counters at the bank and are responsible for answering the queries of the customers.
Office assistants are in charge of handling documents involved with all transactions. The IBPS RRB office assistants will also handle cash transactions. Issuance of new debit cards is also the prerogative of these officers.
Some IBPS RRB Office Assistants may also need to work in multiple departments concurrently; depending on the needs of the bank. Even though the job of the Office Assistant can be hectic, it offers a great amount of exposure to the candidates.
Register Here To Receive Daily Updates on Upcoming Exams & Free Study Materials
7. How Much Does An IBPS RRB Office Assistant Earn?
The salary structure for IBPS RRB office assistants is in the range of Rs. 7200-400/3-8400-500/3-9900-600/4-12300-700/7-17200-1300/1-18500-800/1-19300.
Now you must be thinking about what is above-mentioned numbers represent. Let us break down this complex pay scale into more simplified and understandable numbers.
Rs. 7200-400/3 – So the initial basic pay would be 7200 for the first three years and the increment after the end of each year would be 400 Rs. 
8400-500/3 – As the office attendant completes three years, the basic pay would increase to 8400 for the coming 3 years with the increment of Rs 500 after the end of each year. 
And similarly, the basic pay would go increasing with the simultaneous increase in the increment that is given at the end of each year. 
Note:
Basic Pay – A standard rate of pay that an employee gets in return for his/her work before additional payments such as allowances and bonuses.
Future prospects– Office Assistants get opportunities to reach higher managerial posts in their careers, based on merit and experience.
Know Complete Details About the IBPS RRB Clerk Salary Here
7.1 IBPS Office Assistant 2020 Perks & Allowances
IBPS RRB Office Assistants Perks & Allowances

Dearness Allowance (DA)

46.5% of the basic pay.

House Rent Allowance (HRA)

For Rural Areas: 5% of the basic pay

For Semi-urban Areas: 7.5% of the basic pay

For Urban Areas: 10% of the basic pay

Special Allowances

7.75% of the basic pay.
 8. What do we have in a cart for your preparations?
IBPS RRB Office Assistant Mock Tests.
20 IBPS RRB Clerk Prelims Mock Tests with Solutions
10 IBPS RRB Assistant Mains Mock Tests with Solutions
100+ sectional & Topics Tests for Practice
All Topic Tests
Sectional Tests
GK Supplement with 2500 questions
Best Books For IBPS RRB Clerk Recruitment 2020
The books that you can refer are given below:
Objective General English by S P Bakshi
Quantitative Aptitude by RS Aggarwal
9. IBPS RRB PO 2020 Admit Card
Candidates will have to separately download the admit cards for the Prelims Phase, Mains Phase, and the Interview Phase from the official website. The bank although intimates the candidates through an SMS and an e-mail informing about the release of the admit cards.
To download the call letters from the official website, a candidate is required to fill in the following details:
Registration No/Roll No
Date of Birth/ Password
10.

Ebooks
You can download 200+ ebooks important for SSC, Banking, Railway, Insurance, and other government exams here.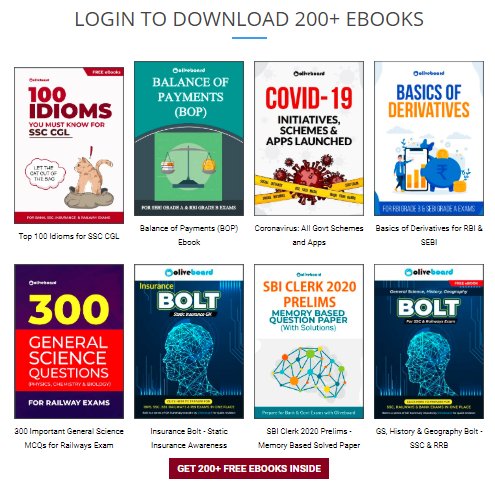 Oliveboard Bolt series E-books: 
Free Static GK E-book – More Study Materials :