Are you also searching for the best online course for NABARD Grade A exam? Well, if yes then you have landed on the right page. To succeed at cracking any competitive exam, you would need grit, determination, a disciplined study schedule, and most importantly the right study material. Right study material is the one that caters to all your preparation needs starting right from clearing your concepts, building your fundamentals, helping you revise the syllabus, and last but not least letting you test your knowledge. Oliveboard is offering the NABARD Grade A Online Course for the year 2021 which fulfils all the above conditions and gives you much more than this. Read about all the salient features of Oliveboard's NABARD Grade A Online Course 2021 and get to decide for yourself whether it's worth it or not. 
NABARD Grade A Online Course 2021
NABARD Grade A Online Course/Coaching
NABARD Grade A Cracker Course offers comprehensive online coaching for the exhaustive preparation for all aspects of the NABARD Grade A exam.
It would cater to all aspects of your preparation needs both for Phase 1 and Phase 2.
Video Lessons:
1. Video Lessons on important concepts of Phase 1 (Quants, Reasoning, English).
2. Video Lessons on all the chapters of Economic & Social Issues (ESI) and Agriculture & Rural Development (ARD).
3. Strategy Sessions/Past Year Analysis
4. LIVE Classes and LIVE Practice Sessions on Important Topics
5. Live Classes on Descriptive English
Study Notes:
1. Detailed Study Notes for each chapter of ESI and ARD.
2. Monthly Capsules for Phase 2 Current Affairs.
3. Complete Coverage of Current Affairs which includes:
(a)    Union Budget
(b)    Economic Survey
(c)     Government Schemes
(d)    All the Important reports for ESI and ARD
4. List of Important Topics for Essays for Descriptive English
Mock Tests:
1. 10 Full-Length Mock Tests for Phase 1
2. 20 Full-Length Mock Tests (15 Objective + 5 Descriptive Tests) for Phase 2
3. Topic-wise tests for all the chapters of ESI and ARD (Phase 2)
4. 90+ Topic Tests for Phase 1 (Quant, Reasoning, English)
5. 60 Sectional Tests for Phase 1 (Quant, Reasoning, English)
---
Why Join Oliveboard?
1. Structured Preparation @ one place.
2. Strengthen your concepts using Videos & Notes.
3. Have a grip on Topics through Topic Tests.
4. Improve Speed and Accuracy through Full-length Mock Tests.
As they say, start early and stay ahead!
Start Your Preparation with Cracker Course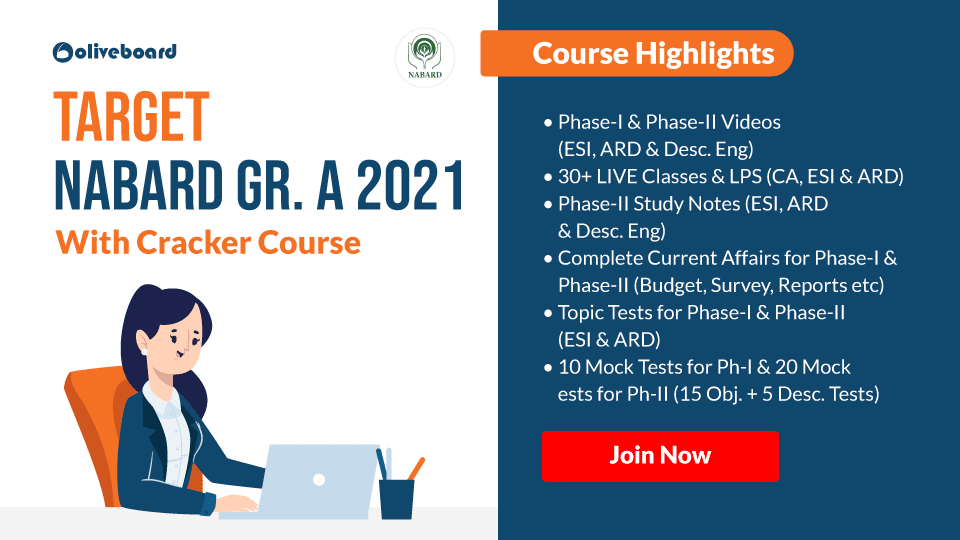 ---
If you wish to get in touch with your fellow competitors for the preparation of Bank & Govt, you can visit Oliveboard's discuss forum.
Want more? You can access Oliveboard's Mock Tests and other study materials from your phone. Download Oliveboard Mobile App and prepare on the go!
  Oliveboard Live Courses & Mock Test Series