Dear Aspirants,
NABARD is slated to conduct the Grade 'A' and 'B' Officers recruitment preliminary exam on 5th and 6th August 2017 for the posts of Assistant Managers and Managers. It is one of the most sought-after and highly competitive exams. According to NABARD, only 100 out of every 400 people get through the selection process.
The competition is very high and if you haven't started your preparation yet, we suggest you start your preparations immediately.
In our previous articles, we had provided preparation tips and strategy for the Agriculture and Rural Development [ARD] and the Economic and Social Issues [ESI] papers of NABARD. In the following article, we are providing a complete list of preparation material you will require to prepare for NABARD 2017 Examination.
Note on NABARD preparation material
Before we provide you with the list of study material for NABARD, here are some pointers:
Do not hoard too many study material (be it books, exam papers, apps, magazines, etc.). Keep your NABARD study material minimum or it will only end up confusing you.
You don't have to read the books mentioned below cover to cover. You need to be smart & selective in reading these books. Go through the syllabus given by NABARD and study only those topics that are most likely to appear in the exam.
The books available in the market could contain a lot of errors. We suggest you do a thorough research before making the purchase by reading user reviews and taking feedback from your peers and choosing the best book with minimum errors.
If you don't want to waste too much of your time and energy and don't feel like putting in the efforts to find out the syllabus and do selective reading from the books, we suggest you go through the previous year solved question papers and take NABARD 2017 Mock Tests. The mock tests are created by experts keeping in mind the latest pattern and syllabus. You can solve the previous year papers and mock tests and make note of the topics you're weak at and read up on those topics.
Take NABARD 2017 Mock tests, Practice tests, Sectional tests and get your performance analyzed. Click on the banner below:

1. Books
If your basics in Quant, Economics & Social Issues aren't in place, we recommend brushing it up using NCERT and NIOS Math, Economics and Social studies textbooks of grade 8 to grade 12. Do not spend time reading entire books cover to cover; instead read only the most important topics mentioned in the syllabus that will most likely appear in the exam. Below are topic-wise books suggested for NABARD 2017 Exam preparation:
Reasoning
Sitting Arrangement (Linear, Circular, with mix of blood relations) dominates the Reasoning section and is an important topic; you can expect up to 10 marks from this.
A Modern Approach to Verbal and Non-verbal Reasoning by R S Aggarwal
Magical Book On Puzzles by K Kundan
Analytical Reasoning by M K Pandey
Kiran's Tricky Approach to Competitive Reasoning Verbal and Non-Verbal (Fully Solved)
English
The Reading Comprehension passages carry most marks in English language paper. You can expect up to 15 questions from this topic and the passages can be based on Agriculture, Economic and Social Issues and Banking.
Objective General English by S P Bakshi
High School Grammar and Composition by Wren and Martin
Word Power Made Easy by Norman Lewis
Quantitative Aptitude
Data Interpretation (bar graphs, line graphs, etc.) is an important topic in Quantitative Aptitude paper.
Quantitative Aptitude for Competitive Exams by R S Aggarwal
Fast Track Objective Arithmetic by Arihant Publications
Magical Book on Quicker Math by M Tyra
Quantitative Aptitude Quantum CAT by Sarvesh k Verma
Economic and Social Issues [ESI]
Questions from the Economic and Social Issues [ESI] paper of NABARD are based on Economic and Social concepts and current affairs related to Economics and Social Issues, like, government schemes, sub-schemes, migration, social justice structure, gender issues, urbanization, etc.
Indian Economy by Ramesh Singh
Social Problems in India by Ram Ahuja
IGNOU BA (Economics & Political Science) Booklets
Social & Economic Problems in India by Naseem A Azad
Indian social System by Ram Ahuja
Agriculture and Rural Development [ARD]
Like the Economic and Social Issues [ESI] paper, the Agriculture and Rural Development [ARD] paper of NABARD focuses on questions on concepts and current affairs based on Agriculture and Rural Development like basic agriculture terminologies, demographics, issues faced by rural people, etc.
Agriculture at a Glance: Enhanced Competition Explorer by R K Sharma and S K Bhoi
Rural Development: Indian Context by GPH Panel of Experts
NABARD and its Significance in Agriculture by S K Chaudhary
Agricultural Finance in India: The Role of NABARD by K Prabhakar Rajkumar
Computer Awareness
The Computer awareness paper will not be tricky as other sections. The questions asked will be pretty basic (hardware-software, networking, operating system, computer topology, etc.).
Objective Computer Awareness by Arihant Publications
General Awareness
This section is going to include questions from Static GK and Current Affairs; mostly related to Banking and Finance.
NOTE: After analyzing the Agriculture and Rural Development [ARD] and Economic and Social Issues [ESI] papers of NABARD 2016 Exam, we can conclude that most of the questions are based on the current affairs than theoretical. Therefore, we recommend reading current affairs (facts, figures, stats, data) on the topics of ESI and ARD and focus more on it.
2. Reports
The Economic Survey of India
Press Information Bureau [PIB]
Policy Reviews of the Government of India
Ministry of Agriculture and Farmers Welfare
Ministry of Rural Development
Ministry of Environment, Forest & Climate Change
Ministry of social justice and empowerment
3. Magazines
4. Previous year question papers
It goes without saying that, solving previous year NABARD exam papers is a must for your preparation for the following reasons:
It will familiarize you with the exam pattern
Helps you understand the difficulty level of questions
There are chances of questions repeating from previous year exam paper
Download fully-solved NABARD Economic and Social Issues [ESI] & Agriculture and Rural Development [ARD] 2016 Exam paper for free!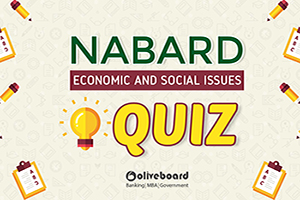 Another important resource are online NABARD topic-wise quizzes. These quizzes are created keeping in mind the latest exam pattern and syllabus. Click on the banner to take a free trial!
6. Apps
Dictionary.com
Handy dictionary app that you can carry around in your pocket wherever you go; with more than 2,000,000 definitions and other interesting features like word of the day, translator, origin of words, thesaurus, audio pronunciation and much more!
Oliveboard provides NABARD Mock Tests created by experts and top rankers in the field after thorough research and analysis, keeping in mind the latest exam pattern and syllabus of NABARD 2017 exam. There are multiple tests, like sectional tests, topic tests, daily tests, etc. that include thousands of quality questions of varying difficulty levels and their detailed solutions. The app also provides insightful feedback on your performance to help you determine your speed and accuracy and strong and weak areas using the analytics feature. What's more? It's FREE!
Download the Oliveboard mobile app and take a free trial:

The Hindu Newspaper App
The Hindu news app will keep you updated on current affairs on concepts related to Agriculture, Rural Development, Economic and Social Issues on the go. It is also the most recommended newspaper for NABARD bank exam aspirants.
The Economic Times App
Another newspaper that is recommended to NABARD exam aspirants is The Economic Times. This is especially useful in preparation of Economic and Social Issues [ESI] and Agriculture and Rural Development [ARD] papers of NABARD.
Mock tests are an important part of your NABARD exam preparation. In fact, we'd go to the extent of saying that taking mock tests is one of the most important part of the preparation process.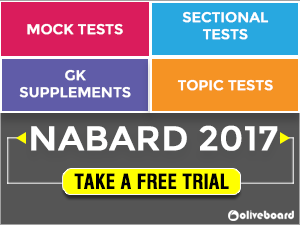 What makes mock tests so important?
There is no point in just studying without gauging your study progress. While it is important to study concepts and current affairs, it is equally important to measure your study progress and mock tests help you do just that. They also provide you insightful feedback using the analytics feature that helps you determine your speed and accuracy and strong and weak areas.
You can then use this feedback to improve on your weak areas and fine-tune your NABARD exam preparation.
Try it out yourself! Take free NABARD sectional tests, full-length mock tests, topic tests; click on the banner above!
8. Newspapers
The Hindu
The Economic Times
Use the above mentioned NABARD exam preparation resources wisely. Choose the best and most recommended ones and keep your study material minimum. We hope the above tips help you in your NABARD 2017 exam preparation. Save this as a PDF to use it as a handy guide during your preparation.
We wish you all the very best!
Further reading: