With the change in the pattern of the SEBI Grade A Exam in 2020, it is important that we become acquainted with the paper pattern and more importantly paper 2. For your convenience in understanding the kind of questions that can be asked in SEBI Grade A Exam 2020 Paper 2 for both Phase 1 and Phase 2, we have come up with SEBI Grade A Officer Question Paper PDF. This free ebook comprises 50 questions with complete solutions for SEBI Grade A Paper 2.
Use Code P30 to avail 30% discount on SEBI Courses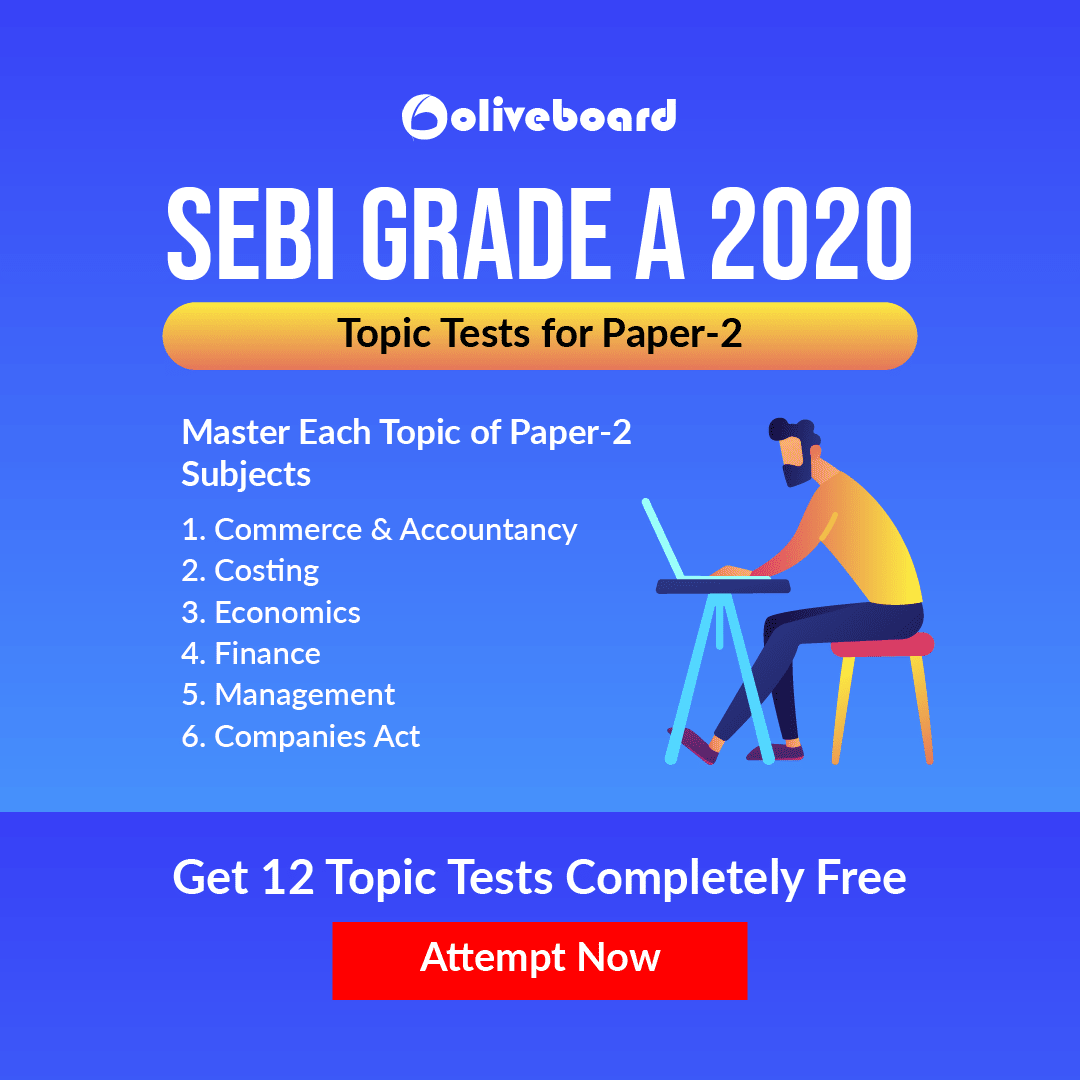 Take Free SEBI Grade A 2020 Topic Tests
SEBI Grade A Officer Question Paper PDF
Download Paper 2 Mock Test E-book Here
Enroll for SEBI Grade A 2020 Course Here
---
Sample Questions:
Q.1) RBI is least likely to go for __________ if there are inflation concerns building up.
Repo rate hike

Increase in CRR requirements

Increase in SLR requirements

Reverse repo rate hike

Repo rate cut
Answer: Option e (Repo rate cut)
Q.2) As per the Companies Act, the dividend can be declared only after providing for
Depreciation

Carryover losses

Both a & b

Notional loss

All a b & d
Answer: c
Download more Free eBooks Here
SEBI Grade A Online Course
For your Complete Phase 1 and Phase 2 Preparations
SEBI Grade A Cracker is a course designed to cover all the subjects under Phase I and Phase II exams.
For Paper 1 of the Phase I exam all essential subjects like Quantitative Aptitude, Reasoning, and English will be covered through video lectures.

For Paper 2 of both Phase 1 and Phase 2, the complete syllabus will be covered through video lessons, and notes.

The course will also have strategy sessions and past year paper discussions.

This course has been designed in such a way that it can be covered well before the examination.
Enroll for SEBI Grade A 2020 Online Course Here
Course Features
| | |
| --- | --- |
| Phase 1 | Phase 2 |
| Videos on Important Topics of Quantitative Aptitude, Reasoning, English (Paper 1) | Video Lessons + Notes for all the sections of Paper 2: |
| 10 Full-Length Mock Tests for Paper 1 | Commerce & Accountancy, Management, Finance, Costing, Companies Act, Economics |
| BOLT magazine covering the GA section for Paper 1 | Live Classes for Revision of the chapters and Guidance |
| 10 Full-Length Mock Tests for Paper 2 | Live Practice Sessions for all the components |
| Video Lessons + Notes for all the sections of Paper 2 | Live Classes for the Descriptive English (Paper 1) |
| Commerce & Accountancy, Management, Finance, Costing, Companies Act, Economics | 5 Full-Length Mock Tests for Paper 2 |
Enroll for SEBI Grade A 2020 Online Course Here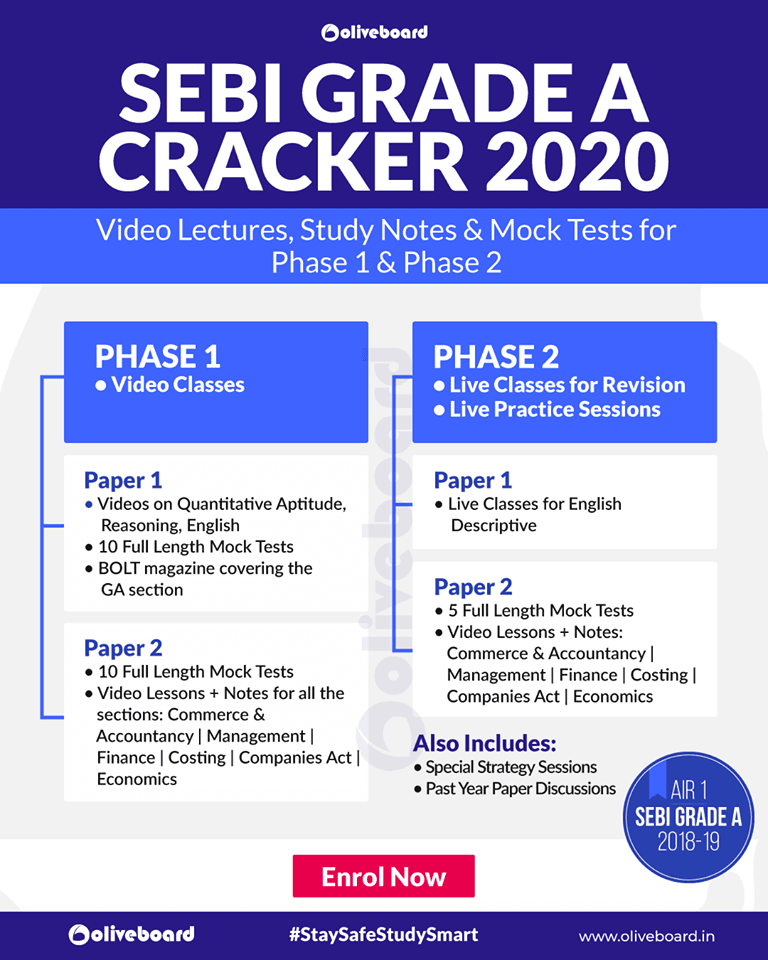 Use Code P30 to avail 30% discount on SEBI Courses
  Oliveboard Live Courses & Mock Test Series