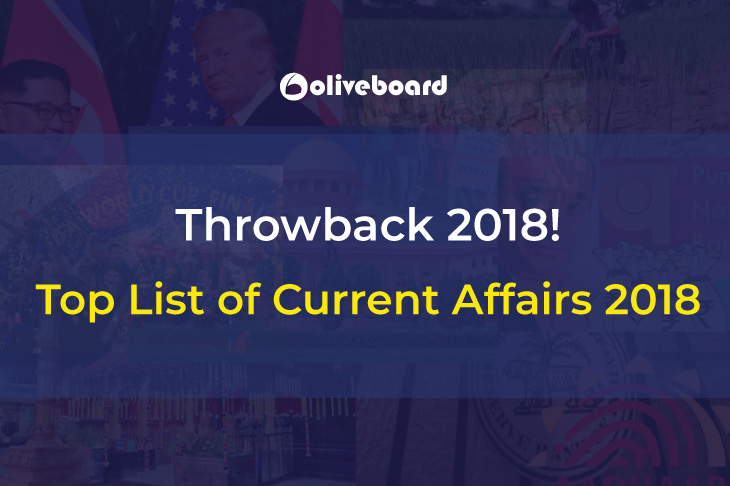 Top List of Current Affairs 2018
This glorious year 2018 which gave us a mix of events wherein on one side of the spectrum we had great landmark judgements by the Supreme court for instance making the Triple Talaq unconstitutional and decriminalizing homosexuality and on the other side we had devastating floods that brought quite a havoc in Kerala also not to forget the Rupee Devaluation against dollar. So, here in this blog we have consolidated all the significant news events and made a List of Current Affairs 2018. You have to read this List of Current Affairs 2018 just once to recollect the events that the year 2018 brought with it. Read the List of Current Affairs 2018 below.
Take a free Oliveboard Clerk Mains Mock Test
List of Current Affairs 2018
Kim Jong Un, the leader of North Korea warned the United States that he has a "nuclear button" on his desk ready for use if North Korea was threatened but offered an olive branch to South Korea saying that he was "open to dialogue" with Seoul.
US President Donald Trump did not want to be President, reveals a new book by an American journalist Michael Wolff "Fire and Fury: Inside the Trump White House".
There was a doubt in the Indian Techies that new US rules may prevent H1B visa extension. The move could directly stop hundreds of thousands of foreign workers from keeping their H-1B visas while their green card applications are pending.
Discussions on Kulbhushan Jadhav, Bhima-Koregaon violence and triple Talaq Bill dominated Winter Session of the Parliament.
UIDAI introduces 'Virtual ID' for Aadhaar cardholders to address privacy concerns.
Government eased norms for FDI in single brand retail, construction, civil aviation.
K.Sivan named new ISRO chairman.
US District Judge blocked Donald Trump decision to end programme protecting young immigrants from deportation.
Relief for Indian techies as US announces H-1B visa extensions to continue.
Karni Sena warned of a violent stir against movie Padmavat.
650 bulls and 950 tamers had registered for the event Jallikattu held at Avaniapuram on the day of Pongal.
Lalu Prasad, Jagannath Mishra got five-year jail term in third fodder scam case.
Four policemen killed, seven injured in encounter with Maoists in Chhattisgarh.
The Central Government unveiled details of recapitalisation plan for public sector banks.
A shooter driven by jealousy opened fire and killed four people at a car wash in Pennsylvania.
The United States announced that it was lifting its ban on refugees from 11 "high-risk" countries but said those seeking to enter the U.S. would come under much tougher scrutiny than in the past.
The fiscal deficit overshot to 3.5 % from the earlier estimate of 3.2 % in the current fiscal, ending March 31.
The Union government expressed its objection to prescribe the noose for child abusers, rapists and paedophiles, saying "the death penalty is not an answer for everything."
U-19 World Cup final: Man of the Match Manjot Kalra's century propeled India to 8-wicket win.
India received $60 billion FDI in last fiscal, Modi at Global Investors' Summit.

J&K government okays withdrawal of stone-pelting cases against 9,730 people.

CBI filed plea in trial court for further probe in Bofors case.
The Japan Aerospace Exploration Agency (JAXA) launched the world's smallest rocket with the ability to put a micro-satellite into orbit.
The Central Vigilance Commission (CVC), India's apex body for checking corruption in the government, had summoned senior officials from the Reserve Bank of India, the Finance Ministry, along with the Chief Vigilance Officer of Punjab National Bank (PNB) seeking review of regulatory mechanisms after 11,500 Rs PNB Scam.
The Supreme Court in a verdict on the Cauvery river water dispute, reduced the allocation of water from Karnataka to Tamil Nadu.
Moody's Investors Service and Fitch placed Punjab National Bank's (PNB) rating under review for downgrade after the lender reported a ₹11,500 crore fraud.
Rajasthan wiould get its full share of 1.119 billion cubic metres of water from the Yamuna, dispute with Haryana resolved.
The Bengaluru International Film Festival kicked off in Bengaluru with over 200 films from about 60 countries have been chosen for the festival.
Superstar Sridevi: the woman who rewrote the game of Cinema in India took her last breath. The nation was in shock after her sudden demise.
President Donald Trump's suggestion of asking teachers to keep guns has invoked extreme reactions from around the globe.
The Finance Ministry declined a recommendation from the Parliamentary Standing Committee on Defence to have a fixed allocation of 3% of GDP for the Defence Ministry.

Supreme Court order on SC/ST Act triggered spat.

The National Coalition for Strengthening Scheduled Castes and Scheduled Tribes Prevention of Atrocities Act (NCSPA) had sought a review of the Supreme Court judgment on diluting the provisions of the Act.
The entire 12% contribution to the Employees Provident Fund (EPF) by new employees in the informal sector would be borne by the government, Minister of State for Finance Santosh Kumar Gangwar said.
Bangladesh High Commissioner Syed Muazzem Ali, said that the issue of illegal Bangladeshi immigrants in India, particularly those with links to terrorist outfits, was being handled on a priority basis.
Kerala and Mizoram top the list of States, with 100% of households which do not practise open defecation, while Uttar Pradesh and Bihar are at the bottom of the rankings, with less than 44% of such households.
Facebook's Chief Operating Officer Sheryl Sandberg said the company should have conducted an audit after learning that a political consultancy improperly accessed user data nearly three years ago.
Salman Khan sentenced to five-year imprisonment in blackbuck killing case.
Over 5 lakh Indian users' data might have been 'improperly' shared with Cambridge Analytica, said Facebook.
World champion weightlifter Saikhom Mirabai Chanu (48kg) went on a record-smashing spree to secure India's first gold medal at the 21st Commonwealth Games in Gold Coast.
Facebook founder and CEO Mark Zuckerberg told US lawmakers users own and control the data they share on Facebook.
Prime Minister Narendra Modi's addressed to the Indian diaspora from London's Westminster Central Hall.
The Tamil Nadu government  announced the premature release of 67 life convicts who had completed 10 years of imprisonment, in commemoration of the birth centenary of former Chief Minister M.G. Ramachandra.
Among the three services – Army, Navy and Air Force, Women's percentage was highest in Air Force.
Chief Minister of Telangana K. Chandrasekhar Rao said that the State government will spend ₹45,000 crore over three years for the development of Hyderabad from the next year.
The Supreme Court rejected the petitions filed by the 2012 Delhi gang rape convicts to review the death penalty awarded to them.
Supreme Court justice Chadrachud said Partner can be from the same sex – Section 377.
Severe floods affected the south Indian state of Kerala, due to unusually high rainfall during the monsoon season. It was the worst flood in Kerala in nearly a century.Over 483 people died.

The Law Commission of India said a uniform civil code (UCC) is "neither necessary nor desirable at this stage" in the country.

Indian economy grew at 15-quarter high of 8.2% in Q1 of financial year 2018-2019.
For the first time, Census 2021 to collect data on OBCs.
The Indian Institutes of Technology (IITs) and the Indian Institutes of Management (IIMs) would be roped in for the speedy assessment and accreditation of higher educational institutes along with official agencies such as NAAC and NBA, Human Resource Development (HRD) Minister Prakash Javadekar said.
The government announced a set of five measures aimed at supporting the rupee, which was under pressure and fell as low as 74.33 Rs per dollar and ensuring that the current account deficit stays in control.
Prime Minister Narendra Modi rolled out the Centre's flagship scheme — Pradhan Mantri Jan Arogya Abhiyaan, also known as Ayushman Bharat or the National Health Protection Mission (AB-NHPM).
A Constitution Bench of the Supreme Court led by Chief Justice of India Dipak Misra upheld the validity of Aadhaar but with riders. It has struck down Section 57 that allows private entities to seek Aadhaar data but has allowed the unique number to be used for government schemes and subsidies.
A Constitution Bench of the Supreme Court lifted the decades-old ban on women in the 10-50 age group from entering the Sabarimala Ayyappa Temple of Kerela.
India has been ranked at 103 out of 119 countries in the Global Huger Index 2018.
The State Health Department confirmed that five persons, including a pregnant woman, had succumbed to H1N1 since March this year.
The 'very severe cyclonic storm Titli' made its landfall by crossing north Andhra Pradesh-south Odisha coast to the southwest of Gopalpur early morning on Thursday, with wind speed touching close to 149 kmph.
M. J. Akbar resigns as Minister of State for External Affairs amid #MeToo allegations.
PNB fraud: ED attaches more assets worth ₹218 crore.
Manufacturers and sellers of fireworks across the country, including those in the southern Tamil Nadu town of Sivakasi, heaved a sigh of relief on Tuesday after the Supreme Court refused to impose a blanket ban on the manufacture, sale and usage of fireworks.
Chief Minister of Manipur N. Biren Singh said "The time has come to review the Armed Forces Special Powers Act (AFSPA) in Manipur but it cannot be completely lifted yet.
Thousand Oaks shooting: 13 people, including gunman, killed in California bar.
On the second anniversary of demonetisation, Finance Minister Arun Jaitley defended the move, saying that it was an essential step to induce people to move away from anonymous and receipt-less cash payments to digital transactions.
ISRO successfully launches communication satellite GSAT-29 from Sriharikota.
Assembly elections 2018: Kamal Nath took charge in Madhya Pradesh as Chief Minister.
The Supreme Court said it cannot embark on a judicial review into the deal for procurement of 36 Rafale fighter jets based on petitions, which seem to have been spurred by a media interview of former French President Francois Hollande and press coverage alleging "favouritism" by the Narendra Modi government.
COP24: Nations agree on global climate pact rules.
The Bharatiya Janata Party's (BJP) loss in the three Hindi heartland States Madhya Pradesh, Rajasthan and Chattisgarh proved an unquestionable setback to the party.

The Delhi High Court ordered release of former youth Congress leader Sushil Kumar Sharma who had been serving life term for the murder of his wife Naina Sahni in 1995.

The transgender community in Mumbai termed the Transgender Persons (Protection of Rights) Bill, 2018, passed in the Lok Sabha as "draconian and discriminatory", and urged the Rajya Sabha not to repeat the mistake.
The Anti-Trafficking Bill, set to be introduced in the Rajya Sabha, has triggered disquiet among sex workers and lawyers about its potential to criminalise all adult sex work in the absence of a clear distinction between the victims of sexual exploitation or human trafficking and persons who voluntarily opt to provide sex to make a living.
The government approved amendments to the POCSO Act 2012, to bring punishments for sexual assaults against boys on par with those against girls, including the provision of death penalty when a child is under 12-years-old.
The Union Cabinet on Friday approved the Gaganyaan project, under which a three-member crew would be in space for at least seven days.
India's national blind cricket team won the 2018 Blind Cricket World Cup. Indian National Blind Cricket team went up against Pakistan at UAE's Sarjah Cricket Stadium.
Maharashtra government enforced a ban on the manufacture, usage, sale, transport, handling and storage of all plastic and thermocol products.
During the India's Women's T20 Asia Cup tournament held in June this year, Indian women's cricket team captain, Mithali Raj, became the first Indian cricketer to score 2,000 runs in T20I, a feat that hadn't even been matched by a certain Mr Kohli either.
At the FIG Artistic Gymnastics World Challenge Cup held in Turkey in July, Dipa Karmakar created history by becoming the first Indian gymnast to win a gold medal.
Sonam Wangchuk and Bharat Vaswani won the Ramon Magsaysay Award.
Footbal player Sunil Chhetri became the third highest scorer in the world.
India get its first ever all-female SWAT team formally inducted into the Delhi Police by Union Minister Rajnath Singh. 
Indian Air Force gets its first woman fighter pilot. 24-year-old Avani Chaturvedi became the first woman in India to fly a fighter jet alone.
 Vikas Sathaye, a Pune-born engineer, was a part of the team that won an Oscar for Science and Technology.
World's first thermal battery plant was built in Andhra Pradesh.
Adultery is no longer a crime: Supreme Court scrapped Section 487 of the constitution.
Passive euthanasia – The right to die with dignity is a fundamental right.
The Supreme Court allowed the live streaming of court proceedings saying that, "Sunlight is the best disinfectant."
The Supreme Court, ahead of the festival of Diwali, ruled that the online sale of fireworks is banned — even via Flipkart and Amazon.
The advent of fake news and misinformation, primarily through WhatsApp, instigated a series of mob violence and lynchings across the country earlier in the year 2018.
The most popular event of the year, the FIFA World Cup held in Russia from 14th June to 15th July. France national football team came as a winner.
Hockey World Cup 2018, India, 16 best teams from around the world locked horns to become world champions in India from 28th November to 16th December. India hosted the event for the 3rd time.
This was the complete list of important current affairs of 2018. We hope you will like our List of Current Affairs 2018 and appreciate the consolidated list of GK current affairs as it will help you to brush up your General awareness for the entire year of 2018. We hope that it also helps you in various Banking and Government Exams.