UPSC EPFO Vacancy -: The Union Public Service Commission (UPSC) has issued a job advertisement for the position of Enforcement Officer/Accounts Officer at the Employees' Provident Fund Organization, Ministry of Labour and Employment. The commission announced 421 vacancies for the year 2021. The UPSC EPFO exam was scheduled to be held on May 9, 2021, according to the commission. However, the examination has been postponed will happen on Sept 5, 2021.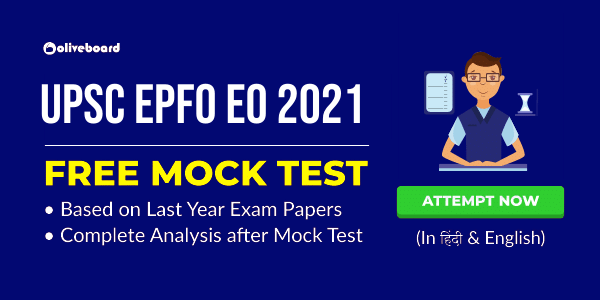 UPSC EPFO Vacancy Notification
Candidates who aspire to have a prestigious career in government services should register on the official website to check out the UPSC EPFO vacancy and familiarise themselves with the application process. This post will cover's everything you need to know about the UPSC EPFO vacancy 2020-2021, including recruitment, exam dates, eligibility criteria, selection process.
UPSC EPFO Vacancy as per categories (2020)
Category
Vacancies
General – UR
168
SC
62
ST
33
OBC
116
EWS
42
Total
421
Also Read : 1000+ UPSC EPSC EO 2020-21 Practice Questions For All
UPSC EPFO Registration Process
Registration for UPSC EPFO Part-I
Visit the official website https://www.upsc.gov.in/
Look for the 'Part-I Registration' label on the official website and click on it
Enter the following information: 

Name as it appears on the matriculation/secondary school diploma
Gender Classification
Year of Birth
Names of the father and mother
Country of origin
Relationship Status
ID Number and Photo ID Proof
Address, Email ID, and Phone Number for Educational Qualification

Click the "Save & Continue" button.
Check the information you supplied in the UPSC EPFO application form and click the "I Agree" option.
Part I registration will be finished. Your unique Registration ID will be generated. Please make a note of it. An email will be sent to the candidate's email address as well.
Registration for UPSC EPFO Part-II
Part 2 is divided into three sections:
Choose a payment method and pay the UPSC EPFO application cost.
Upload scanned photos of your signature and photos.
Choose your selected testing location and submit your application.
Your registration is now complete.
Eligibility for UPSC EPFO Vacancy
Aspirants must follow certain guidelines in order to be eligible for the EPFO exam. They are listed below:
Citizenship: In order to apply for the vacancies, the applicants must be Indian citizens. Aside from being an Indian citizen, candidates must be either a subject of Bhutan or Nepal, a Tibetan refugee who has settled in India, or a person who has colonised permanently in India from nations such as Pakistan, Sri Lanka, Burma, Vietnam, and other east African countries of Indian heritage.
Age: Applicants should be no older than 30 years.
Educational qualification: A candidate must have a bachelor's degree in any discipline.
Candidates with the following experience are preferred:
Master of Business Administration
Accountants who are chartered
Postgraduate Diploma in Management, Cost Management Accountant, and Company Secretary, with a 5-year integrated law degree
Law Bachelor's Degree
UPSC EPFO Vacancy – Job Profile
Being in a government job has many perks and benefits aside from having job security and steady career growth. Aspirants who want to apply for the UPSC EPFO can look forward to a bright future with many benefits like medical allowance, dearness allowance, gratuity and tax benefits. Following are some of the UPSC EPFO career profiles candidates can pursue if they qualify:
Accounts
Recovery
Legal
Administration Cash
Pension Computer
Job Description
The candidates will be allotted posts according to their qualifications and eligibility. A broad purview of their job responsibilities include:
Dealing with MIS refunds, general administration, lawsuit settlements, and other issues, as well as cashbook management and bank statement reconciliation.
Conducting surveys as and when needed
Attending prosecution hearings
Selection Process to Fill UPSC EPFO Vacancy
The hiring process for the Enforcement Officer position will be divided into two stages:
Phase 1 – Recruitment Examination
Phase 2 – Interview
When compared to other competitive admissions, the UPSC EPFO hiring procedure differs slightly in structure. It should be emphasised that the recruiting test will only be held if the commission receives a high volume of applications. Interviews will be conducted during the final phase.
Both phases are allotted the same amount of points and have a time restriction of two hours.
Following are some details regarding the examination and selection process:
The exam questions will be available in both Hindi and English.
The candidates will be called for the interview, based on their performance in the recruiting test.
The weightage of the recruitment test and interview is 75:25 for the chosen candidates. The candidate's eligibility will be determined based on the quality of their interview and performance in the Recruitment Test.
Conclusion
The UPSC EPFO exams for UPSC EPFO vacancy provide aspirants with an excellent opportunity to work with the Government of India. If you want to have a lucrative career in government services, it is highly recommended that you prepare in advance, make a study plan and attempt mock tests and interviews to prepare for D-Day. Once you clear the UPSC EPFO examination, you will be ensured of a stable, bright and prestigious future in government services. We wish you the very best of luck! 
Also Check:
FAQs
What is the number of UPSC EPFO vacancy declared? 
There are 421 vacancies for UPSC EPFO.
What is the UPSC EPFO Exam 2021 Exam Pattern?
The written exam will last two hours and will consist of 100 multiple-choice questions. The written exam is a screening and scoring tool.
Will the UPSC EPFO Exam 2021 include negative marking?
Yes, each wrong answer receives a negative marking of one-third of the marks allotted to it.
When will the UPSC EPFO 2021 exam be held?
The UPSC EPFO Exam has been postponed until further notice due to the pandemic. Candidates are advised to visit the website regularly for updates regarding the examinations.
In what languages will the UPSC EPFO Exam 2021 be made available?
The test will be conducted in both Hindi and English.
What is the cut-off age for candidates to apply for the UPSC EPFO vacancy? 
The candidate has to be 30 years old as of 31 January 2020. However, several relaxations in the age limit have been made for people in special categories. Please check the official website for more details.
What post will I be eligible for if I appear for the UPSC EPFO exam?
The UPSC conducts the EPFO test for the position of Enforcement or Accounts Officer.
How long is the probation period be for the position of Enforcement Officer in EPFO?
The selected candidate will be on probation for the first two years of his employment. After that, he will be eligible for several perks and benefits.
What is the UPSC EPFO application fee?
The application cost is Rs.25.
Where will the recruitment tests be conducted?
The examinations will be conducted across several cities in India. Please check your admit card to know more about your examination centre.

Oliveboard is a learning & practice platform for premier entrance exams. We have helped over 1 crore users since 2012 with their Bank, SSC, Railways, Insurance, Teaching and other competitive Exams preparation.
  Oliveboard Live Courses & Mock Test Series