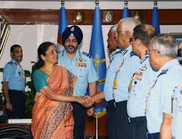 Nirmala Sitharaman inaugurates IAF commander' conference
The First biannual IAF Commanders' Conference of 2018 was inaugurated by Defence Minister Nirmala Sitharaman at Air Headquarters (Vayu Bhawan).
The Gagan Shakthi was highlighted as A landmark exercise for Indian Air Force. CAS emphasized that the exercise was very fruitful in testing IAFs surge operations capability, logistics supply chain, rapid augmentation of personnel, inter theatre move of forces, communication network and reliability of equipment & systems.
Did you Know
Gagan Shakti is the biggest military exercise undertaken by India to showcase its air dominance over the entire extended area of the Indian Ocean Region (IOR).
currently, phase two 'The combat mission' is going on with the focus now shifting to the eastern corridor - near the China border in the north-eastern states.

Union Minister of State for Defence: Dr Subash Bhamre

Defence Secretary of India: Sanjay Mitra