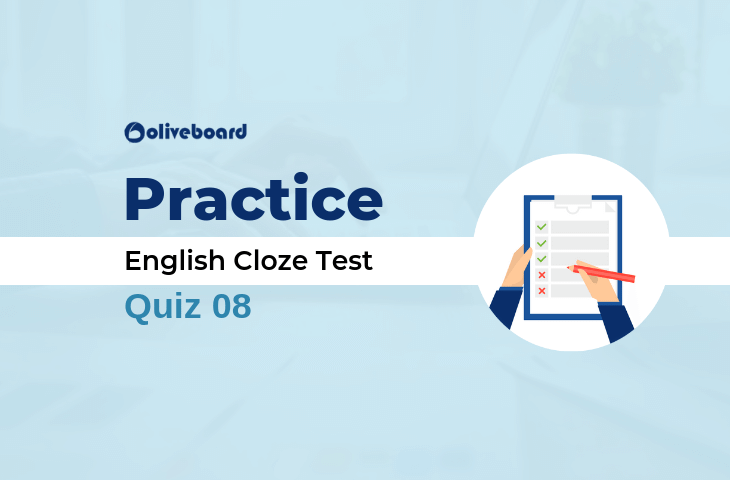 While preparing for any Bank, Insurance or Government Exams one of the biggest challenges the aspirants face is preparing for the  Cloze Test. Cloze Test is one of the recurring topics under the English Language section of various competitive exams. It tests a candidates understanding of the passage, grammatical skills and vocabulary, and like RC, it is one of the most scoring topics under the English Language section.To ace the Cloze Test questions you will have to practice and solve them regularly. Keep this point in mind, we have started a new series –Practice Cloze Test. In this series, we are going to provide you with Free Cloze Test Questions regularly. So, let's begin with English Cloze Test 08.
Take Oliveboard's Free Bank & Govt. Exam Mock Test
English Cloze Test 08
Directions for Questions 1 to 10: In the following passage there are blanks, each of which is numbered. These numbers are printed below the passage and against each five words/ phrases are suggested, one of which fits the blanks appropriately. Find out the appropriate word/phrase in each case.
Since independence and from the beginning of our planned development, we have (A) increased production as (B) to improved distribution of income. A high rate of growth of the gross national product by itself does not serve our purpose (C) it is more equitably shared, benefiting all sections of the population. To be effective, increased production with better distribution depends largely (D) to assess the productivity of the small man, whether he is (E) in agriculture or industry. In agriculture the most critical inputs are water and credit (F) with cultivable land. Our land reform legislation has aimed (G) land to small owners. There are sometimes political obstacles; but it is not known generally how many cases are (H) in courts.
We must at least ensure that small owners have access to other essential inputs. If industry, we have (I) small scale and cottage industries. Greater availability of power along with assured market and credit arrangements can make (J) difference to productivity.
Take Oliveboard's Free Bank & Govt. Exam Mock Test
A
(1) Regarded 
(2) Thought
(3) Observed
(4) Attained
(5) Ordered
B
(1) Supplementary
(2) Complementary
(3) Contradicting
(4) Originally
(5) Compliment
Take Oliveboard's Free Bank & Govt. Exam Mock Test
C
(1) If 
(2) Until
(3) Till 
(4) Either
(5) Unless
D
(1) On our capacity
(2) To be able
(3) On our capability
(4) Our capability on
(5) Our ability on
E
(1) Engaged
(2) Involved
(3) Buried
(4) Attracted to
(5) Busy
F
(1) Attached
(2) Agreed
(3) Together
(4) Alternate
(5) Also
Take Oliveboard's Free Bank & Govt. Exam Mock Test
G
(1) At distributing
(2) At getting
(3) Distribution
(4) In giving
(5) In distributing
H
(1) Offered
(2) Pending
(3) Pendant
(4) Moving
(5) Penchant
Take Oliveboard's Free Bank & Govt. Exam Mock Test
I
(1) Discouraged
(2) Acquainted
(3) Encouraged
(4) Ordered
(5) Pulled out
J
(1) Unbridgeable
(2) Mass 
(3) Tremendous
(4) Target
(5) Colossal
Answer key
| | | | | | | | | | |
| --- | --- | --- | --- | --- | --- | --- | --- | --- | --- |
| Q1.    | Q2.    | Q3.    | Q4.    | Q5.    | Q6.    | Q7.    | Q8.    | Q9.    | Q10.            |
| 4 | 2 | 5 | 3 | 1 | 3 | 1 | 2 | 1 | 3 |
Take Oliveboard's Free Bank & Govt. Exam Mock Test
Also Check:
English Cloze Test 01
English Cloze Test 02
English Cloze Test 03
English Cloze Test 04
English Cloze Test 05
English Cloze Test 06
English Cloze Test 07

That's all from us. Hope you liked the English Cloze Test 08 from our series of Practice Cloze Test. To practice more English questions for Bank Exams, keep visiting Oliveboard's Daily Updates.
If you wish to get in touch with your fellow competitors for preparation of Bank & Govt. Exams, you can visit Oliveboard's discuss forum.
All the best!