Cloze Test for SBI CBO Exam: Cloze Test is one of the key components of competitive exams like SBI CBO. In this blog, we will be discussing Cloze Test Questions which will be helpful for candidates in their preparation for competitive exams.
What is Cloze Test?
Cloze test is a combination of reading comprehension and fill in the blanks which test a candidate's reading, analyzing and vocabulary skills in one go. It is one of the most common types of questions asked in the English paper of major competitive exams like SBI CBO, SSC CHSL, SSC CGL, IBPS PO, SBI PO, IBPS Clerk, SBI Clerk, IBPS RRB PO, Clerk and other government exams.
Generally, around 8-10 questions from the Cloze test section is asked in the competitive exams. The great thing about Cloze Test is that it can be solved within 30-40 seconds by a candidate who is having a good grasp of English grammar.
This section, therefore, is high scoring in nature and can boost the overall score of a candidate in competitive exams.
Sneak Peek of the SBI CBO Free e-Book
Questions 41-45
Below, a passage is given with five blanks labelled (41) – (45). Below the passage, four options are given for each blank. Choose the word that fits each blank most appropriately in the context of the passage, and mark the corresponding answer.
The thermometer is an instrument for measuring temperature. The ___(41)___ form consists of a ___(42)___ tube with a fine ___(43)___. One end of the ___(44)___ is blown to form ___(45)___ bulb and the other is closed.
41. Find the most appropriate word for (41)
A. Seen
B. Heard
C. Common
D. Unseen
Answer: C
42. Find the most appropriate word for (42)
A. Rubber
B. Glass
C. Brass
D. Metal
Answer: B
43. Find the most appropriate word for (43)
A. Cavity
B. Boar
C. Bore
D. Mole
Answer: C
44. Find the most appropriate word for (44)
A. Place
B. Centre
C. Tube
D. Edge
Answer: C
45. Find the most appropriate word for (45)
A. A
B. That
C. Tube
D. All
Answer: A
How to Download Cloze Test SBI CBO Free E-book?
Step 1: Click on the download link. You will be redirected to Oliveboard's FREE E-Books Page.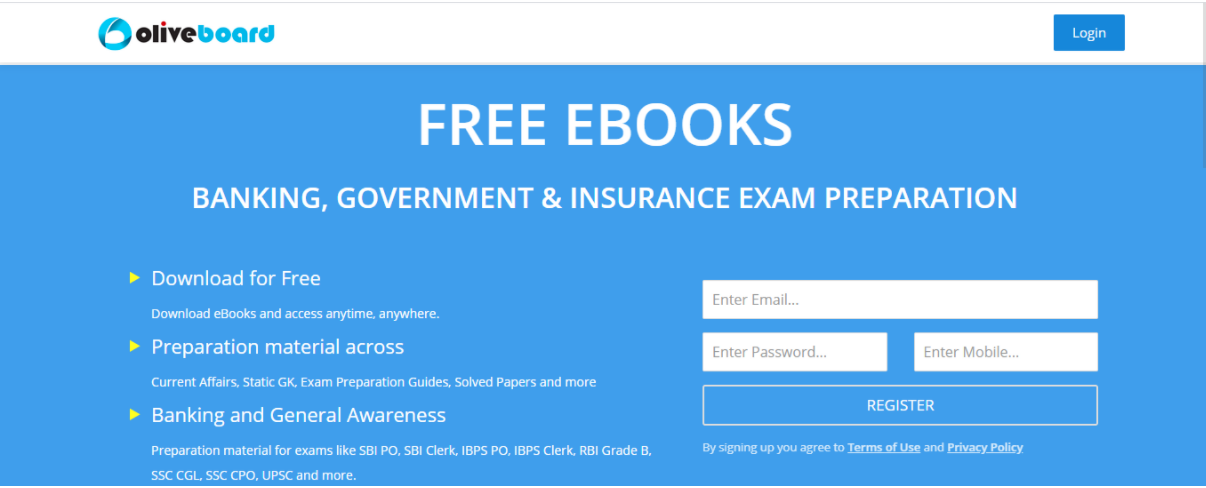 Step 2: Create a free Oliveboard account or login using your existing Oliveboard account details
Step 3: Download the book by clicking on the link presented on the page.
Conclusion
Cloze Test is an important topic in the SBI CBO exam as well as other competitive exams. It is also scoring and takes less time to solve. Candidates must prepare this topic well for boosting their overall scores in competitive exams.

Oliveboard is a learning & practice platform for premier entrance exams. We have helped over 1 crore users since 2012 with their Bank, SSC, Railways, Insurance, Teaching and other competitive Exams preparation.
  Oliveboard Live Courses & Mock Test Series