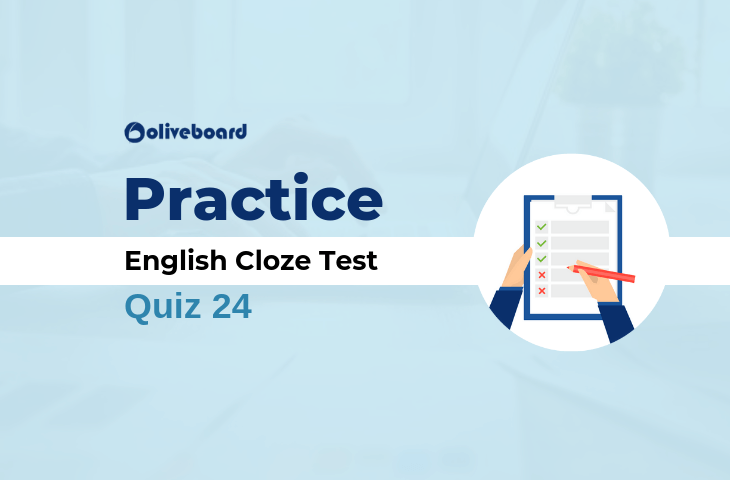 Cloze Test is one of the scoring topics in English Language section in almost all competitive exams, like SBI PO, IBPS PO & Clerk, SSC, etc. It tests the candidate's knowledge of comprehension in terms of grammar, vocabulary and its usage. So, to help you all master this topic, Oliveboard has come up with the Practice Cloze Test series. From the series, here's the English Cloze Test Quiz 24. Solve them and get command over it: Check All Cloze Test Practice Sets Here.
Also, Check:
How to Prepare English for IBPS PO
Take Oliveboard's Free English Sectional Test
English Cloze Test Quiz 24
Directions for Questions 1 to 10: In the following passage there are blanks, each of which has been numbered. These numbers are printed below the passage and against each, five words/ phrases are suggested, one of which fits the blank appropriately. Find out the appropriate word/phrase in each case.
The children living in rural areas continue to be deprived of a quality education. Part of the reason is their teachers. A large number of teachers (A) to teach in rural areas and those that do are usually under-qualified. In recent years the number of qualified teachers has increased because of
(B) efforts by the government and private groups to (C) the general education and professional training of teachers. There is more of an emphasis on the training of rural teachers, whose educational backgrounds are generally not as (D) as their urban counterparts. Those that refuse to teach in rural areas (E) distance and lack of interest by students as problems. Many of the teachers also (F) the enthusiasm to teach because of their meager salary. Another obstacle (G) by the schools is that obtaining more teachers for rural schools is difficult because of state guidelines that approve of high student-to-teacher ratios.
As the lack of teachers creates many obstacles for children in rural schools, another (H) is the lack of resources which becomes detrimental to the learning process. Lack of books and other reading materials seems to be a widespread problem. The use of high-tech devices such as computers is (I) rare. Another condition of the schools is the inadequate facilities in the classes that are actually (J) in. Some schools are located in warehouses while others in small houses. Many of the rural schools operate without electricity.
Take Oliveboard's Free English Sectional Test
A
(1) Reject
(2) Averse
(3) Gear
(4) Refuse
(5) Adamant
B
(1) None
(2) Most
(3) Increased
(4) Dire
(5) Enlarged
Take Oliveboard's Free English Sectional Test
C
(1) Improve
(2) Recover
(3) Decrease
(4) Advanced
(5) Progressive
D
(1) Exhausted
(2) Sound
(3) Cheap
(4) Qualified
(5) Limited
E
(1) Say
(2) Lilt
(3) Reduce
(4) Cite
(5) Make
F
(1) Use
(2) Loose
(3) Little
(4) Have
(5) Lack
Take Oliveboard's Free English Sectional Test
G
(1) Faced
(2) Feature
(3) Witness
(4) Born
(5) Looked
H
(1) Benefit
(2) Problem
(3) Issues
(4) Hinder
(5) Setback
Take Oliveboard's Free English Sectional Test
I
(1) So
(2) Much
(3) Very
(4) Extraordinary
(5) Many
J
(1) Sit
(2) Taught
(3) Skilled
(4) Train
(5) Qualified
Take Oliveboard's Free English Sectional Test
Answer Key
| | | | | | | | | | |
| --- | --- | --- | --- | --- | --- | --- | --- | --- | --- |
| Q1.              | Q2.              | Q3.              | Q4.              | Q5.              | Q6.              | Q7.              | Q8.              | Q9.              | Q10.          |
| 4 | 3 | 1 | 2 | 4 | 5 | 1 | 5 | 3 | 2 |
Practiced English Cloze Test Quiz 24?
Find More Free Cloze Test Questions Here
That's all from us. Hope you liked these Cloze Test Questions from our series of Practice Cloze Test. To practice more such questions for Bank Exams & Govt Exams, keep visiting Oliveboard's Daily Updates.
If you face any difficulty or have some query, you can ask directly from the faculty on Oliveboard Telegram Group. Install Telegram and join obbanking.
Also Check Out -: