The much-awaited IBPS RRB Office Assistant Recruitment Notification 2020 has been released. IBPS has announced a total of 4,624 Vacancies. These vacancies are for the post of IBPS RRB Office Assistant/Clerk. There is a 25% increase from the previous years IBPS RRB Clerk vacancies. In this blog, we are going to look at the complete list of State-wise IBPS RRB Office Assistant Vacancy 2020. We will give you a Year-on-Year Comparative Analysis of 2020 & 2019 IBPS RRB Clerk Vacancies. So let us begin:
1. IBPS RRB Office Assistant Vacancy 2020 – Year on Year Comparison
As mentioned above, there is a 25% increase in the total IBPS RRB Office Assistant Vacancies in 2020. The biggest increase of 1453 vacancies is in the state of Uttar Pradesh. Whereas, The biggest decrease (238 vacancies) is in Karnataka, where no vacancies are announced in this year's IBPS RRB Clerk notification. Below image shows the State-wise increase/decrease in the IBPS RRB Clerk vacancies: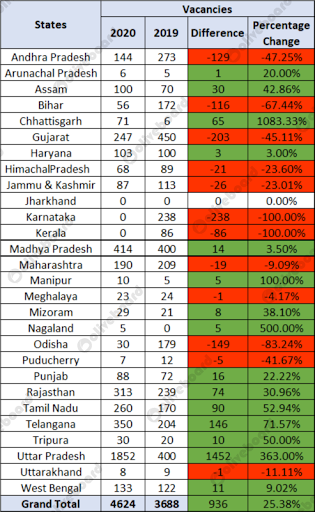 You should take full advantage of this increase in vacancies. To do that, start preparing for the IBPS RRB Clerk Now with an IBPS RRB Clerk Free Mock Test Now.
Once you have taken the free mock test, you would know where you stand with respect to your preparation. You would be aware of your Strong and Weak Areas.
To Strengthen your weaker areas, We would recommend you to join our IBPS RRB Online Course here.
It is the most comprehensive course for IBPS RRB Clerk 2020 preparation.
It has special live classes by Top faculty for each section.
Live Practice sessions where you can compete with your fellow aspirants.
2. IBPS RRB Office Assistant Vacancy 2020 – State & Bank wise List

The full State & bank-wise list of total IBPS RRB Clerk vacancy 2020 is shown in the following table.
State
Bank
Total
Andhra Pradesh
Andhra Pragathi Grameena Bank
0
Andhra Pradesh
Chaitanya Godavari Grameena Bank
104
Andhra Pradesh
Saptagiri Grameena Bank
40
Arunachal Pradesh
Arunachal Pradesh Rural Bank
6
Assam
Assam Gramin Vikash
Bank
100
Bihar
Dakshin Bihar Gramin
Bank
56
Bihar
Uttar Bihar Gramin Bank
0
Chhattisgarh
Chhattisgarh Rajya
Gramin Bank
71
Gujarat
Baroda Gujarat Gramin
Bank
202
Gujarat
Saurashtra Gramin Bank
45
Haryana
Sarva Haryana Gramin
Bank
103
Himachal
Pradesh
Himachal Pradesh Gramin
Bank
68
Jammu & Kashmir
Ellaquai Dehati Bank
30
Jammu & Kashmir
J & K Grameen Bank
57
Jharkhand
Jharkhand Rajya Gramin
Bank
0
Karnataka
Karnataka Gramin Bank
0
Karnataka
Karnataka Vikas
Grameena Bank
0
Kerala
Kerala Gramin Bank
0
Madhya Pradesh
Madhya Pradesh Gramin
Bank
352
Madhya Pradesh
Madhyanchal Gramin
Bank
62
Maharashtra
Maharashtra Gramin Bank
190
Maharashtra
Vidharbha Konkan
Gramin Bank
0
Manipur
Manipur Rural Bank
10
Meghalaya
Meghalaya Rural Bank
23
Mizoram
Mizoram Rural Bank
29
Nagaland
Nagaland Rural Bank
5
Odisha
Odisha Gramya Bank
0
Odisha
Utkal Grameen Bank
30
Puducherry
Puduvai Bharathiar Grama
Bank
7
Punjab
Punjab Gramin Bank
88
Rajasthan
Baroda Rajasthan
Kshetriya Gramin Bank
200
Rajasthan
Rajasthan Marudhara
Gramin Bank
113
Tamil Nadu
Tamil Nadu Grama Bank
260
Telangana
Andhra Pradesh Grameena
Vikas Bank
150
Telangana
Telangana Grameena
Bank
200
Tripura
Tripura Gramin Bank
30
Uttar Pradesh
Baroda UP Bank
674
Uttar Pradesh
Aryavart Bank
964
Uttar Pradesh
Prathama UP Gramin
Bank
214
Uttarakhand
Uttarakhand Gramin Bank
8
West Bengal
Paschim Banga Gramin
Bank
58
West Bengal
Uttarbanga Kshetriya Gramin Bank
0
West Bengal
Bangiya Gramin Vikash Bank
75
To get access to more than 200 Free Ebooks, Register / Login Here.
It includes special monthly current affairs Bolt, Banking Awareness Guide, etc.
2.1 IBPS RRB Office Assistant Vacancy 2020 – State & Category wise List
Now, let's have a look at the category-wise IBPS RRB Office Assistant vacancies announced in 2020: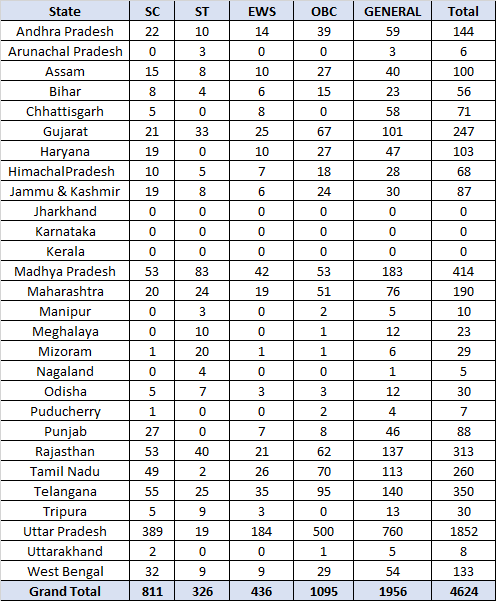 Other Important Links:
Best Online Mock Test Series for IBPS RRB Clerk 2020 Exam
IBPS RRB Clerk 2020 Notification – Full Details
Salary & Job Profile of IBPS RRB Clerk in 2020
IBPS RRB Complete Online Course Details
3. IBPS RRB Office Assistant 2020: FAQs
Q1: How many Office Assistant Vacancies are there in IBPS RRB 2020?
Ans: A total of 4,624 vacancies have been declared for Office Assistant post. This is a 25% increase as compared to 2019 vacancies.
Q2: Is local language Compulsory for IBPS RRB Clerk Exam?
Ans: Yes, A candidate applying for the post of vacancies in any particular state must know the local language of that state.
Q3: Can a candidate apply for IBPS RRB Clerk vacancy in any state?
Ans: Yes. However, the candidate must know the local language of that state. If a candidate does not have the required language qualification at the time of joining, then she/he would be given a time of 6 months to gain proficiency.
That is all from us in this blog. We hope you found the IBPS RRB Office Assistant Vacancy 2020 information provided above useful. Keep visiting this space for all the latest bank & government exam updates. All the best for your preparation
You can download 200+ ebooks important for SSC, Banking, Railway, Insurance, and other government exams here.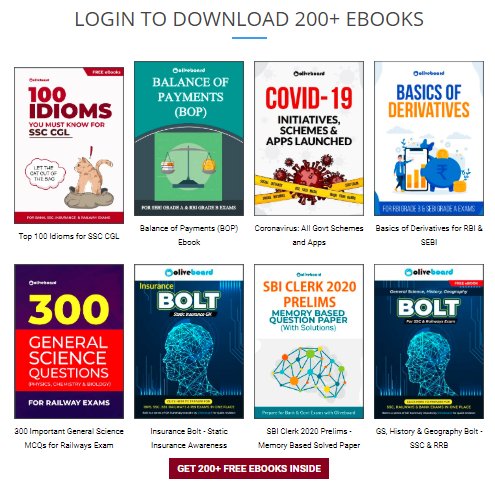 Oliveboard Bolt series E-books: 
Free Static GK E-book – More Study Materials :