NABARD Development Assistant Last Minute Tips : NABARD has recently announced the Exam Dates for NABARD Development Assistant Prelims (Phase I) exam. The exam is scheduled to be held on 6th November, leaving us with hardly 5 days to face the exam. All sorts of mixed emotions might be going inside you. Well that's normal to get a bit nervous before, during, or even after exam but don't let these emotions overpower you. Too much anxiety will hamper your performance. To help you with this, Oliveboard brings to you some Last Minute Tips for NABARD Development Assistant Prelims Exam so that you can enhance your performance on the final day.
Let's glance through the Preliminary Exam Pattern First before moving ahead with the Last Minute Tips for NABARD Development Assistant Prelims Exam:

Oliveboard NABARD Assistant Prelims Free Mock Test to Check Your Preparation
Last Minute Tips for NABARD Development Assistant Prelims Exam
Focus on Revision
It is obvious that you all would have completed the entire syllabus by now as there is hardly any time left for the exam. With only 5 days remaining, you should only focus on strengthening what you have learnt already. We have already shared with you NABARD Development Assistant Phase I Study Plan so Revise & Practice as per the Plan.
Note: Do not forget to follow the General Awareness Study Plan for NABARD Development Assistant Phase II
Do not start any new topic now
To learn a concept that is entirely new will take much more time and cause you severe anxiety to the point that you start forgetting what you have already learnt. In fact, trying to cover a new concept just 10 days before the examination is one of the worst things you can do to your preparation.
Practice as many Mock Tests as you Can
Any new thing that you would try learning now may not properly be retained. Focus more on revising and practicing to get command over it. Mock tests help you:
Determine the

topics

that you can expect in the exam

Improve your speed and accuracy

Familiarize your with the exam pattern and difficulty level

Identify your strong and weak areas to fine-tune your preparation

Gives you opportunity to get Expert Feedback
Oliveboard NABARD Assistant Prelims Free Mock Test to Check Your Preparation
Keep Notes Handy
Keep Revision notes of each subject handy at one place to find them easily. The smart way to do is to save them in your smartphone as ebooks or PDFs to revise them even on the go.
Time Management
Time is a crucial factor and it is easy to lose track while writing an exam. This is where your practice will show results. Manage it properly. Try to write answers while keeping track of the time esp. in English.
Question-Attempt Strategy
Build your exam attempt strategy. Identify your strong and weak areas so that you can work on the easy topics that you are strong at first in the exam and then move to the lengthy and difficult ones. Maintain a balance between speed and accuracy.
Discuss with Peers
It always help you when you discuss with peers on exam preparation. You can clarify your doubts and exchange tips. It also help you build your confidence and feel better. Use Oliveboard's Discussion Forum to interact with peers and experts.
Avoid things that distract you
Utilize these ten days focusing on the single goal of clearing the exam. Rest all things could be handled later on. Avoid all sorts of distraction and negative thinking.
Take Short, Frequent Breaks
Studies have shown that taking short, frequent breaks while studying helps to retain things more. We suggest taking 5 min. break after every 20 or 30 min. to give some rest to your brain as well so that you may start again more energetically.
Oliveboard NABARD Assistant Prelims Free Mock Test to Check Your Preparation
Eat healthy & Take Proper Sleep
Unbalanced diet and lack of sleep trigger nervousness before exam. Avoid eating junk, sugary and oily food. Don't stay up late at night before the day of exam.
Relax
Have faith in yourself that you have given your 100% and nothing is too difficult to achieve. Some light exercise or meditation would surely help you relax. Do not panic if the paper is too tough (you have prepared well and if it's tough for you, it's tough for others as well).
Exam Checklist
Keep your Call letter, recent passport size photograph, Photo identity proof (Original + Photocopy), Ball Point Pen (all things that are mentioned in your call letter to carry on the day of exam) in your bag before the day of exam so that you may not forget any of these in hurry. It is better to reach the Examination Centre in advance than getting late. So, leave early to avoid getting stuck in the traffic.
Note: If you have not taken the Print Out of your Admit card, then Download Now NABARD Development Assistant Admit Card
During the Exam
Read the instructions carefully

Leave no question unread

Don't get stuck on a question

Avoid guesswork
That's all from us. Hope these Last Minute Tips for NABARD Development Assistant Prelims Exam help you in your preparation.
All the best for Exam!
Oliveboard NABARD Assistant Prelims Free Mock Test to Check Your Preparation
DOWNLOAD THE OLIVEBOARD APP FOR ON-THE-GO EXAM PREPARATION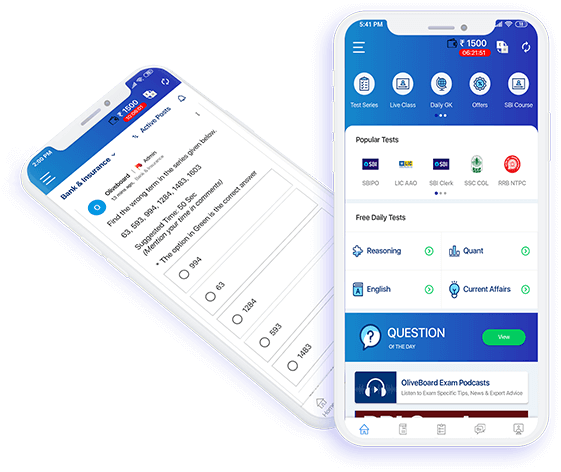 Video Lessons, Textual Lessons & Notes
Topic Tests covering all topics with detailed solutions
Sectional Tests for QA, DI, EL, LR
All India Mock Tests for performance analysis and all India percentile
General Knowledge (GK) Tests
Free videos, free mock tests, and free GK tests to evaluate course content before signing up!

Oliveboard is a learning & practice platform for premier entrance exams. We have helped over 1 crore users since 2012 with their Bank, SSC, Railways, Insurance, Teaching and other competitive Exams preparation.