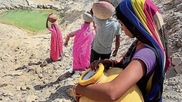 World Bank nod for ₹6,000 cr. groundwater recharge plan
The government has joined hands with the World Bank to execute a ₹6,000-crore scheme called the Atal Bhujal Yojana (ABHY), to address concerns about depleting groundwater reserves in India.
The scheme is to be implemented over a period of five years from 2018-19 to 2022-23.
The Atal Bhujal Yojana aims to improve ground water management in priority areas in the country through community participation.
The priority areas identified under the scheme fall in Gujarat, Haryana, Karnataka, Madhya Pradesh, Maharashtra, Rajasthan and Uttar Pradesh.
Did you Know
Minister for Water Resources, RD & GR- Nitin Jairam Gadkari
World Bank President: Jim Yong Kim
Headquarters of WB: Washington, DC, USA
Formation of WB: 4 July 1944