SBI PO Mains is scheduled to be conducted on 29th Jan 2021. With 2 weeks left for the exam, Oliveboard is here for your assistance. In this article, we are providing you with a meticulous 15 Days SBI PO Study Plan 2020 to help you strategize your prep for PO Mains in the right direction. This preparation plan will ensure that not only you cover all the important topics but practice each of them so that you can perform your very best.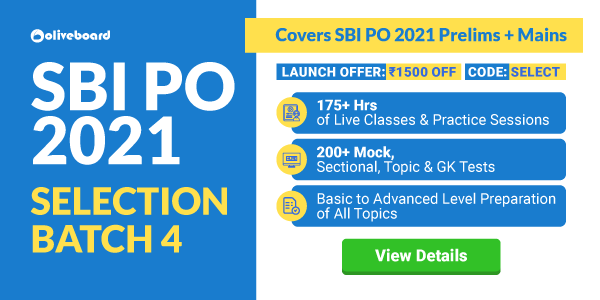 SBI PO Mains – Exam Pattern
SBI PO Exam date for Preliminary Exam is scheduled on 29th Jan 2021. SBI PO mains exam pattern comprises 4 sections of Reasoning and Computer Aptitude, Data Analysis & Interpretation, General/Economy/Banking Awareness, and English Language with a total time of 180 minutes. Each section is timed separately as per the time given in the table below.
Practice SBI PO Mains Exam Pattern with FREE SBI PO SECTIONAL MOCK TESTS HERE.
SBI PO Mains Exam Pattern
Name of the section
No of questions
Duration
Reasoning
& Computer Aptitude
45
60 minutes
Data
Analysis & Interpretation
35
45 minutes
General/Economy/Banking
Awareness
40
35 minutes
English
Language
35
40 minutes
Total
155
180 minutes
15 Days SBI PO Study Plan
The table below is the 15 days SBI PO Study Plan. For the ease to carry out the plan, we have devised the study plan including the revision plan right after the table.
It is very important to start the final leg of your preparation with a mock test, which will eventually help you understand where do you currently lag and what sections or the portions are your strongest. So let's get started with the two week SBI PO Study Plan.
Computer Aptitude and General Awareness are not bound to specific topics and is not featured in the plan below. To help candidates with these two sections we have –
Day
Slot 1
Slot 2
Day 1
SBI PO Mains Mock Test 1 (Free) + Analysis
Spotting Errors
Analogy, Classification, Word formation
Day 2
Sentence Improvement + Vocabulary +
Series (Missing No. + Alphanumeric)
Day 3
SBI PO Mains Mock Test 2 + Analysis
Para Jumbles + Vocab
Coding-Decoding
Day 4
Filler + Vocab
Blood Relations
Syllogism
Data Interpretation
Day 5
SBI PO Mians Mock Test 3 + Analysis Simplification
Vocab
Blood Relations, Input/output, Assertion and reasoning, Inequalities
Day 6
Line Charts, Pie Chart, Bar Charts, Tabular Data
Decision-making test, Puzzles
Day 7
Probability, Series
Quantitative Aptitude
Figure series, Sitting Arrangement
Day 8
SBI PO Mains Mock Test 4
Sentence Correction + Vocabulary

Close Passages, Passage completion, Direction Sense
Day 9
Cloze Test + Vocab
Syllogism
Parts of Speech
Order and Ranking
Day 10
SBI PO Mains Mock Test 5
Permutations & Combinations
SBI PO Mains Mock Test 6

Day 11
SBI PO Mains Mock Test 7 + Analysis
SBI PO Mains Mock Test 8 + Analysis
Day 12
SBI PO Mains Mock Test 9 + Solve questions with wrong attempts
SBI PO Mains Mock Test 10 + Solve questions with wrong attempts
Day 13
Practice Shortcuts on Paper
After you complete the first stage of the preparation by taking up the mock tests and going through the topics, the next very important step is revision of the learned topics.
Practice and practice all the concepts in the last few days. Focus more on the topics that trouble you while attempting the paper.
Vocabulary, as we all know, does not build up overnight, it demands vigor and regular practice. Memorize 10 words daily and keep revising them on a regular basis.
Remember revision will give you an edge and confidence to appear in the exam.
Spend a good amount of time analyzing the mock test, this will help you understand where you need to focus more and which sections are your strongest.
Oliveboard's analytics platform will help you strategize by providing question by question time taken, accuracy and whether it is right or wrong. To help you with your preparation and study materials Oliveboard has a lot in stock. Read ahead to know more about it.
---
SBI PO 2020 Mains Cracker Course – Started 13th Jan
Here's what all will be covered while you take this course effectively:
Covers complete SBI PO Prelims & Mains syllabus in both Hindi & English Language – The courses are designed in order to impart the course in both Hindi & English. This will make the course teachings much easier for the aspirants making it convenient to grasp the session.
Latest Pattern Tests to Give You Real-Time Exam Experience – The tests are designed in a similar pattern to that of the actual exam thus providing you with a real-time exam experience. The tests are designed by experts keeping in mind the difficulty level and exam pattern of the actual SBI PO exam.
Advanced Analytics to Track Your Performance – Oliveboard's AI analytics platform provides you with a detailed analysis of the tests taken. This will help you plan your preparations by highlighting the areas that need working on. Focus on weaker areas so that you can practice and improve the topic.
Learn, Practice & Compete with All India Aspirants – This course is equipped with Live Practice Sessions to help you solve the practice questions with All India aspirants. Yes, you read it right, aspirants from All India will be a participant of these practice sessions. Register Now & Attend Live Practice sessions.
Register Now & Enhance Your Prep for SBI PO 2020
Or if you like your own space while preparing, you can simply take Oliveboard SBI PO Mock Test Series. You will get the following features in our mock test series:
SBI PO Study Plan – FAQs
Is there sectional timing in SBI PO Main 2020?
Yes, candidates will have 3 hours and the three sections are separately timed.
Where can I get the SBI PO Mains study plan 2020?
This blog features a 15-day study plan for SBI PO Mains.
Is the SBI PO Mains exam bilingual?
Yes, the exam will be available in English and Hindi. Candidates may opt for language at the time of the test. All Oliveboard Mocks are bilingual so that candidates that the actual exam-like experience.
What is the pattern of SBI PO Mains.
The SBI PO prelims consists of 4 sections of DI, Reasoning & Computer Aptitude & English Language, and GA with a total time of 180 minutes.
Ebooks
You can download 200+ ebooks important for SSC, Banking, Railway, Insurance, and other government exams here.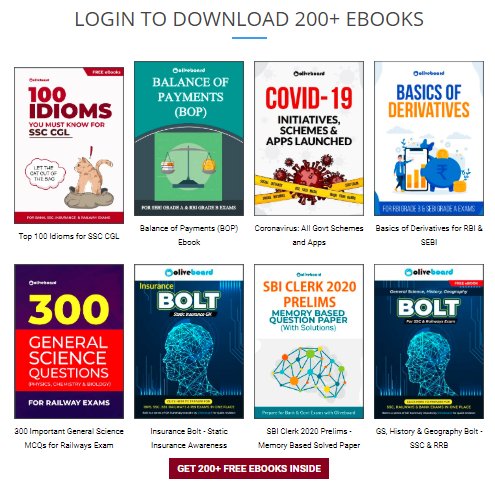 Oliveboard Bolt series E-books:
Free Static GK E-book – More Study Materials :
Recommended Readings
  Oliveboard Live Courses & Mock Test Series