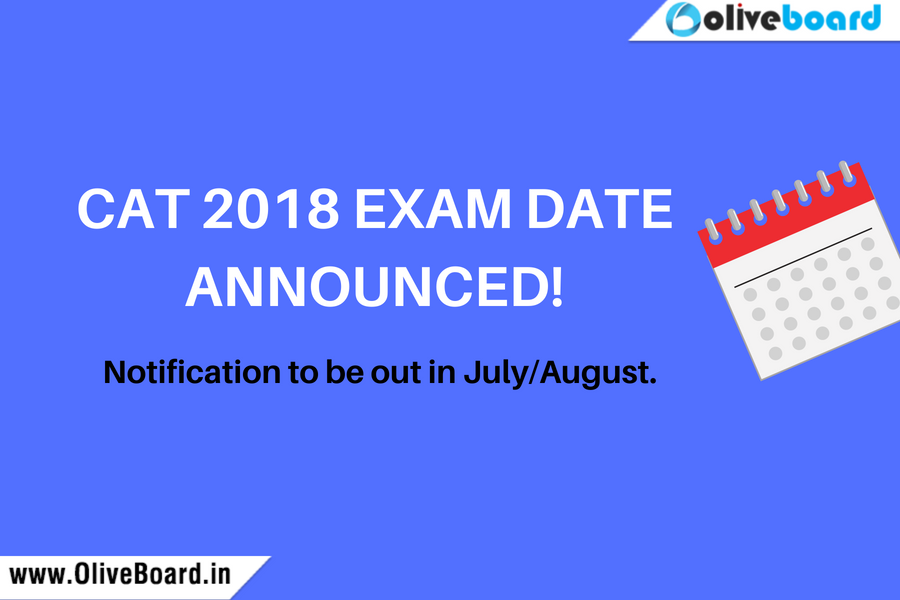 The exam date of the biggest and most popular management entrance examination of India CAT (Common Admission Test) conducted by the Indian Institutes of Management (IIM) is announced. CAT 2018 exam date is 25th November (Sunday) (Source). The detailed notification for the CAT 2018 will be released in July/August tentatively. IIMs reserve the right to change the CAT 2018 exam date in case of exceptional circumstances. 
CAT scores are used for admission by 20 IIMs and various other management institutes across the country. CAT 2018 will be conducted by IIMs as a pre-requisite for admission to various management programmes of IIMs. Through the CAT, the candidates will be eligible for admission to management courses – PGP, PGDM, PGPEM, EPGP, PGPBM, PGPEX, at various IIMs across the country. Last year, CAT was conducted by the IIM Lucknow. This year's announcement is yet to be made.
CAT is computer-based and includes three sections of 60 minutes each.
Quantitative Aptitude (QA)

Data Interpretation & Logical Reasoning (DILR)

Verbal and Reading Comprehension (VRC)
Now, that the exam date is announced, organize your study materials and CAT preparation schedule to kickstart your exam preparation journey. Take a Free CAT Mock test to get started.

CAT Syllabus
Quantitative Aptitude:
Number Systems, HCF/LCM, Averages, Percentages, Profit & Loss, Simple/Compound Interest, Equations, Inequalities, Complex numbers, Functions, Probability, Permutation & Combination, Mensuration, Geometry, Co-ordinate Geometry, Trigonometry, Mixtures, Set Theory, Speed & Distance, Work & Time, Progressions, Surds & Indices, Logarithms, Ratio & Proportion
Data Interpretation:
Data Tables, Pie Charts, Line Graphs, Other Chart Types, Data Sufficiency, Bar Graphs
Logical Reasoning:
Cubes & Dice, Blood Relations, Number & Letter Series, Seating Arrangement, Venn Diagrams, Clocks & Calendars, Analytical Reasoning, Syllogism
Verbal Ability:
Reading Comprehension, Para-jumbles, Fill in the Blanks, Vocabulary Based, English Grammar, Sentence Correction, Analogies, Meaning-Usage Match, Verbal / Critical Reasoning, Facts / Inference /Judgement.
If you have any questions related to CAT 2018 and CAT exam preparation, feel free to mention in the comment section below.
Related Articles: