The Department of Rural Development and Panchayati Raj J&K, JKSSB has opened portal for the downloading of Admit cards for the OMR Based Objective Type Written Examination for Various District Cadre posts of Accounts Assistant (Panchayat) in Department of Rural Development & Panchayati Raj.

Important Announcements –
Admit Cards shall be available for downloading from 06.00 pm 22nd of October, 2020, onwards from the Board Official website i.e www.jkssb.nic.in
OMR Based Objective Type Written Exam is scheduled to be held on 10th of November 2020, from 12.00 noon to 2.00 pm (Wednesday)
The candidates can get access to the Admit Cards from main homepage by entering Application No. and DOB (Hall Ticket/Admit Card for OMR Based Written Test for the posts of Accounts Assistant (Panchayat), Advertisement Notification No 02 of 2020).
Note – In case a candidate does not find his/her admit card, he/she must send self-explanatory mail at the said email address ssbjkgrievance@gmail.com along with evidence in support of his/her claim. No claim or representation shall be entertained after 04th of November 2020. Claims will be accepted only through the email and not in any other mode.
pointed towards postponing of the exams for the approved JK Panchayat Account Assistant vacancies 2020 till further notice. This is the biggest ever vacancies that are announced for the Panchayat Account Assistant position with 1889 vacancies to be filled with the upcoming exam.
Download Official Calendar Here:


Register Here & Get Daily Updates on Upcoming  Exams & Courses
How Much JK Panchayat Account Assistant Earn? Check Here

In this article, we will cover various aspects of the recruitment drive starting from the important dates, vacancies, syllabus, and application link.
1. JK Panchayat Account Assistant Recruitment – Important Dates
The important dates for the recruitment process could as mentioned below:
Registration Start Date – 20th July 2020

Registration End Date – 31st August 2020
Downloading of Admit Card – 22 October 2020

Exam Date – 10th of November 2020

Exam Syllabus release date – 23rd April 2020


2. J&K Panchayat Account Assistant – Vacancy
Amidst the various speculation being going around of 2000 vacancies announced, the accurate number of vacancies announced as of date is 1889.
This number will be verified once the official notification is released from the side of the government.
Attempt JK Panchayat Mock Test Here
Although, here is a distribution of vacancies down district-wise, again this will be verified post the official released of the notification.
| District | No. of Panchayats | No. of Accounts Assistant Required |
| --- | --- | --- |
| Anantnag | 335 | 146 |
| Bandipora | 151 | 74 |
| Budgam | 296 | 123 |
| Baramulla | 402 | 158 |
| Kulgam | 178 | 83 |
| Kupwara | 385 | 153 |
| Ganderbal | 126 | 66 |
| Pulwama | 190 | 86 |
| Shopian | 98 | 55 |
| Srinagar | 21 | 07 |
| Jammu | 305 | 124 |
| Kathua | 257 | 109 |
| Samba | 101 | 56 |
| Udhampur | 236 | 103 |
| Reasi | 153 | 75 |
| Ramban | 142 | 71 |
| Doda | 237 | 103 |
| Kishtwar | 136 | 69 |
| Poonch | 229 | 100 |
| Rajouri | 312 | 128 |
| Kargil | 98 | 56 |
| Leh | 95 | 55 |
Are You Preparing For JK Panchayat Exam? Register Here For Mock Tests

3. JK Panchayat Account Assistant Recruitment – Qualifications
3.1 Educational Qualifications
Degree in Commerce, Science, Computer Applications, Business Administration, and Any other Degree with Math, Stats, Economics, as one of the subjects.
Minimum 50% Marks in Graduation (45% for Reserved Categories).
3.2 Age Limit – JK Account Assistant Recruitment 2020
Minimum – 18 years
Maximum – 40 years
Upper Age Relaxation:
Open Merit (OM) – 40 years

RBA/ALC/SOC/SC/ST – 43 years

Differently Abled Candidates – 42 years

EX –Servicemen – 48 years
3.3 Few Other Selection Criteria – JK Panchayat Account Assistant 2020
These rules came into effect in April 2020 and hence will be applicable to all the recruitment process going forward.
Domicile – On 1st April 2020, New Domicile Rules were announced. As per the New Criteria, Only Domiciles of J&K can apply for Govt. Jobs in J&K.
Reservation Rules – As per the New Reservation Policy announced in April 2020: Pahari Speaking People, Economically Weaker Sections and People living on International Border gets Reservation Benefit.
Exam Syllabus – This time, Syllabus is completely changed and it is a Technical Syllabus having Subjects as Accountancy, Book Keeping, Economics, Stats/Maths, etc.
Register Here & Attempt Latest Pattern JK Panchayat Mock Tests
4. JK Panchayat Account Assistant Recruitment – Pattern
The exam pattern will be consisting of the following steps –
No. of Questions: 120 (120 Marks), Duration: 2 Hours & No interview will be followed. Candidates scoring par cutoff scores will be considered for the position.
4.1 Exam Pattern – J&K Panchayat Account Assistant
| Subjects | Marks |
| --- | --- |
| General Knowledge with special reference to J&K. | 30 |
| Mathematics / Statistics | 10 |
| General Science | 10 |
| General Economics | 10 |
| Knowledge of Computer Applications | 30 |
| Accountancy and Book Keeping | 30 |
| Total Marks | 120 |
 

5. JK Panchayat Account Assistant Recruitment – Syllabus
Here we will look at the section-wise syllabus for the exam. Remember that this syllabus is taken from the notification notified by the officials.
5.1 General Knowledge Syllabus with special reference to J&K.
Popular names of personalities (Religion, Politics, Scientific discoveries, Geographical, Sports, History) Constitution of India – Formation, Fundamental rights, Directive principles. (Changed), 73rd amendment of constitution of India, Centrally Sponsored Schemes – Guidelines and objectives., Important Tourist Destinations., History of J&K State – Places and their importance., Sustainable Development Goal., Agriculture in economic development, industrialization and economic development. Panchayat Raj Act 1989, Climate and crops in state and India. Current events of state, national, and international levels.
5.2 Mathematics / Statistics Syllabus

Theory of Probability, Tabulation, and compilation of data, Methods of collecting primary and secondary data, Theory of Attributes – Basic concept and their application, Sampling and non-sampling errors, Analysis of Time Series components, Demography – Census, its features, and functions, Vital statistics – Measures of fertility, Measures of Mortality, specific fertility rates, gross and net reproduction rates., Set theory- Basic Concepts & Applications, Matrices & Determinants, Simultaneous Linear Equations, Analytical Geometry.
5.3 General Science Syllabus

 Biology – Important Inventions and their Inventors, Important and Interesting Facts about Human Body Parts, Nutrition in Plants and animals, Diseases and their causes like Bacteria, Virus, and Protozoa
Physics– Important Inventions and their Inventors, SI Units, Sound, Motion, Light, Wave, Energy, and Electricity
Chemistry – Chemical Properties of Substance and their uses, Chemical names of important substances like plaster of Paris, Chemical change and physical change, Properties of gases, Surface Chemistry, Chemistry in everyday life
5.4 General Economics Syllabus

Introduction of Economics – Basic concept and principles., Gross Domestic Product (GDP) and Budgeting including own resource, generation, and budgeting of panchayat, Growth – Fiscal Policy, Meaning, Scope and Methodology, Production, cost and efficiency, Factors of production and law, Demand Analysis, Theory of Consumers demand using indifference curve technique, Pricing under various forms of markets., Concept of Gram Panchayat Development Plan (GPDP).
Register Now & Attempt JK Panchayat Mock Tests Here
5.5 Computer Knowledge & Applications Syllabus

Introduction and objectives, Basic Applications of Computer and its component Bringing computer to life, Fundamentals of computer sciences, Hardware & Software, Concept of open-source Technologies, Input & Output Devices, Knowledge of MS Excel, MS Access, MS PowerPoint, Interest and E-mail, Concept of Computer virus & latest Anti-Virus, Terms, and Abbreviation used in IT.
5.6 Accountancy & Book Keeping Syllabus

Introduction to Financial Accounting and its terms, Accounting equation and Journal, Voucher Approach in Accounting, Bank Reconciliation Statements, Financial Management/Statements, Partnership Accounts, Cash Book, Financial audit, Elements of Double-entry bookkeeping, Rules of journalizing, Trial Balance, Trading Account Profit loss account and balance sheet, Concept of Social accounting, Social Audit and cash-based single entry system of accounting, Public Financial Management System.
Attempt Complete Mock Tests For JK Panchayat Assistant
6. JK Panchayat Account Assistant Recruitment 2020 – Apply Online
The link to apply online will be active once the officials notify of the date of release of notification. We will keep updating the details of the notification.
Free ebooks Download
You can download 200+ ebooks important for SSC, Banking, Railway, Insurance, and other government exams here.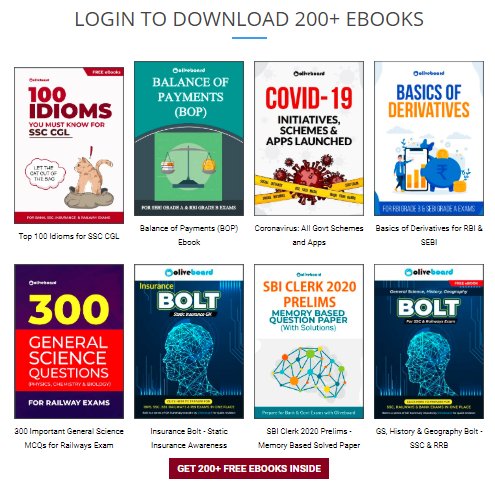 That brings us to the end of this article. We hope the details shared above helps you understand the recruitment process in detail. Please note that the official notification is still to be released and any changes will be made here once the official notification is out from the officials.
Also, Check: