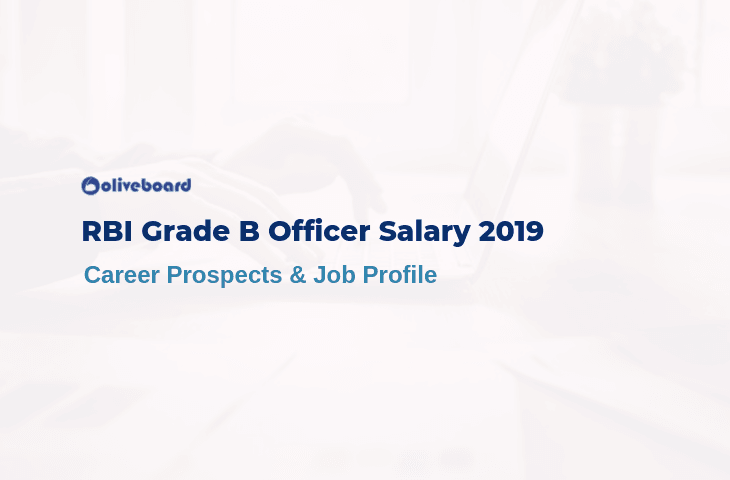 The Reserve Bank of India (RBI), which is also known as the central bank authority of India (Established on 1st April 1935), is one of the most reputable institutions of the country. RBI conducts the Direct Recruitment for the post of RBI Grade-B Officer– which comes with a high-esteemed job profile, excellent pay scale and numerous other perks and benefits. Recruitment of candidates for Grade B posts of the RBI occurs through an online examination conducted in three phases viz. Phase 1, Phase 2 & Interviews. This year (2019), RBI's official notification has announced a total of 199 vacancies for the post of Grade-B Officer (General, DEPR, DSIM). Candidates who are looking forward to the Grade B post must be aware of the Current Pay Scale, Perks & Allowances, Career Prospects & RBI Grade B Job Profile. Reading the blog "RBI Grade B Salary 2019" will give you enough motivation to apply for the post and study rigorously for it. So, read along. 
Take a Free Oliveboard Grade B Phase 1 & FM Mock Test 2019
RBI Grade B Salary 2019 – As per Official Notification 
RBI Grade B Salary 2019 

– Basic Pay

Rs 35,150/- p.m. 

Pay Scale

Rs. 35150-1750 (9)-50900-EB-1750 (2)-54400-2000 (4)-62400

Allowances Given

Dearness Allowance, Local allowance, House Rent Allowance, Family allowance and Grade Allowance 

RBI Grade B Salary 2019 – Gross Monthly Emoluments
Rs 77,208/- (approx.)
Take a Free Oliveboard Grade B Phase 1 & FM Mock Test 2019
RBI Grade B Salary Increments 2019
The new pay scale of RBI Grade-B Officers is 35150-1750(9)-50900-EB-1750(2)-54400-2000(4)-62400.

This means, your initial basic pay will be Rs.35,150 and you will receive an increment of Rs.1750 for up to 9 years of your service.
After the tenure of 9 years is over, your basic pay will rise to Rs.50,900 and you will again receive an increment of Rs.1750 for the next 2 years.
Further increment of Rs.2000 for the next 4 years will finally leave you with a basic pay of Rs.62,400.
RBI Grade B Salary Slip 2019 – In Hand Salary
Take a Free Oliveboard Grade B Phase 1 & FM Mock Test 2019
Also Read: RBI Grade B 2019 Preparation – Complete Phase 1 & Phase 2
RBI Grade B Salary 2019 – Benefits, Perks and Allowances
Apart from the basic pay, RBI Officers are entitled to receive numerous emoluments like Dearness Allowance, Family Allowance, House Rent Allowance, Conveyance Allowance, Telephone Allowance, Medical Allowance etc.
| | |
| --- | --- |
| Allowances | Benefits |
| Dearness Allowance (D.A.) | 113% of the basic pay that previously accounted for D.A. has now been revised to 125%. |
| House Rent Allowance (H.R.A.) | H.R.A. is provided to those employees who are posted out of their hometowns. Accommodation is also provided to RBI employees. Usually one gets a 2BHK flat. If an employee has not been allotted a flat, RBI offers an estimated amount of Rs.70,000for accommodation in metro cities such as Mumbai. |
| Conveyance Allowance (C.A.) | Based on the declaration provided by you, C.A. is paid. For instance, the additional in-hand amount in Mumbai is Rs.14,000. |
| Medical Allowance (M.A.) | Medical Allowance worth Rs.4500 is offered to RBI employees as well as to their dependents. Reimbursement of medical expenses for hospitalization and OPD treatment along with free dispensary facilities are available. |
| Education Allowance | Selected RBI Officers get Education Allowance for their children. The annual reimbursement amount accounts for approximately Rs.4000 per month. |
| Leave Fare Concession (LFC) & Leave Travel Concession (LTC) | LFC/LTC is offered to the employee and his/her family once every two years. RBI provides Rs.10,7000 (approx.) per head for this purpose. |
| Bank Loan Facility | As per the salary revision, RBI Officers can now avail loans at cheaper rates for vehicle, housing, computers etc. |
Take a Free Oliveboard Grade B Phase 1 & FM Mock Test 2019
RBI Grade B Salary 2019 – Perquisites
Bank's accommodation, subject to availability, reimbursement of expenses for maintenance of vehicle for official purpose, newspaper, telephone charges, book grant, allowance for furnishing of residence, etc. as per eligibility.
Free dispensary facility besides reimbursement of medical expenses for OPD treatment/hospitalization as per eligibility. Interest-free festival advance, Leave Fare Concession (once in two years for self, spouse and eligible dependents).
Loans and Advances at concessional rates of interest for Housing, Vehicle, Education, Consumer Articles, Personal Computer, etc. Selected candidates will be governed by 'the defined contribution New Pension Scheme (NPS)', in addition to the benefit of Gratuity.
At certain centres, limited number of residential quarters are available. Facility for securing residential accommodation on lease, however, exists at all centres.
Take a Free Oliveboard Grade B Phase 1 & FM Mock Test 2019
RBI Grade B Career Prospects 2019

 
The initial appointment will be on probation for a period of two years.

At Bank's discretion, the probationary period may be extended up to a maximum period of four years. 

Selected candidates are liable to be posted and transferred anywhere in India.

There are reasonable prospects for promotion to higher grades. 

For candidates possessing very high academic or professional qualification/ experience of significant value to the Bank, the Bank may, at its sole discretion, consider granting up to four advance increments.

The Board, at its sole discretion, may consider requests for higher emoluments on account of higher qualification/special experience of value to the Bank at the interview stage only.

Such information may be furnished in the Bio-data Form in the appropriate column. The number of maximum increments will be four. The Board/Bank will not entertain any request received after the interview.
Take a Free Oliveboard Grade B Phase 1 & FM Mock Test 2019
RBI Grade B 2019 Future Avenues
1. If one continues to work in RBI with sincerity & dedication, then an RBI Grade B Officer can reach up to CGM level post. Few Grade B officers have also managed to reach to Executive Director (ED) positions and very few up to Deputy Governors (DG).
2. On the Boards of every Public Sector Bank, there is an RBI representative who is CGM level Officer in RBI.
3. A few officers who perform extraordinarily could also get a chance to go on deputation on foreign institutions like IMF, World Bank, foreign country's central bank, Finance Ministry, Home Ministry etc.
Take a Free Oliveboard Grade B Phase 1 & FM Mock Test 2019
Various Departments in RBI
This is the list of departments in which an RBI Grade B officer gets a chance to work in. Read top know better.
List of Department in Reserve Bank of India

1. Central Vigilance Cell
18. Department of Statistics and Information Management
2. Consumer Education and Protection Department
19. Enforcement Department
3. Corporate Strategy and Budget Department
20. Financial Inclusion and Development Department
4. Department of Banking Regulation
21. Financial Markets Operation Department
5. Department of Banking Supervision
22. Financial Markets Regulation Department
6. Department of Communication
23. Financial Stability Unit
7. Department of Cooperative Bank Regulation
24. Foreign Exchange Department
8. Department of Cooperative Bank Supervision
25. Human Resource Management Department
9. Department of Corporate Services
26. Inspection Department
10. Department of Currency Management
27. Internal Debt Management Department
11. Department of Economic and Policy Research
28. International Department
12. Department of External Investments and Operations
29. Legal Department
13. Department of Government and Bank Accounts
30. Monetary Policy Department
14. Department of Information Technology
31. Premises Department
15. Department of Non-Banking Regulation
32. Rajbhasha Department
16. Department of Non-Banking Supervision
33. Risk Monitoring Department
17. Department of Payment and Settlement Systems
34. Secretary's Department
Take a Free Oliveboard Grade B Phase 1 & FM Mock Test 2019
Owing to such a great Job Profile, Career Prospects, Future Avenues in addition to an attractive pay scale and countless other benefits, lakhs of candidates appear for RBI Grade-B Officer exams every year. To get through each phase of the examination, one needs to start preparing for the same. Go through study materials and take up mock tests online.
Mission RBI Grade B 2019 – Enroll Now – Starts 30th Sep
Salient Features of the Course 
Mission

RBI Grade B 2019

is a 10-week course designed to help you clear the exam by ensuring comprehensive coverage of

Phase-1

GA and ESI, FM & Descriptive English for

Phase-2

.
The course is crafted in such a way that it will initially focus on Phase-1 by providing live classes and practice sessions for Reasoning, Quant and English. ESI & FM classes will continue side-by-side to ensure that your Phase-2 preparation is not neglected.
Since students tend to ignore

descriptive English

while preparing for Phase-2, therefore post Phase-1, there will be two sessions per week for descriptive English only.
Apart from this, it also includes

Mock tests for Phase-1 and Phase-2

.
Starting from September 30th, this course will help you clear the prestigious RBI Grade B Exam.
Read the Course Features: What all you get once you enrol for the course
| | | |
| --- | --- | --- |
|   | Phase 1 | Phase 2 |
| 1.         | 100 Video Lessons for GA, Reasoning, Quant and English | 11 Live Classes for ESI and F&M |
| 2.         | MCQ sessions for Current affairs of last 6 months | 8 Live Practice Sessions |
| 3.         | 10 Full-Length Mock Tests | 50+ Video Lectures for ESI and F&M |
| 4.         | Special Live Classes on Exam Pattern & Strategy for Quant, Reasoning and English. | Special Live Classes on Exam Pattern & Strategy |
| 5.         | Live Practice Sessions for Quant, Reasoning, English and GA. | Complete Notes for ESI and F&M |
| 6.         | | 25 full-length Mock Tests |
| 7.         | | 6 special classes for descriptive English |
Enroll for RBI Grade B 2019 Course Here