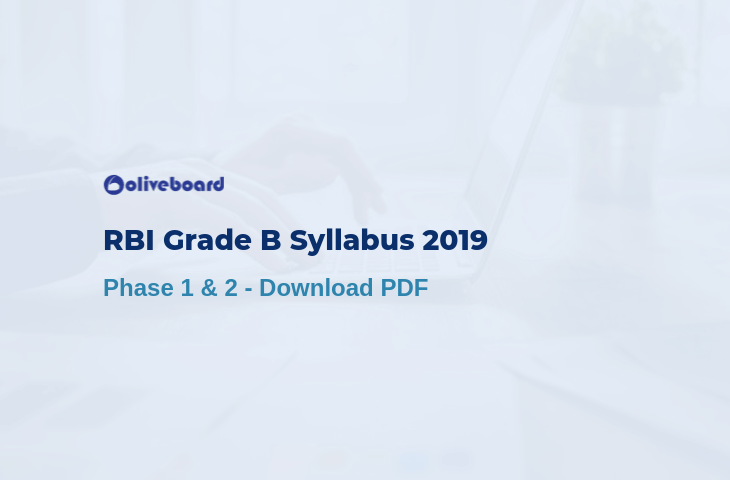 The RBI Grade B 2019 notification has been released recently announcing 199 vacancies for the post of Officer in Grade B (DR) (GENERAL), Officers in Grade B (DR) (DEPR) and Officers in Grade B (DR) (DSIM). To organise your preparation of exam, it is imperative that you first become aware of the RBI Grade B Syllabus 2019. Read along to check section-wise syllabus of Phase 1 & 2. Download the RBI Grade B Syllabus PDF from the link provided here:
 Also, Check:
Mission RBI Grade B 2019 Course
Get RBI Grade B Free Mock Test on Oliveboard
RBI Grade B Syllabus 2019 – Quantitative Aptitude
| | |
| --- | --- |
| Data Interpretation | Ratio & Proportion |
| Number Series | Percentages |
| Quadratic Equations | Profit & Loss |
| Data Sufficiency | Averages, Mixtures & Alligation |
| Problems on Ages | Simple Interest & Compound Interest |
| Partnerships | Work & Time |
| Mensuration | Time, Speed & Distance |
Get RBI Grade B Free Mock Test on Oliveboard
RBI Grade B Syllabus 2019 – Reasoning
Get RBI Grade B Free Mock Test on Oliveboard
RBI Grade B Syllabus 2019 – English Language
RBI Grade B Syllabus : General Awareness
Banking and Financial Awareness

Static General Knowledge

Current Affairs
Get RBI Grade B Free Mock Test on Oliveboard
RBI Grade B Syllabus 2019 – Phase II:
Paper 1 – Economic and Social Issues
| | |
| --- | --- |
| Growth and Development | IMF and World Bank |
| Measurement of growth: National Income and per capita income | WTO |
| Poverty Alleviation and Employment Generation in India | Regional Economic Cooperation |
| Sustainable Development and Environmental issues | Social Structure in India |
| Economic Reforms in India | Multiculturalism |
| Industrial and Labour Policy | Demographic Trends |
| Monetary and Fiscal Policy | Urbanization and Migration |
| Privatization | Gender Issues |
| Role of Economic Planning | Social Justice: Positive Discrimination in favor of the under-privileged |
| Globalization | Social Movements |
| Opening up of the Indian Economy | Indian Political System |
| Balance of Payments | Human Development |
| Export-Import Policy | Social Sectors in India |
| International Economic Institutions | Health and Education |

Get RBI Grade B Free Mock Test on Oliveboard
Paper 2 – English Writing Skills
The paper on English shall be framed in a manner to assess the writing skills including expression and understanding of the topic.
Paper 3 – Finance and Management
Finance
Financial System 
Regulators of Banks and Financial Institutions

Reserve Bank of India- functions, and conduct of monetary policy

Banking System in India

Financial Institutions – SIDBI, EXIM, NABARD, NHB,
Financial Markets
Primary and Secondary Markets (Forex, Money, Bond, Equity, etc.)

Functions, instruments, recent developments
General Topics 
Risk Management in Banking Sector

Basics of Derivatives: Forward, Futures and Swap

Changing Landscape of Banking Sector

Recent Developments in the Financial Sector, Portfolio Investment, Public Sector Reforms, Disinvestments

Financial Inclusion- use of technology

Alternate source of finance, private and social cost-benefit

Public-Private Partnership

Corporate Governance in Banking Sector, role of e-governance in addressing the issues of corruption and inefficiency in the government sector

The Union Budget – Direct and Indirect taxes; Non-tax sources of Revenue, GST, Thirteenth Finance Commission and GST, Finance Commission, Fiscal Policy, Fiscal Responsibility and Budget Management Act (FRBM)

Inflation: Definition, trends, estimates, consequences, and remedies (control): WPI, CPI – components, and trends.
Get RBI Grade B Free Mock Test on Oliveboard
Management
Management: its nature and scope; The Management Processes; Planning, Organisation, Staffing, Directing and Controlling; The Role of a Manager in an Organisation. Leadership: The Tasks of a Leader; Leadership Styles; Leadership Theories; A successful Leader versus an effective Leader.
Human Resource Development: Concept of HRD; Goals of HRD; Performance Appraisal – Potential appraisal and development – Feedback and Performance Counselling – Career Planning – Training and Development – Rewards – Employee Welfare.
Motivation, Morale and Incentives: Theories of Motivation; How Managers Motivate; Concept of Morale; Factors determining morale; Role of Incentives in Building up Morale.
Communication: Steps in the Communication Process; Communication Channels; Oral versus Written Communication; Verbal versus non-verbal Communication; upward, downward and lateral communication; Barriers to Communication, Role of Information Technology.
Corporate Governance: Factors affecting Corporate Governance; Mechanisms of Corporate Governance.

Get RBI Grade B Free Mock Test on Oliveboard
Download Full Syllabus Here
Download RBI Grade B Syllabus PDF
RBI Grade B 2019 Online Course
We all know that the RBI Grade B is one of the most prestigious bank exams in the country & competition is all-time high for this. To boost your chances of success, we have "Mission RBI Grade B 2019 – Complete Course for Phase 1 & 2 Prep". Here, you will be learning from some of the best faculty in the country and all you have to do is Study hard!

Course Details
Covers Complete Syllabus for Phase 2 (ESI, F&M) & Phase 1 (GA)
Live Classes, Videos & Practice Sessions
Oliveboard Mock Test Strategy & Discussion for Phase 1
Complete Notes for ESI, F&M
Special Classes for English Descriptive

Day-wise Study Plan
Mock Tests
Enrol Now to Get Launch Offer of 6999/-
That's all from us. We hope the RBI Grade B 2019 Syllabus provides you just the right direction to commence your prep journey. 
All the Best!
  Oliveboard Live Courses & Mock Test Series