State Bank of India (SBI) has announced a total of 5000 vacancies for SBI Clerk Junior Associate (Customer Support & Sales). It is one of the most awaited notification of the year. SBI is India's largest bank with the most attractive features and best-in-class entry-level salary package for Junior Associates (Customer Support & Sales) in Clerical Cadre. In this blog, we will be discussing all the details of SBI Clerk Salary 2021.

SBI CLERK Salary 2021
SBI provides a handsome pay scale for its SBI Junior Associates at the entry-level with various perks. Therefore, in comparison to other banks, SBI provides a better basic salary.
SBI Clerk salary is ₹33,300 per month.
The Details of Basic Pay Scale component of SBI Clerk Salary 2021 are as follows;
17900-1000/3-20900-1230/3-24590-1490/4-30550-1730/7-42600-3270/1-45930-1990/1-47920.
The starting Basic Pay is Rs.19900/- (Rs.17900/- plus two advance
increments admissible to graduates)
Let us note down the details of the above-given payscale;
Compensation – Starting Salary for a candidate will be Rs 17,900/- with a year-on-year increment of Rs 1000/- on the Basic pay for three years.

Salary 3 years from the year of joining: Rs 20,900/- with a year-on-year increment of Rs 1230/- for the next 3 years

For the next 4 years, Rs 24,590/- with a year-on-year increment of Rs 1490/-

Salary after the next 7 years: Rs 30,550/- with a year-on-year increment of Rs 1730 for the next 7 years.

After the next 1 year: Rs 42600 with a year-on-year increment of Rs 3270 for the next 1 year.

Salary after another 1 year: Rs 45,930 with a year-on-year increment of Rs 1990 for the next 1 year.

The Maximum Basic Salary of an SBI Clerk- Rs 47,920/-
Aiming To become a Clerk in SBI? Start Your Preparations For SBI Clerk 2021 With Oliveboard Now
SBI Clerk Gross Monthly Income
The SBI Clerk salary 2021 can also be described as the total in-hand income received monthly by the Junior Associate of SBI. SBI Clerk In-hand salary received per month is a sum of Basic Pay and other salary components like – House Rent Allowance(HRA), Variable Pay, Dearness Allowances (DA), City Compensatory Allowance (CCA), etc.
SBI Clerk Salary Slip

2021
Here is the latest salary slip of SBI Office Assistant.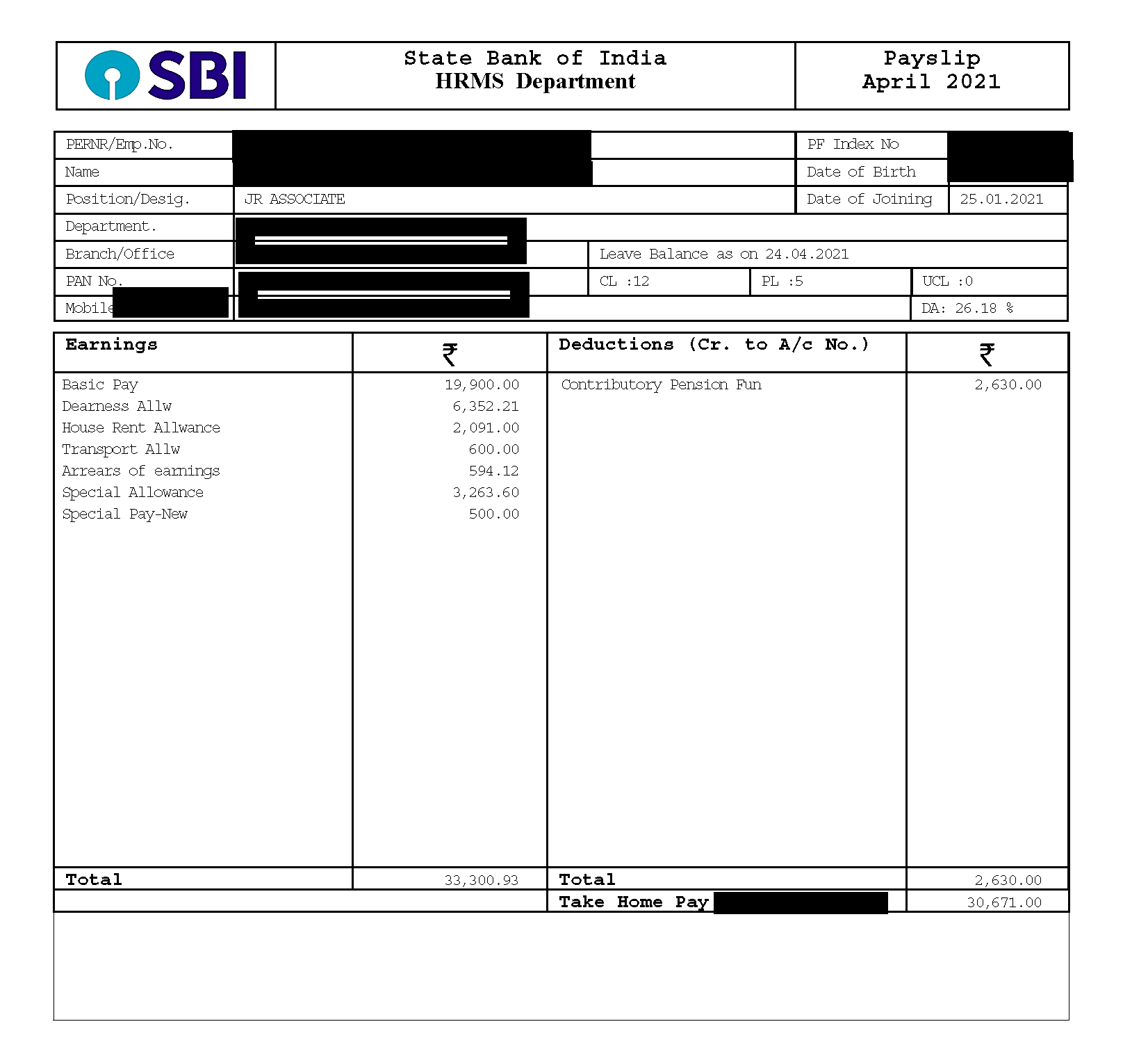 Upon the addition of the Basic Pay, to all other allowances, the Gross Monthly Income of any SBI Junior Associate (Customer Support & Sales) would come down to Rs. 25,000/- depending upon the City in which they are posted. Sounds Interesting? How about preparing for SBI Clerk?
SBI Clerk Allowances
A person joining as an SBI Clerk will have many perquisites, the SBI Clerk Salary comes with some added benefits in the form of allowances such as-
Dearness Allowance (DA): A SBI Clerk gets 26.18% DA of the Basic Pay (Depending upon the City Posted in). The Dearness Allowance increases of quarterly basic and is depended on the Inflation rate of the Country if the inflation increase the DA goes up and vice versa.
House Rent Allowance(HRA): A SBI Clerk gets 35% to 40% HRA of the Basic Pay(Depending upon the City Posted in).

Other Allowances include transport allowance, Special Allowance, and Special Pay-New.
SBI Clerk Additional Benefits
In SBI an individual working in the Clerk Cadre has some additional benefits in addition to the Basic Pay of the SBI CLERK Salary 2021 which they received. Given below are the additional benefits or perks of working as an SBI CLERK;
House Rent Allowances

Concessional Vehicle Finance

Concessional Rate for SBI Pension Plans

Housing Finance at concessional rates

Travel Allowances

The Bank pays 100% cost for any medical treatment of an employee along with the family members

Maternity or child education leave of 2 years for women clerks.
Want To Prepare for SBI Clerk? Take A Free Mock Test Here
SBI Clerk Job Profile
Once an individual starts his career as an SBI Clerk Junior Associate he/she will be entitled to a 6 months probation period, during this period he/she will have to complete 15 e-lessons containing details about SBI functions and duties, which has to be completed during the probation.

The main responsibility will be to deal with the customer grievances. To guide them and give them an effective solution to the problem they are facing with their accounts.

An SBI Clerk Junior Associate will be entitled to multiple responsibilities which includes work on deposit counters for cash withdrawal, cashier.

He/she will have to develop the expertise on financial formalities such as drafting a cheque, demand draft, etc.

An

SBI Junior Associate

has to also look after the back end work of the office such as balance tallying, data entry, ledger maintenance, etc.

There is also a Sales aspect to the job of an SBI Clerk, he/she will need to cross-sell insurance and various types of products, banking services and advice better investment plans to the clients.

An SBI Junior Associate will also need to market the financial services of the bank. It would include loans, the interest rate on deposits, etc.
Prepare For SBI Clerk With Oliveboard
DOWNLOAD THE OLIVEBOARD APP FOR ON-THE-GO EXAM PREPARATION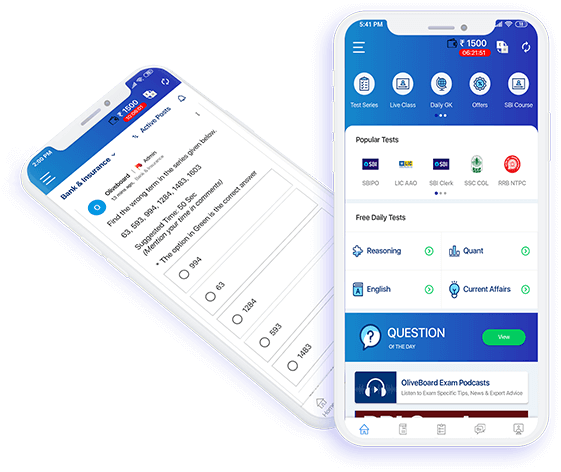 Video Lessons, Textual Lessons & Notes
Topic Tests covering all topics with detailed solutions
Sectional Tests for QA, DI, EL, LR
All India Mock Tests for performance analysis and all India percentile
General Knowledge (GK) Tests
Free videos, free mock tests and free GK tests to evaluate course content before signing up!

SBI Clerk Promotions
Promotion for Trainee Officer Post
SBI Junior Associate

needs to clear written examinations that are conducted internally in the organization.
As soon as an SBI Clerk gets an experience of 3 years in this role with a CAIIB (Certificate Association of the Indian Institute of Banking) or 4 years experience with a JAIIB (Junior Associate of the Indian Institute of Banking) certification can be promoted to a Trainee Officer.

By default, it takes 6 years of service for an SBI Clerk to give an exam internally and get to the position of Trainee Officer without an exam. The responsibilities of Trainee Officer(TO) is the same as a Probationary Officer(PO)

After the successful completion of the internal exam when SBI Clerk manages to join as an SBI PO. He/She will have a probationary period of 2 years. During these 2 years, an SBI PO will get the rank of JMGS-1 or Junior Management Grade Scale-1.

Once the 2 year probation period is completed they will be promoted as Middle Management Grade Scale-II.

If directly an SBI Clerk wants to be an SBI PO he/she can attempt the SBI PO exam and get to a PO's post.
Get These benefits and much more!! Start Your preparations for SBI Clerk Now.
SBI Clerk Job Postings & Transfer Policy
Many individuals worry about the Job Postings away from their Home town or at any distant branch. Let's check out the Transfer Conditions for an SBI CLERK;
SBI Clerk Junior Associates are not eligible for transfers outside the state for the first 5 years of service.

It is 8 years for candidates selected in a special recruitment drive for Tura, Kashmir Valley, and Ladakh.
SBI Clerk Preparation



SBI Clerk 2021 Mock Tests will help you prepare for the actual exam because they will give you an idea of how the pressure and situation will be and this will help you feel more confident and more prepared. The SBI Clerk Mock Test Series will also help you in judging and understanding your strengths and weaknesses so that you can work on them better. You can join Oliveboard's Edge platform and get the access to complete course with Live Lectures and doubt solving sessions. Check what's in store for you:
That's all from us in this blog on SBI Clerk Salary 2021. We hope you find the above information useful. This page is your one-stop-solution for SBI Clerk 2021 exam. Here you will get all the exam updates, FREE Study materials, online quizzes. If you wish to get in touch with your fellow competitors for the preparation of the SBI Clerk 2021 Exam, you can join Oliveboard's Telegram Group. All the best for your Exam preparation.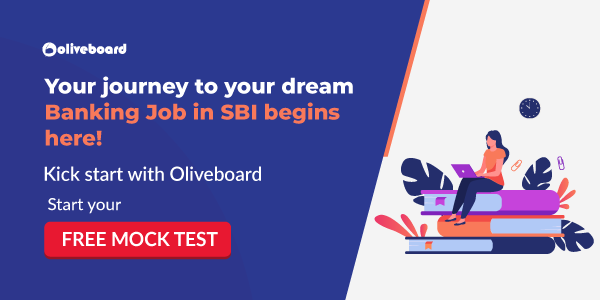 Also, Check:
SBI Clerk Salary FAQs
What is the in-hand salary of an SBI Clerk?
The in-hand SBI Clerk salary is around Rs. 29,555/- at the time of joining and can vary slightly as per the branch location.
What is the maximum salary of SBI clerk?
The maximum basic salary of Rs. 47,920/- which starts at Rs. 19,900/-
Is SBI job a government job?
Yes, It is a government job.
Is Transport Allowance included as a salary component in SBI Clerk's salary?
Yes, Transport Allowance is one of the salary components in SBI Clerk's salary.
---
Recommended Readings