How to clear SBI PO in the first attempt : SBI PO Exam 2022 will be conducted in three phases (Prelims, Mains & GDPI) and each phase requires a thorough preparation on the part of an aspirant. SBI PO Exam sets the trend in terms of exam pattern, type & difficulty level of questions, and the same trend is followed by other exams as well.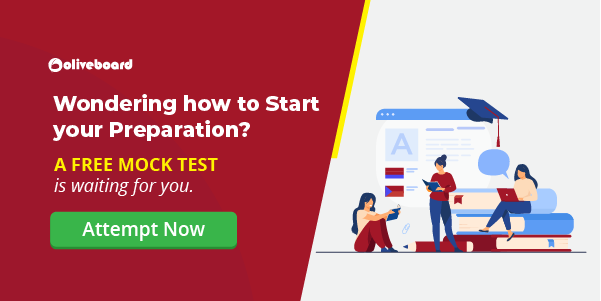 If you are someone who is aiming for the SBI PO 2022 Exam, this SBI PO exam preparation strategy blog is just for you. It will give you all the information regarding the complete preparation strategy and resources that one needs to follow to clear the SBI PO exam in their first attempt.
Govind Upadhyay, SBI PO 2016 Topper, also happens to be an Oliveboard user tells us how he went on to top the SBI PO exam. His SBI PO Exam strategy is completely relevant for SBI PO 2022 as well.
Read it and know  SBI PO exam preparation strategy. 
SBI PO exam Preparation-Strategy by Topper
By: Govind Upadhyay
Hello,
I am Govind Upadhyay and I hail from Varanasi. I have cleared the SBI PO 2016 Exam and in this article, I would be sharing the strategies and study material that I used to crack the exam with you guys.
Here's a bit about myself – After my graduation in 2014, I was working with an MNC in Chennai. To be frank, my life started feeling monotonous. I could see that the company wasn't utilizing my potential to the fullest and this is when I decided to try giving Bank exams. I started preparing for SBI PO Exam. 
A lot of people asked me why I chose Banking & why specifically SBI. It was an easy decision for me as I wanted a dynamic job, and Banking, especially SBI, would give me that opportunity.
Also Read: SBI PO Syllabus for Prelims & Mains – Complete list of Topics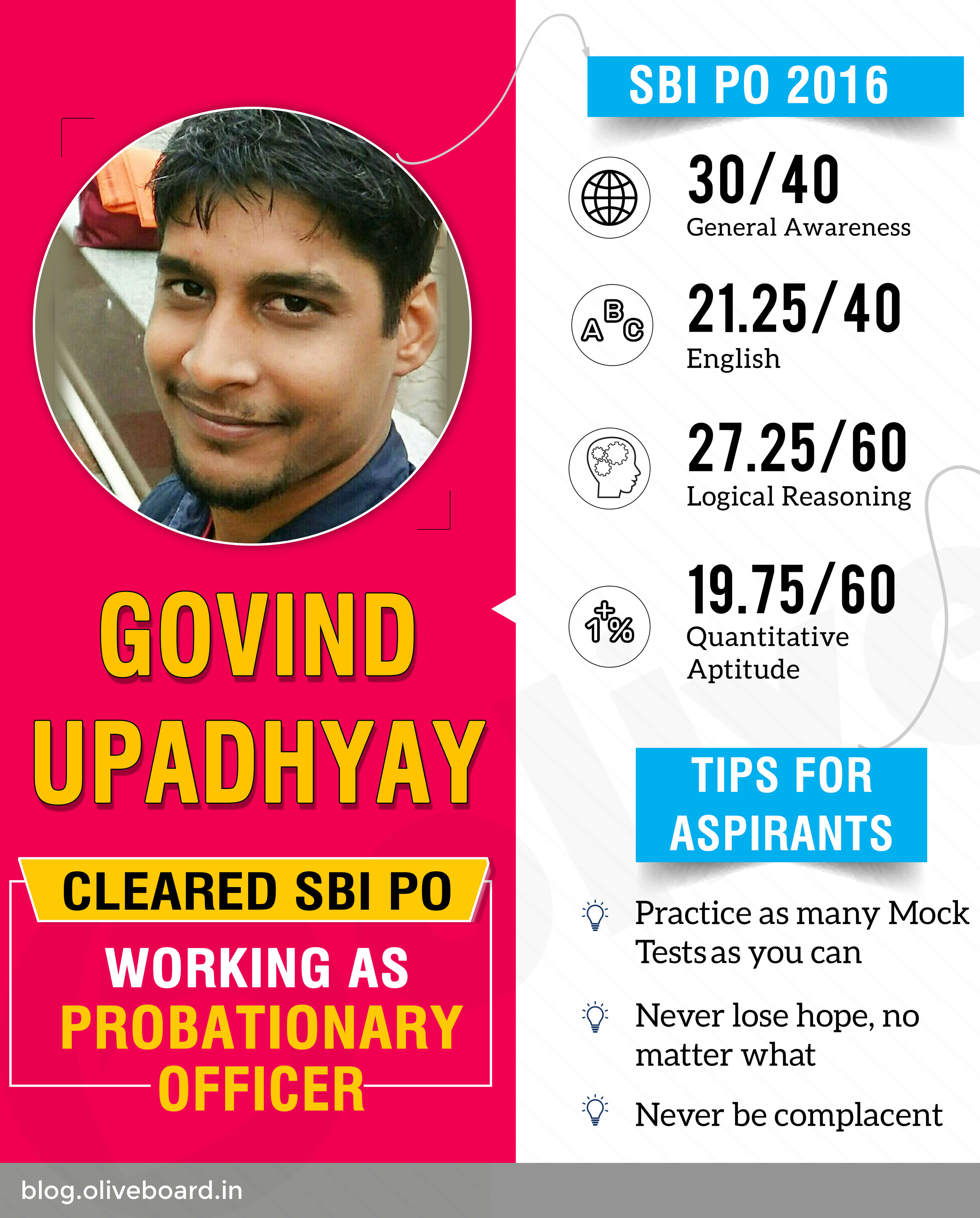 Detailed Strategy to Tame SBI PO Exam – Section-wise
Before I write anything about the preparation strategy, I'd like to tell you that you need to be "Jack of all trades", to clear bank exams. When I say that, I mean that you need to be just good enough in each section to at least clear the sectional cutoff.
Bank exams require more strategy and planning. You've to see where your strength lies, and capitalize on that. Say, you're extraordinary in Quant and Reasoning, but not quite in GA and English. In this case, try to maximize your marks in these two sections, and try to clear the cutoff, somehow, in the other two sections. I'll share it in the order of my preparation level in each section, in decreasing order.
Here's a summary of my section-wise strategy: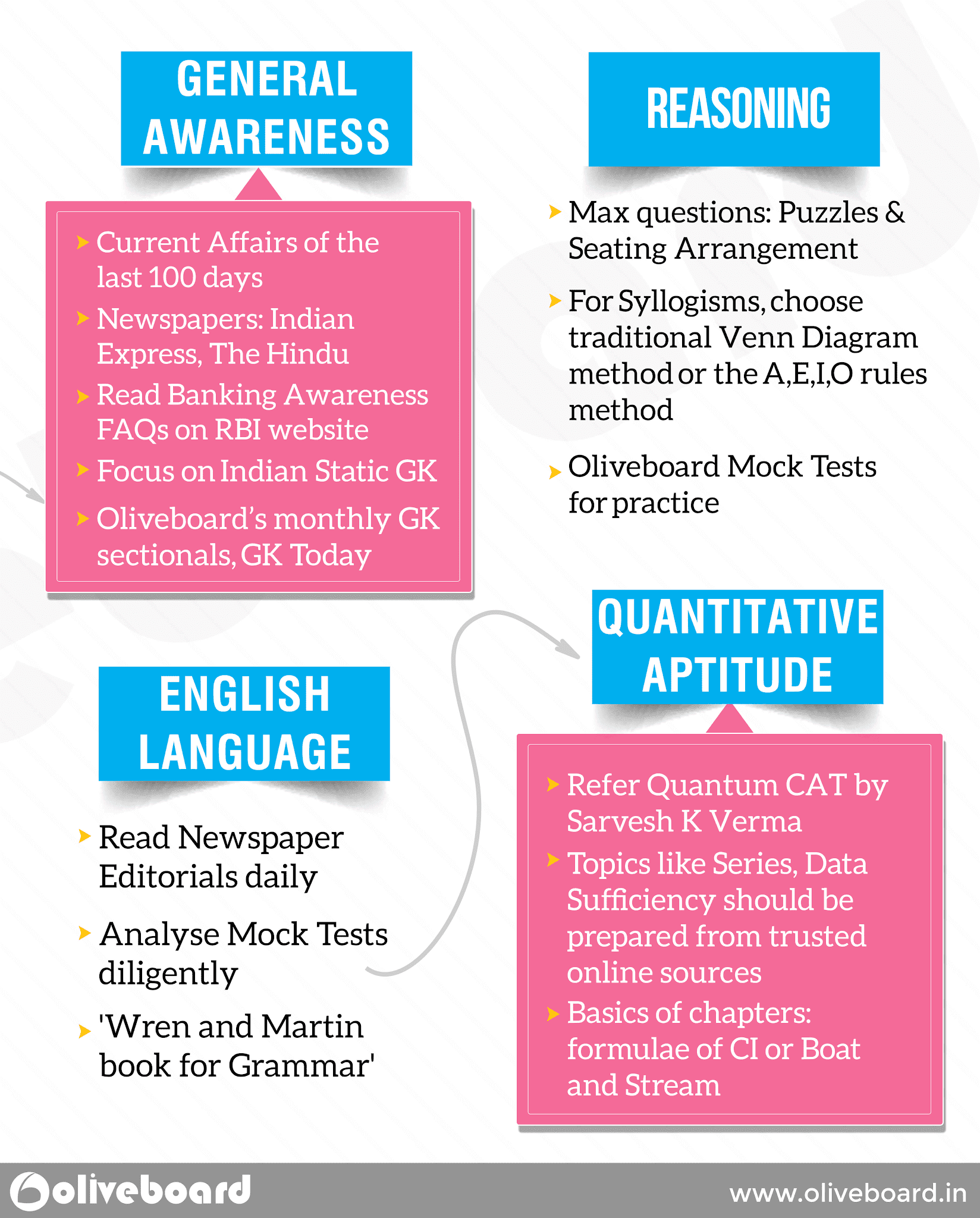 I. SBI PO exam Preparation-

General Awareness
Yes, this is my strongest section, and believe me when I say that, if it was not for General Awareness, I'd have never cleared any exam.
I have been quite decent in General Awareness since I was a little kid. I remember, when I was in 3rd standard, my elder brother gifted me one "Upkar General Knowledge" book on my birthday, and by the time I was in 4th, I had learnt 80% of the static GK. So, it was inculcated in me since the very beginning, and it grew as an interest later in my school days.
I needed to get as marks as I could in GA so that I get a clear edge over other candidates. Since I prepared GA in a very holistic manner, I've divided this into a few parts-
Current Affairs (CA) Preparation
This has the most weightage in the GA section, almost 40-45% questions come from that, and hence, it becomes quite a scoring part. Also, it requires very less effort to prepare this.
This is how I prepared Current Affairs – READING! Yes, I just read, a lot, from multiple sources.
What you need to do is, just spend one hour every day studying CA, and you'll score cent per cent marks. Well, yes, some people like to make notes, so that it can be helpful while revision, but this is a very personal thing. I, for myself, have never made any sort of notes for GA, or for any other section for that matter. I find it a waste of time and quite boring, I'd better spend that time on reading the same thing again.
Oliveboard's Monthly GK BOLT is recommended.
And the most important thing:
Current Affair should be prepared for the last 100 days from the day of the exam. (personal experience)
You must be wondering why have I mentioned that I read the same daily GK update so many times. The simple reason is, if you read the same thing, from different sources, in a different way, that information gets embedded in your brain. This way, in my opinion, you won't need to make any notes. The revision can be done with those Monthly Quizzes that I've mentioned. Also, you can use one compiled booklet, which these websites call as "capsules".
Coming to the newspaper part, this is the most articulate, to the point and informative source one can find. You can choose any newspaper, English or regional language, but I'd suggest that you choose an English one, as that would also help in your English language section and the Descriptive part (SBO PO).
Now, which newspaper to choose? In my opinion, one should choose either the Hindu or The Indian Express, if not both. If you have that much time that you can afford to spend it on two newspapers then, I'd suggest reading both.
One should be your primary newspaper, that you'd read every day, without a miss. The other can be read if you have some spare time.
Since everything is available on the internet these days, you won't even require to subscribe to these. Read the primary newspaper from cover to cover, and just the Editorial page of the secondary newspaper.
Banking Awareness Preparation
Some people worry a lot about this part, but this, in reality, is easy to prepare. First, go through the FAQs on the RBI website. Once you're done with this, go through the Banking Awareness Modules of GKToday, it is freely available to read online on their website. There is no need to buy any book.
In addition to these, another good source is the Mrunal Videos on Banking which are available on YouTube. You should go to the Economics Playlist and watch the lectures from L1/P2 to L1/P9. This will be more than enough. If you want to revise, you can go through any of the capsules on Banking Awareness from the website of your preference.
Static GK Preparation
Well, this part has the least cost-benefit ratio, as everything under the sun can be asked. But still, one should prepare it.
You should focus on Indian Static GK. Like Dams and rivers, National Park and WLS, Nuclear, Thermal and Hydro Power Plants, CMs and Governors, Capital and Currency of Countries, HQs of major Organizations. Also, the capitals and currencies of the countries to which our PM or President recently visited or the countries whose heads visited India.
My marks in General Awareness
SBI 2015: 35/50
SBI 2016: 30/40
RBI Grade B Phase I (2016): 71/80
Oliveboard's GK App – For your daily dose of Current Affairs
II. SBI PO English Preparation
I have studied from an English medium school, and have a decent knowledge of the language. I can that my base is strong. So, I'd like to give the strategy for English in two parts.
1. If you belong to the "strong basic" group
If you're someone who has a strong base of the language, then it becomes an easy task to score decent marks. You just need to read the newspaper every day and take the mock tests diligently. Analyse your mock tests and you'll score well. I followed the same.
2. If you belong to the "not so strong basic" group
The first thing that you should do is, buy Wren and Martin book for grammar, read it from cover to cover as many times as you can and try to understand it.
The other thing, reading. Read anything, newspaper, novels, magazines, advertisements. Simply anything. That'd help you in knowing how to form sentences, where to use which idiom and phrase and so on.
And, finally, Mock Tests! There is nothing in this world that can replace mock tests.
Vocabulary is something that is built over a period, and not overnight. It requires patience and hard work. The best way to widen your vocabulary is by reading. Read anything. A newspaper, a magazine, an article on lipstick, a food blog, a novel. It will just increase your vocabulary. 
If you read a word, say, "unequivocal", go to the internet and search the meaning, and try to learn it. Trust me, you cannot learn it in the first go. I bet, that you'll come across that word again in the next 2-3 days. Learn it again, make a sentence using it in a context that suits the word in your head and then you'll never forget it, all your life. 
SBI PO – Complete Preparation for English Section
My marks in English 
SBI 2015: 37.5/50
SBI 2016: 21.25/40
III. SBI PO Reasoning Preparation
This is the most dynamic section of nature. It becomes challenging also in a way that it doesn't have any "set syllabus". We've seen a lot of change in banking exams, especially in the Reasoning section. So, it is important to keep an open mind, and one needs to be ready to face anything.
The biggest part in this section is covered by Puzzles/Seating Arrangement. And, to be very frank, I was not good at solving these. I know, that these questions challenge a lot of candidates. One gets to think that if he's not able to solve the 50% of marks, then what does he need to do to clear the section? The answer is simple yet complicated. Everything, apart from Puzzles and Arrangement need to be prepared thoroughly so that you don't miss even a single mark.
Puzzle Mania: Puzzles & Seating Arrangement for Prelims & Mains 
It has been noticed that the pattern of Reasoning is changing with every exam that IBPS is conducting. So, the biggest question bank or repository for Reasoning is this wonderful web of information – the Internet. Several websites post question every day. You should solve those. Please know that there is no trick for solving Puzzles and Arrangements, only practice will help you. Also, the questions in Oliveboard Mock Tests are of great help, as they provide a lot of variety. I've been mentioning a lot, but mocks are a MUST.
Then comes the miscellaneous questions like Input-Output, Coding-Decoding, Inequalities, Syllogisms, Direction Sense, Data Sufficiency, Ranking and Order, Critical reasoning – Assumptions, Conclusions, Cause and Effect etc. If you're someone who is not comfortable with Puzzles and Arrangements, then you should try to solve the "miscellaneous" part.
For syllogisms, you can choose the traditional Venn Diagram method or the A, E, I, O rules method.
For Syllogisms, Data Sufficiency, Input-Output and Critical Reasoning, I'd suggest you follow "Analytical Reasoning by MK Pandey, BSC Publication". This is a very good book and should be followed in my opinion.
For other types of questions, one can use the internet and the websites that I've been mentioning all the while.
I've never even attempted any puzzles this year, as I wasted a lot of time last year and ended up scoring abysmally low in last year's exam. So, while I was taking any mock or when I was taking the exam, for that matter, I had already decided to not look at even a single puzzle. The simple reason is, they're very tempting. You think that you can solve it when you read the question, but when you start attempting it, you end up being trapped and in turn, wasting your precious time.
My tip is, attempt puzzles and arrangements only if you're confident of solving them.
My marks in Reasoning
SBI 2015: 14.5/50
SBI 2016: 27.25/60
IV. SBI PO Quant Preparation (Quantitative Aptitude/Data Interpretation)
This section was/is my weakest one. So, my only goal was to clear the sectional cutoff, somehow, anyhow. Since I'm traditionally weak in this, I try to target the DI part (SBI has only DI, except a few questions), as it requires only calculation, with which I'm decent.
The problem with going for questions of the chapter of QA like Time and Distance, CI-SI, Time and Work is, they take a lot of time to prepare. You cannot complete any decent book on these chapters in a month. Yes, if you're someone with a good concept of mathematics and time in hand, you should take up this book – Quantum CAT by Sarvesh K Verma. This is a great book, and everyone who is preparing for Bank or SSC for that matter must have it.
Try solving and understanding the questions and concepts in this book and it'd do wonders for you, trust me when I say this. Things like Series, Data Sufficiency can and should be prepared from online sources.
DI is a very scoring part, yes, it is calculative, but if you're someone who just intends to clear the sectional cutoff, it is a boon. The best source for a decent level of DI questions is Mock Tests. Mock tests come up a new type and set of DI in every test and this helps in building the concept and lets you know the variety of questions that can come. You can, in addition to this, use the sources available on the internet elsewhere.
One more thing is, for mocks, be prepared with the basic of chapters, like the formula of CI or Boat and Stream, as many a time, DI question based on these is asked.
Data Interpretation Decoded: DI and Data Sufficiency for Prelims & Mains
My marks in Data Interpretation:
SBI 2015: 14/50
SBI 2016: 19.75/60
Review of SBI PO 2016:
This year's exam was on a different level altogether when compared to last year or nay year for that matter. It was a test of knowledge as well as a test of one's presence of mind and performance under pressure.
Starting from Reasoning, it was tough. Reasoning has always been on the tougher side, but this time it was also tricky and few new types of questions were asked. Questions of Data Flow Diagram was never heard in banking exams. Also, there was a question, I remember, which was based on some rules and we needed to find out some values based on the preceding and succeeding letters and number. This too was never asked in Bank exams. Overall, Reasoning was a tough nut to crack, and presence of mind was required to solve many questions.
GA, I felt, was easy. GA is never something to worry about, as only straight forward questions are asked. If someone follows the sources that are mentioned above. 70% of marks can be easily obtained. Yes, if your Exam is in Before August, one should go through the summary of Union Budget and Economic Survey.
DI was also tough this year, compared to last. Few questions were easy, but they were just a handful. 4-5.
English too, just like reasoning, was out of the world. There were questions on vocabulary, some questions on the conjunction of two or more sentences, a missing sentence in a paragraph. These were some types of questions that were absent last year of other exams.
SBI PO Group Exercises & Interview Preparation Guide
SBI PO exam preparation-Tips for Aspirants
1. The greatest tip is, have faith and belief in yourself and your abilities. Never lose hope, no matter what. 
2. Practice as many Mock Tests and questions as you can. There is nothing like too many mocks.
3. Prepare yourself for the worst, so that you don't lose it all when you find a tough question. Never count how many hours you've to study or you studied. You should focus on quality rather than quantity. Set realistic targets, short term and long term. Short term is daily and weekly, long term is monthly.
Though I couldn't make it to the final merit list in SBI PO 2015 by just 2 marks, I surely gained something out of that experience. I was confident that I'd surely clear it, but alas! The biggest thing I learned was never to be complacent.
Hope my experiences help you in your Banking journey. Here's wishing you all the best for all your exams!
---
---
Lakhs of candidates take the exam every year but only around 2000 candidates make it to the final merit list. There is no reason to be discouraged or disheartened after reading the above statement. Students clear the exam in their very first attempt and go on to become probationary officers in SBI by persistently following a well-structured and smart preparation plan. 
For your further knowledge, the job post of the probationary officer in SBI offers a candidate to work in diverse departments in the State Bank of India allowing learning various aspects of Banking. In return, it offers a handsome salary package along with numerous perks, allowances and benefits. SBI POs gets great respect from their peers, subordinates, customers and in general from the society as well. But not to forget it demands pure dedication towards work.
We hope that you like this blog of sbi po exam preparation and be able to benefit from the above-given resources and strategy. Keep visiting Oliveboard for more such content and latest exam updates. 
Also, Read – How to Prepare for SBI PO and SBI Clerk from Home?
Click here to take a FREE SBI PO Mock Test

The most comprehensive online preparation portal for MBA, Banking and Government exams. Explore a range of mock tests and study material at www.oliveboard.in