As we all know the SBI PO 2020 recruitment notification is released, it is always suggested to be one step ahead. Start your prep early and lead the way to your dream. Are you confused about whether you will be able to clear the exam or not? The answer is, of course, you can and if you have the vision, we have the plan!  With our SBI PO Study Plan, all you need is hard work and perseverance and you can tame the exam.
So, to help you kick start your preparation in the right direction, Oliveboard brings to you 40 Days SBI PO Study Plan,
1. SBI PO Study Plan – Clear SBI PO 2020 in Just 40 days
Before going through the study plan, check the SBI PO Exam Pattern first and the SBI PO Detailed Syllabus to proceed with your preparation in an organized way.
Make sure to follow the Weekly study plan which is distributed for better understanding.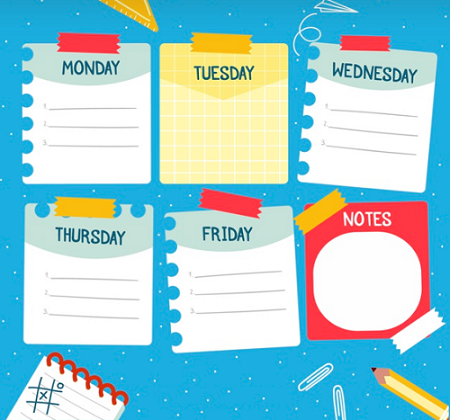 Yes, Just Like this!
SBI PO Study Plan – 40 Days Plan 
Your consistency will help you reach your goal. Keep following the study plan just like this.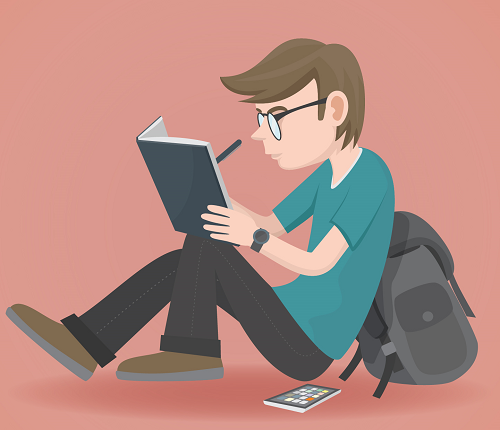 Your Mantra for Success Could be just like this:

In the remaining 2 days, your major focus should be on the analysis of your test performances so far. Go through your performance and act on your strong & weak points accordingly.
1 day before the exam, take enough rest, and keep your mind calm. You have prepared well and your hard work will pay off.
For the ones appearing for the first time, we are bringing a big opportunity to experience the exam before the actual exam. Oliveboard is bringing the Online Mock Recruitment process for SBI PO.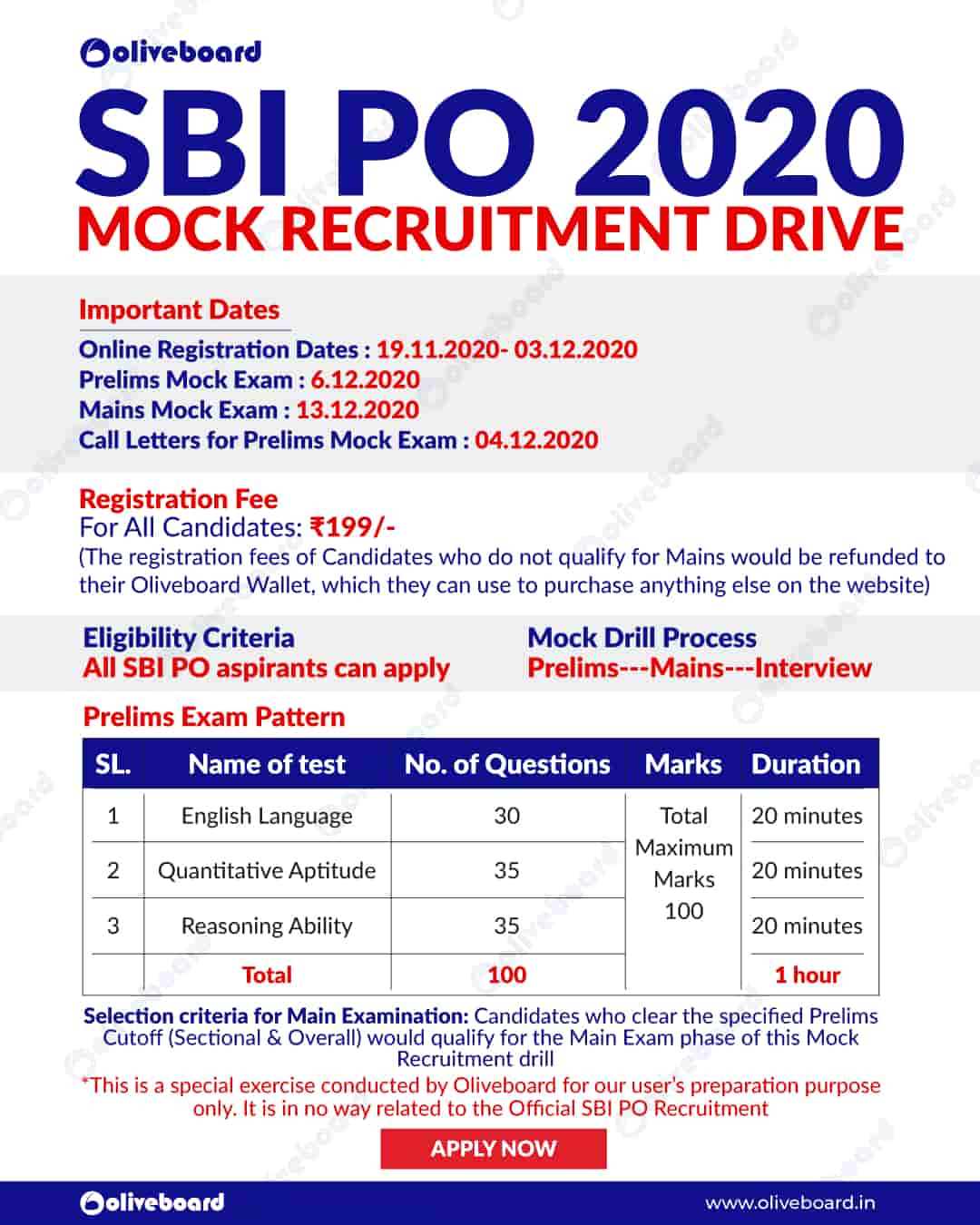 This Mock drive will be similar to the actual exam of SBI PO but this will be just a practice to give a real-time experience to the aspirants.
2. Few Tips to Crack SBI PO 2020 in First Attempt
Respect the time limit per question and pace yourself accordingly
In the SBI PO Prelims, you shall have 40 seconds per question of English Language and 34 seconds per question of Reasoning Ability and Quantitative Aptitude.
When you practice with the mock examinations, try to keep a timer or track of the amount of time you take to finish each question correctly.
In this case, to crack the SBI PO exam in the first attempt, you need to answer maximum questions correctly.
Use the method suggested to track and time your responses and their accuracy.
In the mock examinations, try to strike a balance between being fast and being right, because to crack the SBI PO in the first attempt, that's exactly what's needed.
Know your syllabus clearly and the kind of questions to expect
To crack the SBI PO exam in the first attempt, you must have a perfect understanding of all the sections and all the topics in each section.
This might sound quite hard, but with the help of proper and consistent practice, it shouldn't be a challenge.
Practice previous years' question papers.
This goes without saying. While mock examinations from various test preparation series and packs have made it so that you can get the exam – feeling.
But, it is necessary that you practice with the real test papers of the previous years to get the exact conditions as you would when you take the real examination.
This is applicable for both SBI PO Prelims as well as SBI PO Mains exams.
Focus on weak areas first, but do not ignore strong areas
This thought often confuses the aspirants. Thinking too much about what to focus on, makes you lose your focus. Your focus on both should go hand in hand.
Want to know your strong and weak areas? Give a free mock test, get the Mock Test Analysis done for you free of cost but spend at least an hour to go through the detailed analysis so that you can proceed accordingly.
Study for the SBI PO Prelims and SBI Mains together
It is always suggested to start your preparations early and keep the prep for both simultaneous. And who better than Oliveboard to help you do just that.
And to fuel, your preparation here are the course details for SBI PO Success Batch 2020 which will help you in your all-round development.
3. What are the highlights of the SBI PO Online Course 2020?
To help you ace the exam, Oliveboard brings to you SBI PO Success Batch. This course covers the entire Prelims and Mains Exams preparation for SBI PO. It includes concept videos, Live Classes for Quant, Reasoning, and English sections. Overall, the course helps you meet your exam preparation requirements. This course caters to the ENTIRE Preparation needs to crack the exam as challenging as SBI PO Mains – Learning, Practice & Strategy. You will be guided through learning, trained through practice, and calibrated through strategy.
The course features are as below. Join Now
Learn
Practice
Exam Strategy

Live Video & Audio Interaction with the faculty

25+ Live Practice Sessions (led by faculty)

Special test-taking strategy sessions

Special Focus on Descriptive English Classes

20 Prelims + 10 Mains Mock Tests

Special Sessions from SBI PO 2019 Toppers

90 Sectional Tests for Prelims & Mains

50+ Hours of Live Classes

–

60+ Videos
Lectures PDF shared after EVERY class
*Course Validity: Until SBI PO Mains 2020
*Test Validity: Until SBI PO Mains 2020
So what are you waiting for? Start Your Prep Now!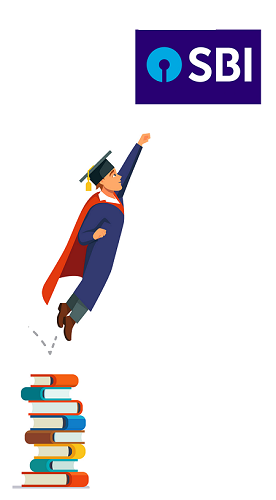 That brings us to the end of this article. We hope you found the information provided here useful. Remember that SBI PO examinations are a test of your determination as well as your willpower.
Just follow the 40 Days SBI PO Study Plan and the tips listed above and you can surely crack the SBI PO exam on the first try itself. Join Oliveboard's SBI PO Success Batch 2020 now and start your preparation.
Also, Check: