The Union Public Service commission (UPSC) conducts the Civil Services Examination (CSE) to recruit officers for various officer level all India services such as: the Indian Administrative Services (IAS), Indian Foreign Services (IFS), and Indian Police Services (IPS) etc. The exam is conducted in offline mode (pen-paper test).
The UPSC has just released the official notification for UPSC Civil Services exam 2018. Here we bring to you all the important details regarding the exam.
UPSC CSE 2018 : Dates
UPSC Civil Services Prelims Registrations : 7 Februrary, 2018 – 6 March, 2018
UPSC Civil Services Preliminary Examination : 3 June, 2018 (Sunday)
UPSC Civil Services Mains Examination : September, 2018 (5 days) (Tentative)

UPSC CSE 2018 : Vacancies
The UPSC has announced 782 (approximate number) vacancies for the year 2018.
UPSC CSE 2018 : Eligibility
A candidate must be between 21 – 32 years of age. This criterion is for the general category. 

Age relaxation is provided as per norms
Important points regarding eligibility:
Candidates who have appeared at an examination the passing of which would render them educationally qualified for the Commission's examination but have not been informed of the results as also the candidates who intend to appear at such a qualifying examination will also be eligible for admission to the Preliminary Examination.

Candidates possessing professional and technical qualifications which are recognised by the Government as equivalent to professional and technical degree would also be eligible for admission to the examination

Candidates who have passed the final professional M.B.B.S. or any other Medical Examination but have not completed their internship by the time of submission of their applications for the Civil Services (Main) Examination, will be provisionally admitted to the Examination provided they submit along with their application a copy of certificate from the concerned authority of the University/Institution that they had passed the requisite final professional medical examination.
UPSC CSE 2018 : Number of Attempts
A candidate is permitted 6 attempts.

For SC / ST, the allowed number of attempts is 9.

For persons with benchmark disability, there is no restriction on the number of attempts
UPSC CSE 2018 : Application Fee
Rs. 100/-  (Female / SC / ST / PWD are exempted)

Rs. 200/-  (Further fee, only for candidates called for the Mains examination)

UPSC CSE 2018 : Preliminary Exam Pattern & Syllabus
The exam pattern for the UPSC CSE prelims is as follows.

UPSC CSE 2018 Prelims : Syllabus
General Studies Paper I : Syllabus
Current events of national and international importance

History of India and Indian National Movement

Indian and World Geography-Physical, Social, Economic Geography of India and the World

Indian Polity and Governance-Constitution, Political System, Panchayati Raj, Public Policy, Rights Issues, etc.

Economic and Social Development-Sustainable Development, Poverty, Inclusion, Demographics, Social Sector Initiatives, etc.

General issues on Environmental ecology, Bio-diversity and ClimateChange – that do not require subject specialization

General Science.
General Studies Paper II : Syllabus
Comprehension

Interpersonal skills including communication skills

Logical reasoning and analytical ability

Decision making and problem solving

General mental ability

Basic numeracy (numbers and their relations, orders of magnitude, etc.) (Class X level)

Data interpretation (charts, graphs, tables, data sufficiency etc. — Class X level);
*MCQs/ Objective Type

UPSC CSE 2018 : Mains Exam Pattern & Syllabus
This exam tests a candidate's level of general awareness and the ability to analyse and take a view on various socio-economic issues. The exam is descriptive in nature. Relevant, meaningful and succinct answers are expected.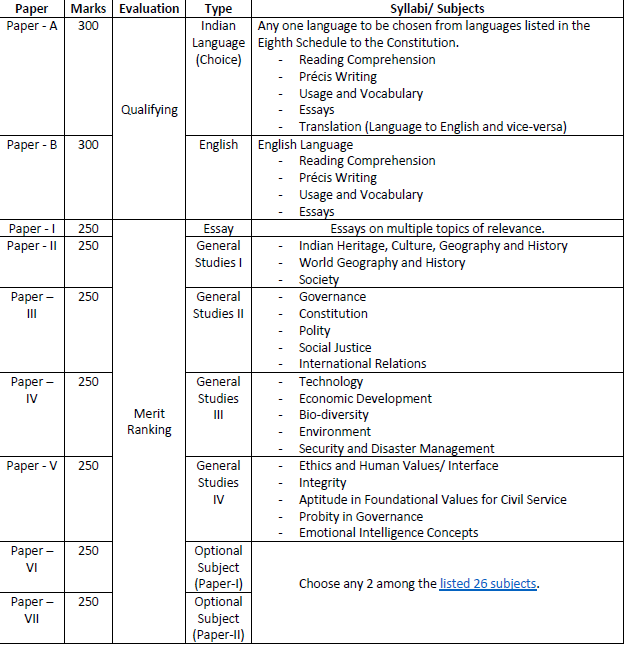 Hope this helps.
All The Best!